Project Report

| Jan 4, 2023
Bringing Power to Ukrainians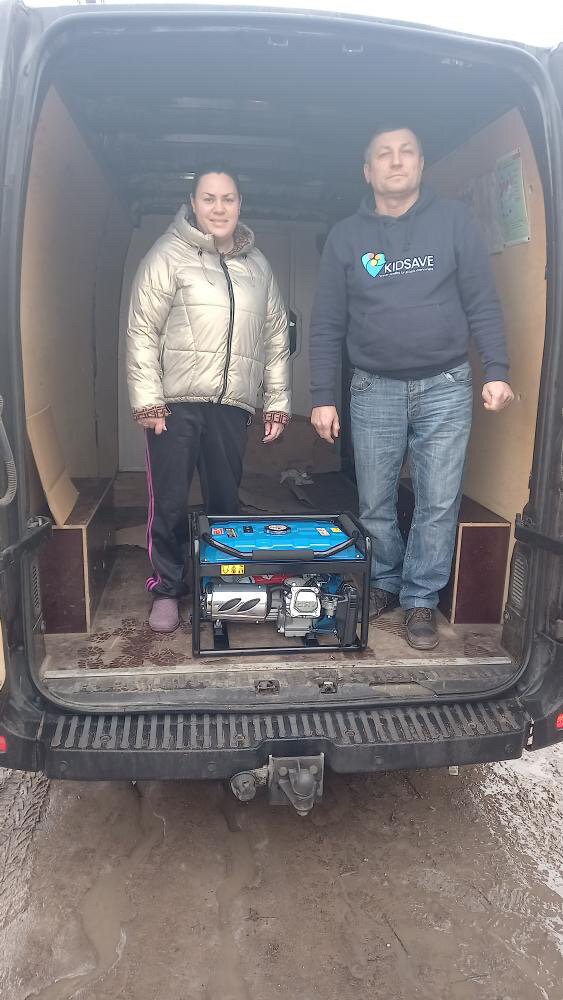 All across Ukraine, a darkness has fallen. The nation's energy facilities have sustained heavy damage from constant Russian airstrikes, leaving a million Ukrainian citizens without consistent power and heat.
Yuliya's relatives in Ukraine were no exception, and like so many of their countrymen, they faced a cold, dark winter.But from 6,000 miles away, Yuliya wanted to help them. She learned that Kidsave was making constant trips to help people inside Ukraine, including bringing generators, so she reached out.
Generators are in short supply and reaching some locations can be dangerous or even impossible, but Kidsave wanted to help. Yuliya asked her friends and work colleagues for donations and with their generosity, she raised enough to buy three generators. As of yesterday, Kidsave obtained and delivered three generators to Yuliya's relatives in Kharkiv and the nearby town of Velykyi Burluk. They will help not only Yuliya's relatives but their friends and neighbors as well. Yuliya's connection to Ukraine runs deep as she was born in Kharkiv before immigrating to the US in 1994 at age eight with her parents.
"I have so many relatives throughout Ukraine," said Yuliya. "Some in Kyiv and Kharkiv, others live in small 100+ year old homes in the village of Velykyi Burluk, which was under Russian army occupation until September. They rarely have power and the delivery of the two generators to them by Kidsave has really been a miracle. They have told me that 'they could not believe it' and that they are 'so grateful because now, winter does not seem so frightening.'"
Yuliya also sponsored six of her relatives from Kharkiv, to come to the US under the Uniting for Ukraine program offering humanitarian parole to Ukrainian refugees. They are now living in Tacoma, WA, near Yuliya and her family, and she sees them all at least twice a week. "We wanted to sponsor more people, but they were reluctant to leave, especially because their sons and husbands cannot currently travel outside Ukraine," she added.
When asked what makes Ukrainians so resilient and strong, Yuliya said, "They have been through so much, even before this war. Their history has been marred by wars, invasions, and occupations, but now they are so intent on having their own free country – they will not give it up at any cost."
Yuliya's goal was initially to raise $3,500, but now that she's reached it, she says, "I will keep it open to try to raise more money for other families. Even if the generators go to perfect strangers, I would love to help them."
About Kidsave Ukraine
Since the war began, Kidsave has evacuated nearly 30,000 people and delivered 1,000 tons of humanitarian aid. As much of the food and supplies as possible are sourced locally in western Ukraine, and what cannot be found in Ukraine is sourced from neighboring countries. Kidsave's team, known as the Angels of Hope, then works with partnering organizations to deliver humanitarian aid across Ukraine.
Links: