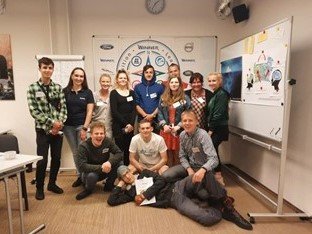 "Awesome. Meaningful. We didn't expect that it would be so fascinating!" These were some of the comments from teenage orphans in Kiyv, Ukraine, after attending a training session with corporate mentors. The training taught them how to listen, be heard, cooperate, and use different communication methods.
The mentors are caring and experienced individuals who help these young people think about and prepare for their future – a great help to them, as they are not getting this help from parents. The program was created by the Mentoring Association for Children and Youth, started and funded by Kidsave, at the request of the Ukrainian government. Here are snapshots of two of these young people.
Vitaliy (19) entered this program without a clue about how to get a job or what career he might like. He didn't know how to set goals or manage his time. After graduating, he was accepted into a professional program to become a pastry chef but he really wanted to be a fireman. During his six months with a mentor, he opened up, communicated more, set goals, began to name his problems and asked for help.
His mentor helped make it possible for him to visit the fire department, learn about the job, the equipment, schedule and how they worked as a team. "[My] mentor is a real 'dad'," said Vitaliy, adding, "Today is amazing for me, something very special. My dream is starting to come true. I was very welcomed in the fire department, shown everything, and was allowed to sit in a fire truck. Firemen are joyful and friendly."
Rostik, also 19 years old, lived in an orphanage since early childhood even though his parents were alive. They were unable to raise their seven children because of disabilities and alcoholism. Some of Rostik's siblings live at the orphanage with him. When he entered the mentorship program in early 2020 he could not accept advice or compromise and was unkempt. He'd been fired from his first job because he could not work in a team.
But over the course of those 18 months, he changed. He learned to listen to others, look for constructive ways to solve conflicts, and be a responsible, active person. He was encouraged by a mentor who helped him get a job at KFC. Rostik said, "When I came to a project I didn't know what should I do, but now I know. I became kinder and developed a desire to grow and develop. Thanks to KFC for a friendly team and support, everything is cool. Thank you for believing in me!"
Here are comments from some of the other teens:
"I have widescale plans, whereas my mentor plans step by step; we perfectly complement each other" (Dima, 16 years old)
"I didn't even imagine that real communication would be so amazing" (Lora, 16 years old)
"I shared my personal story and my mentor listened and supported me" (Vlad, 16 years old)
"I cannot plan yet, but my mentor motivates me to learn how to plan; the time with my mentor flys by unnoticeably" (Vova, 18 years old)
And from some of the mentors:
"It was easy to communicate with the help of good humor" (Taras)
"Taking advice and responsibility for the coming events motivates me. We have a lot in common." (Andrew)
"Vlad started trusting me" (Maksim)
This pilot program is currently scheduled to end this December unless additional funds can be found.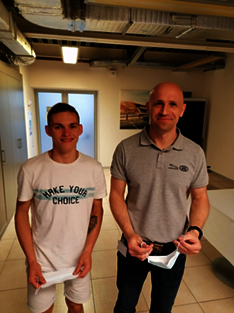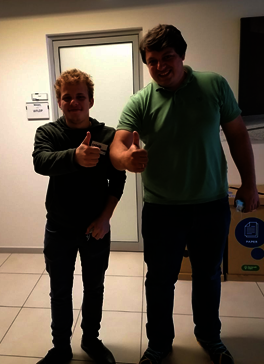 Links: