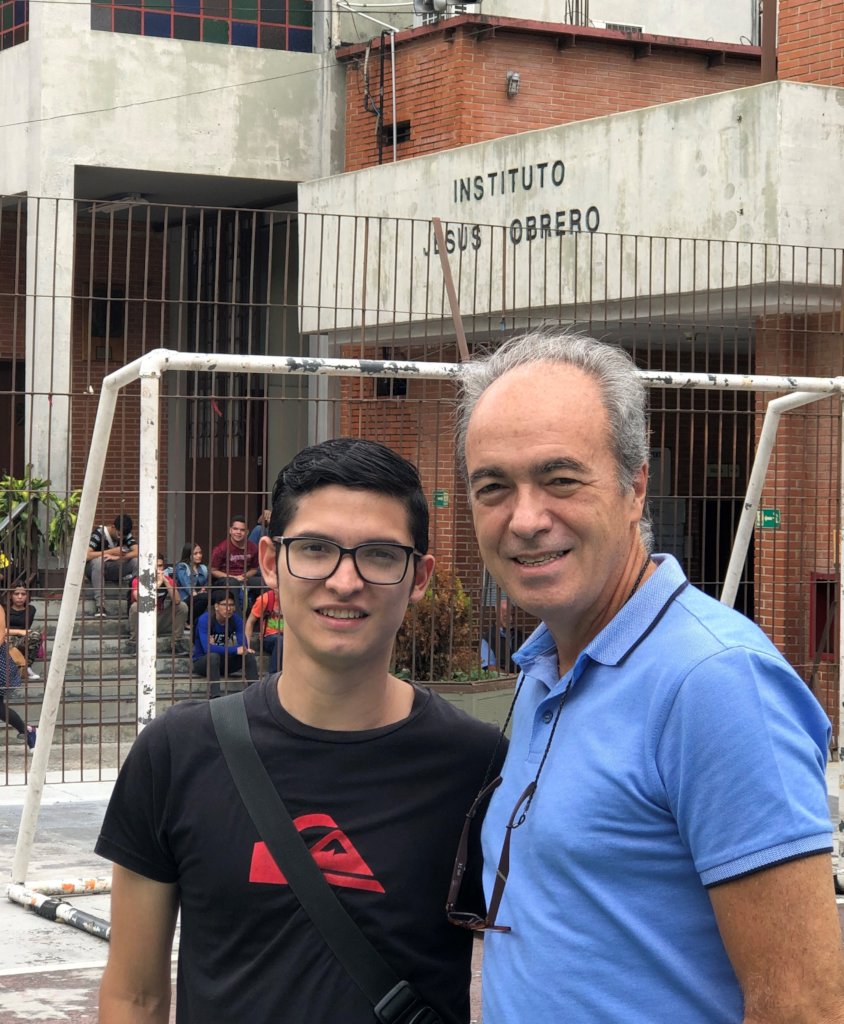 Translation to Spanish at the bottom
As part of the beginning of the new academic year September 2019 - July 2020, members of the board of directors and a group of mentors from Fundación Oportunidad y Futuro visited the Instituto Universitario Jesús Obrero - IUJO, https://webiujocatia.wordpress.com/. IUJO is an institution that is part of the organization Fe y Alegría http://www.feyalegria.org/es and is located in Catia, a populated low income neighborhood to the west of Caracas, where in addition to the Instituto Universitario, there is a primary school and a high school from which the vast majority of the Instituto Universitario students come from.
From October 2015 to September 2019, a total of 42 IUJO students have been awarded scholarships by Fundación Oportunidad y Futuro:
16 active students: 5 in Education, 6 Technicians in Electronics, 4 Technicians in Computer Science and 1 Technician in Electrical Engineering.
12 students have already graduates as technicians.
14 students have dropped out, most of them to emigrate to other countries looking for better opportunities.
During the visit we had the opportunity to participate in a School Council. In the meeting, held by the institute at the beginning and end of each semester, we were able to share with representatives of the educational community of IUJO (management, administrative staff, teachers and workers) and with the great majority of our students.
In this meeting we were able to hear firsthand the difficulties that the institution, the teachers and the students are going through. During their interventions, our students expressed their concerns, not only during their time as students but also about their future as professionals, especially in the search for their first job. We listened attentively to each case and Oportunidad y Futuro, through its mentors, will do its best to support them in this process.
We were able to understand the scope of the training given at IUJO, where an excellent academic training is complemented, through workshops, lectures, sports and extracurricular activities, with a human training whose main objective is to train young professionals to become the leaders Venezuela needs for its economic, political and social recovery.
Once the meeting was over, we had the chance to share and talk with all the participants, and before we left, to take a tour of this school wonderful facilities which are, without a doubt, an oasis in this populated area where the educational needs go well beyond what the city has to offer.
Version en Castellano
En el marco del inicio del nuevo período académico septiembre 2019 - julio 2020, miembros de la junta directiva y un grupo de tutores de la Fundación Oportunidad y Futuro realizó una visita al Instituto Universitario Jesús Obrero - IUJO, https://webiujocatia.wordpress.com/ institución que forma parte de la organización Fe y Alegría http://www.feyalegria.org/es y que está ubicada en el sector de Catia, zona popular ubicada al oeste de Caracas, donde además del Instituto Universitario, funciona una escuela primaria y un liceo del cual proviene la gran mayoría de los estudiantes que luego continúan sus estudios en el Instituto Universitario.
Desde octubre de 2015 y hasta septiembre de 2019, han sido becados por la Fundación Oportunidad y Futuro un total de 42 estudiantes del IUJO distribuidos de la siguiente manera:
o 16 estudiantes activos: 5 en Educación, 6 Técnicos en Electrónica, 4 Técnicos en Informática y 1 Técnico en Electrotecnia.
o 12 estudiantes graduados.
o 14 estudiantes se han retirado, la mayoría para emigrar a otros países buscando mejores oportunidades.
Durante la visita tuvimos la oportunidad de participar en un Concejo Directivo, reunión que realiza el instituto al principio y al final de cada semestre, donde pudimos compartir con representantes de toda la comunidad educativa del IUJO (personal directivo, administrativo, docente y obrero) y con la gran mayoría de nuestros estudiantes.
En este encuentro pudimos escuchar de primera mano las dificultades que están atravesando la institución, los docentes y los estudiantes. Durante las intervenciones nuestros muchachos manifestaron sus inquietudes no sólo en su etapa como estudiantes sino su preocupación sobre su futuro como profesionales, especialmente en la búsqueda de su primer empleo. Escuchamos atentamente cada uno de los casos y la fundación, a través de sus tutores, hará lo que esté a su alcance para apoyarlos en este proceso.
Pudimos comprender el alcance de la formación que se imparte en el IUJO, donde una excelente formación académica se complementa, a través de talleres, charlas, actividades deportivas y extra curriculares, con una formación humana cuyo objetivo fundamental es formar profesionales que se conviertan en los líderes que necesita Venezuela para su recuperación económica, política y social.
Una vez concluida la reunión, tuvimos el chance de compartir y conversar con todos los participantes, y antes de despedirnos, realizar un recorrido por las maravillosas instalaciones de este Instituto Universitario que es, sin duda alguna, un oasis en una zona popular donde las necesidades educativas van más allá de lo que la ciudad les ofrece.