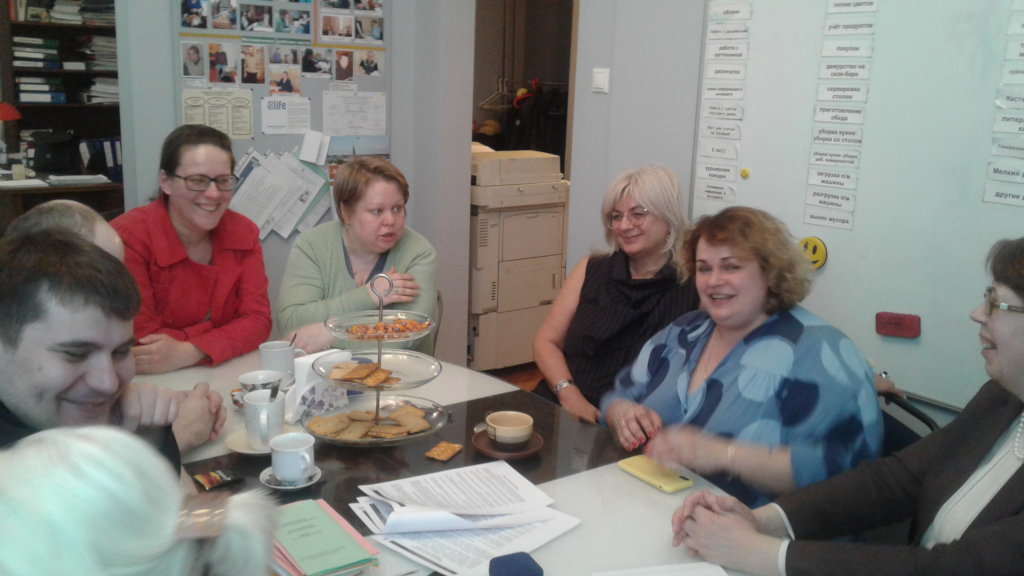 Employment of people with mental health problems is one of the most challenging areas of their their recovery and coming back to independent life. That is why Clubhouse rehabilitation programes throughout the world work hard to help their participants (Clubhouse members) to get jobs. Hilton hotel chain is one of the prestigious employers that assists Clubhouse members in many countries return to the paid employment. Russia House is proud to announce the start of our partnership with hotel Hilton Garden Inn Moscow Krasnoselskaya.
Since autumn 2019 our partnership has been gradually developing. It started with a visit of Polina Kabanova, Hilton Senior Manager Talant Acquisition Continental Europe, and Larissa Antonova, HR Manager of Hilton Garden Inn Moscow Krasnoselskaya, to Russia House in so as to get acquainted with members and staff as well as with our Clubhouse program. They both were really impressed with what they could see at Russia House and decided to work with us towards reaching the members' employment goals. A few weeks later a group of active Russia House members visited the hotel for an orientation visit and learned a lot about the hotel business and different jobs available. Because of the pandemic our partnership plans were postponed to provide supported job placements for a couple of Russia House members.
However, in September 2020 we came back to them and Vlad, one of our members, had a 5-day internship immeduately in Hilton hotel. Director of Russia House supported him immeduately at the job placement and assist to master work duties. It is very important to say that the duties were not very simple at all and they needed good English, ability to work with PowerPoint software and even some basic skills in grafic design.
Hilton hotel chain pays a lot of attention to education of staff in all the hotels throughout the world. In-company trainings adress such important matters as inclusion and diversity, unconcious bias, equality, etc. The so-called Hilton University comprises a lot of training materials, videos and tests. But they all are in English and it is difficult to use them for Russian-spreaking staff. The task was to prepare a multimedia presentation for training Russian-speaking hotel staff. As we have said before it was a very challenging task but Vlad overcame all dificulties and successfully completed this task. Larissa Antonova, HR manager of the hotel, says that she was really impressed with the presentation and test done by Vlad and adds that she has already used them in the trainings that she holds for hotel staff.
Now 3 Russia House members - Vlad, Pavel and Andrey - are on their 1-month internship at Hilton. The new ones - Pavel and Andrey - are mastering of these complicated duties with the assistance of Vlad and a Russia House staff. Because of pandemic and quarantine in Moscow the internship is remote and their group work at ZOOM platform. After the Christmas holidays they will send the second presentation togerther with training scripts and tests in Russian to Larisa for her overview. We all hope that the materials prepared will get appraisal of Hilton partners. The positive outcomes of the internship for Russia House members are obvious: mastering and improving specialized and advanced skills, regaining self-confidence in performing very complicated and challenging tasks, learning how to work in a team and many-many others.
We hope that the next step of our partnership with Hilton Garden Inn hotel will be getting a paid work for Russia House interns.