We've just returned from a very successful trip to Lebanon, Thank YOU for making it possible!
We were able to distribute over 200 Days for Girls kits in partnership with ANERA (American Near East Refugee Aid), Women's Network Association, Amel Association, and Akkar Network for Development. Our kits were distributed in Borg al-Barajneh Camp in Beirut, one of Amel Association's women's centers in Beirut, and in the far north district of Akkar.
Over half of the population in Akkar fall beneath the poverty level. As of January 31, 2016, the UNHCR reported over 100,000 Syrian refugees registered in the already impoverished district.
One special information session and DfG kit distribution was arranged by friends at ANERA and Akkar Network for Development. 60 women were in attendance (25 aged 11-18 and 35 aged 19+). We discovered that the women in Akkar are very familiar with reusable cloth pads, and many expressed a preference for reusable menstrual pads over disposable! Their current cloths lack any sort of waterproof barrier, limiting security from leaks and staining in public.
The Days for Girls shield will alleviate this worry for them! Each woman left the session with a brand new Days for Girls menstrual hygiene kit and a smile.
Each DfG kit contains 2 waterproof shields, 8 absorbent flannel liners, 2 pairs of underwear, 1 washcloth, 1 soap, 2 plastic baggies, 1 cloth drawstring bag, and 1 menstrual chart.
After the session, I met with three local women (one who is a tailor by trade) that are interested in sewing DfG kits for their communities and for other refugees. Each was given a sewing kit with fabrics and notions for 2 shields, 8 liners, and 1 drawstring bag. Just three days later, I received a stream of photos that the women took while sewing all three DfG kit components. With only a brief verbal explanation and pictorial instructions, these talented women were able to sew the Days for Girls shield, liner, and drawstring bag beautifully! I will be returning in June to visit these women with three main goals:
A sewing workshop and soapmaking class (open to all women in the area) for more extensive instruction of the sewing techniques and recommendations involved in making the Days for Girls kit.
Delivering donations of pre-cut fabrics and sewing supplies, including a serger to make sewing absorbent liners more efficient.
Securing a suitable location for the women to set up a sewing center, with the assitance of Akkar Network for Development and other local partners.
The DfG kit gives women a reliable, reusable, and earth-friendly option for menstrual health management. In addition to the DfG kit, our distribution sessions always include an education element about the proper use and care fo the DfG kit, a full explanation of the menstrual cycle (and how it can be charted, allowing women more insight into their own cycles), and basic menstrual health and hygiene. Our sessions in Lebanon are almost always in partnership with a nurse or other healthcare provider that can also answer other questions and/or concerns that the women may have during a session.
Again, thank you for making all of this possible and for helping us enrich the lives of Syrian refugees in their time of need. Be on the lookout for another update at the end of June!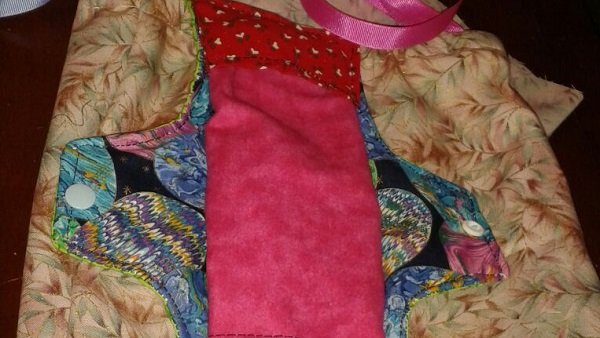 Links: