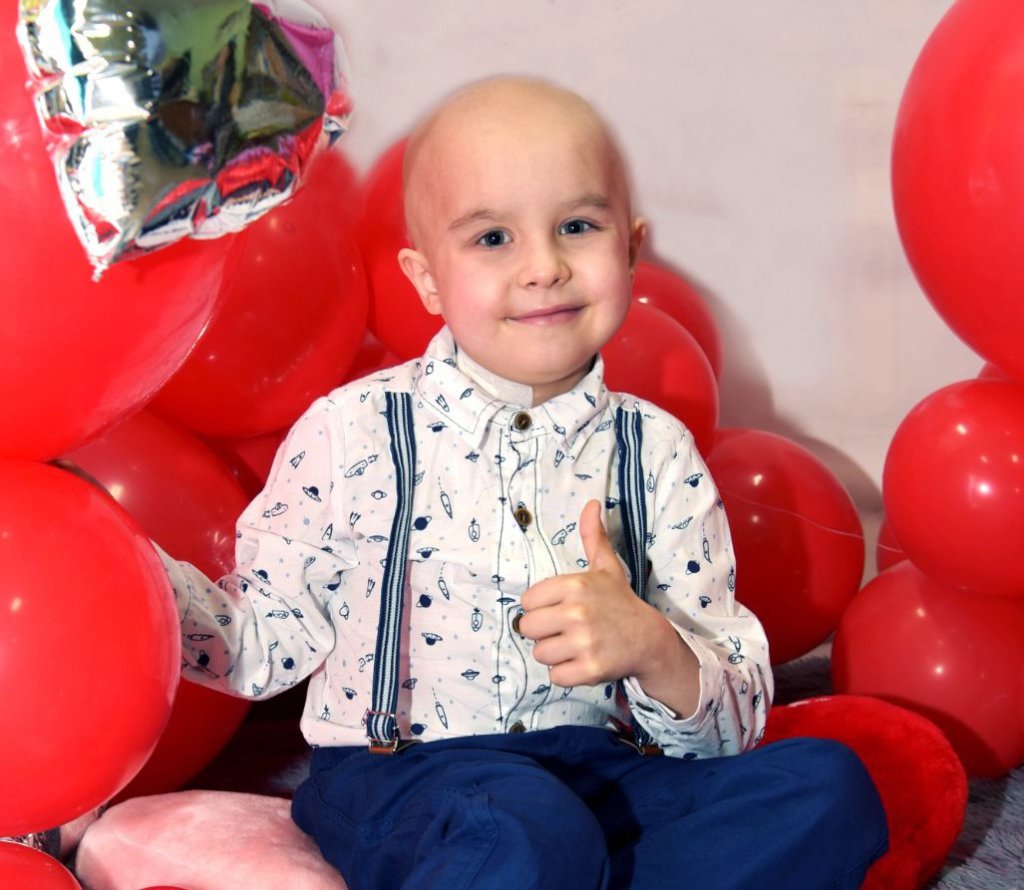 Thanks to your support children who fight cancer received medicines and supplies in April-June 2020 amounted to $ 368129. $ 94985 was spent for targeted assistance for children whose families have applied to the Foundation for help, and $ 267219 to help 17 children's oncology departments all over Ukraine. Administrative costs for the project amounted to $ 5925.
Little Alexey, 5 years old – our ward has been fighting cancer since last September.
Only the complete absence of hair discovers this affable, even-tempered boy with impeccable manners as a patient with a complex type of blood cancer. Many months of difficult treatment, and since March 2020 - also in strict quarantine. Alexey is not discouraged and not capricious. He's practicing math - easily adding and subtracting three-digit numbers, assembling a LEGO Ninjago and getting ready to start school in the fall.
But for this, very expensive vital medicines for him - Ervinase should be purchased and brought to Ukraine. We are thankful to all our donors who help the boy to go to school next year.
In 2015, Katya was diagnosed with lymph node cancer. Katya's family began to fight for her life, but after 8 months of treatment, the girl had a relapse. Katya underwent 2 blocks of anti-relapse therapy and auto-BMT. After that, almost 3 years of LIFE. She caught up with the school and managed to get into the 7th grade. The girl began to grow and develop, but the tumor also began to grow again.
For 5 years Katya has been fighting cancer and the disease has been partially overcome. The girl's mother says that after a long and painful treatment, the tumor in the mediastinum has decreased by half. Now the most important step remains - stem cell transplantation.
For the successful transplantation, it is necessary to carry out high-dose chemotherapy with the drug Tiotepa (Tepadina). The drug is not registered in Ukraine and, given the quarantine restrictions, requires the involvement of many people in order to find, buy and deliver it on time. But nothing is impossible when there is help from caring and incredible people. Thank you, our volunteers and donors who help Katya to survive!
Tonya is 17 years old. She has a large and friendly family that helps her to fight the disease for the second time. Katya is studying to be an interior designer. Tonya began to come as a volunteer to her department, where she was receiving treatment, and engage in creative activities with children, told how she was treated and what is most important is to be positive.
No one expected the relapse after more than 8 years of remission have passed. Tonya's mom said that they did it once, so they can do it again – win against cancer. The most disappointing thing for Tonya is that she can't see her siblings and younger sisters are growing up.
Tonya will have bone marrow stem cell transplantation, and in order to achieve complex remission, she needs to undergo immunotherapy with the expensive drug Darzalex (Daratumumab). The drug was only recently registered in Ukraine and the manufacturer has not yet had time to officially import it into Ukraine. We are thankful to all the caring people who help to find the medicine for Tonya! Thank you!