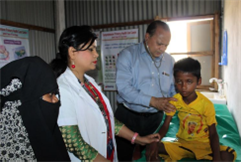 1. Brief description of the camp
The Rohingya people in Cox's Bazar heavily rely on humanitarian assistance for all their basic needs including food,shelter,water,health and other life-saving needs. Most oft he women had gone through severe trauma, lack of safe delivery, ANC and PNC support and now living in extremely difficult conditions. In this situation Community Initiative Society (CIS) with the support of A-PAD Korea provided emergency health service in Jamtoli Rohingya Camp – 15 of Ukhiya of Cox's Bazar District.
2. Emergency Medical Service to te Rohingya women and children
CIS with the suppor of A-PAD Korea provided the emergency health service to the Rohingya women and children in Jamtoli Rohingya camp of Ukhiya through established Comprehensive Primary Health Care Center(CPHCC). During the service period more than 2,000 patients were treated.
The Rohingya people do not have any money to buy medicine and get pathological service. CIS with the supprot of A-PAD Korea and GlobalGiving provided all kind of necessasry medicine according to docotr prescriptions and oral saline to all patients, who came to the health get the health service.
3. Project progress status
Totally 2120 Rohingya patient took the health care services from the emergency health service by getting medical comsultation and medicine to the Rohingya people of Cox's Bazar of Bangladesh. It was very much helpful for Diarrheoa, Dysentery, ANC, PNC, infectious Disease and respiratory, BR. Astma, Diabetic, Hypertention, Heart Disease and malnutrition. The Rohingya people also practicing their health and hygiene system by getting the health and hygiene education and have the safe driking water from different water sources provided by various national, international and government agencies. On the other hand 39 Rohingya women and children have nourishing meal by getting nutrition package.
4. Thank you for your support
By providing the emergency health service to the Rohingya women and children with the partnership can establish a field to work for local community in Bangladesh. In this regards CIS with the help of DCH Trust organized several meeting with local communities and private organizations and also visited local health post and local community. On the other hand, by the GlobalGiving funding, monitorion from CIS and A-PAD Korea could provide emergency health service to the Rohingya women and chlidren in Cox's Bazar, Bangladesh.
We deeply appriciate for your support. We are going to keep helping Rohingya women and childeren. Thank you.