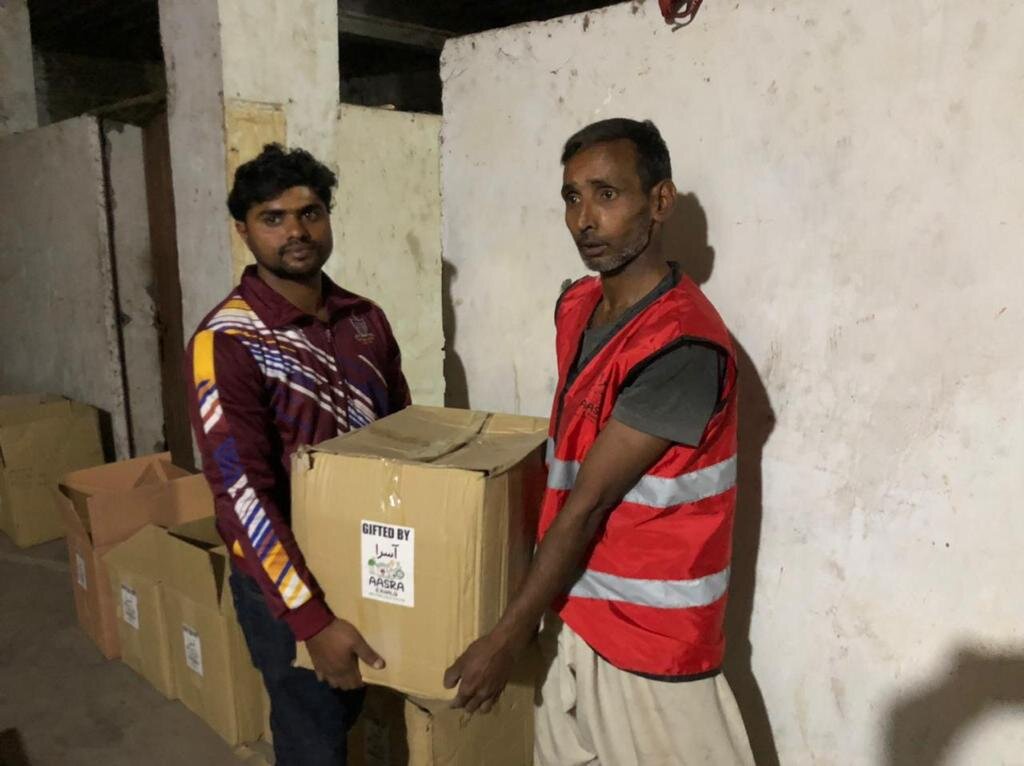 Some 193 million people experienced "acute food insecurity" last year, a joint report by the EU and UN said on Wednesday, calling it a record figure and warning that the war in Ukraine will add to a "perfect storm" to make the hunger crisis even worse in 2022.
Acute food insecurity is defined as a lack of food so severe that it puts a person's life or livelihood in immediate danger. Its most serious form is famine, leading to starvation and death.
The Global Report on Food Crises, compiled by the Food and Agriculture Organization (FAO), the World Food Program (WFP), and the European Union, has been monitoring it since 2016 when acute food insecurity was said to have affected 108 million people.
Last year's figure of 193 million marked an increase of nearly 40 million from 2020. However, part of the increase is due to the fact that the latest report looked at a wider population sample.
In 2021, the countries with the highest numbers of food-insecure people were the Democratic Republic of Congo, Afghanistan, Ethiopia, Yemen, Nigeria, Syria, Sudan, South Sudan, Pakistan, and Haiti, the report said.
It added that around 570,000 people in Ethiopia, South Sudan, southern Madagascar, and Yemen faced famine. This was four times the number that was observed in 2020 and seven times higher than in 2016.
The report listed conflicts, extreme weather events, and economic shocks as the "key drivers behind rising acute food insecurity in 2021," and said the outlook for 2022 was gloomier even before Russia attacked Ukraine on February 24.
"The unfolding war in Ukraine is likely to exacerbate the already severe 2022 acute food insecurity forecasts included in this report, given that the repercussions of the war on global food, energy, and fertilizer prices and supplies have not yet been factored into most country-level projection analyses," it said.
The World Food Program (WFP) reports that over three million people in the country are experiencing severe food insecurity, mainly in the drought-affected districts of Balochistan and Sindh. Over half a million people in these provinces are described as in emergency conditions.
Based on an analysis, nine rural districts of Balochistan, seven rural districts of Khyber Pakhtunkhwa and nine rural districts of Sindh were analysed, amounting to around 8.6% of Pakistan's population.
Balochistan, Khyber Pakhtunkhwa and Sindh are three provinces in Pakistan, all having a high prevalence of food insecurity, malnutrition and poverty. In 2021, their populations faced multiple shocks including high food prices, drought, inadequate rainfall and livestock diseases, which were exacerbated by the impacts of the COVID-19 pandemic.
For all three provinces, food insecurity has consistently remained high over the years, and urgent action is required to protect livelihoods and reduce food consumption gaps of people in Crisis and save lives and livelihoods of those in Emergency. The latest analysis conducted in Sindh province also reported nearly 640,000 children under the age of five likely suffering from acute malnutrition through February 2022.
Current scenario of hunger in Pakistan is clearly explained above. A large number of people in Pakistan sleep on an empty stomach every night. Based on the above, Fatima Memorial Hospital and NUR Foundation have taken the matter in their own hands and have started to supply food to poverty stricken students and families of NUR Community Outreach Program (NCOP). Our community outreach program has 4 locations where there are large number of families living in poor state and with your support we are able to provide them with food and clothes. The number keeps on increasing and we lack resources for which this appeal is being made. Help us so we can help the needy.
We depend heavily on donations from our valued donors and would like to urge that the support continues and grows, through which we can provide food to the needy as much as we can.
Thank you.