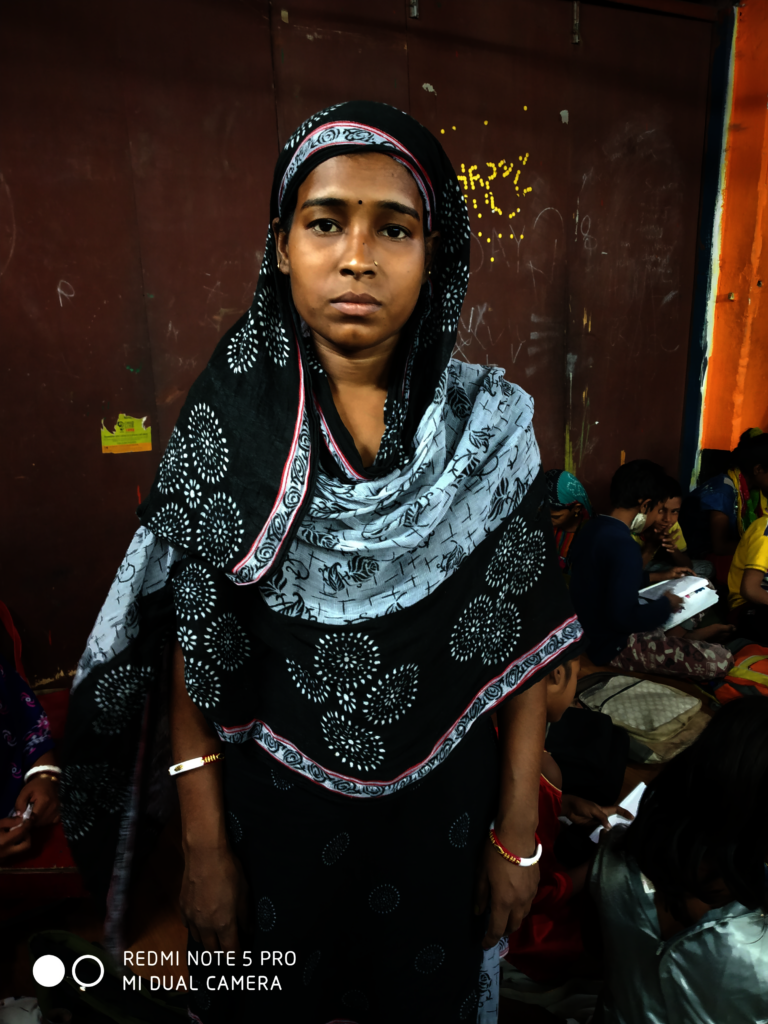 Sukhjan's desperate story is not unusual in Kolkata's slums and squatter camps. Born into a large family in a village outside Kolkata, the first disaster came with the death of her father, the family's breadwinner. Her mother took the family to Kolkata where they now live in an illegal shelter beside the Topsia canal. Sukhjan's older brother married her off to an alcoholic drug addict who beat and starved her until the girl's mother could bear her daughter's pain no more and persuaded her to leave the husband's home and return to her family. By this time she had conceived a son, now 9 years old.
Sukhjan is illiterate, was married off as a child and works as a maidservant for just Rs2000 per month (£20, USD26). Her husband continues to visit her, demanding money and abusing her. She borrows money from neighbours to give to him. She called the police once and the husband was jailed for a week but was soon back to his old ways.
Tiljala SHED's staff are very concerned about Sukhjan and her son. We are able to help her by bringing her son into our Education Centres every day after school for academic support as well as to enable us to keep him safe and off the streets. We also provide Sukhjan with material support – dry rations (rice, dal, tea, flour), blankets, tarpaulins (for shelter) and clothes.
Our long term goal is to keep her son in education and to encourage him to pass his board exams so that he can earn a decent living and look after his mother in future. But in the short term, your generosity means that we can offer her emergency support.
Thank you as ever for providing some of Kolkata's most vulnerable people with rays of hope. All the beneficiaries and all the staff at Tiljala SHED are so grateful that you make this programme possible.
About the programme
The Emergency Food and Medicine Programme differs from Tiljala SHED's other activities in that it provides emergency relief to families and individuals in crisis. Our other programmes focus on long term goals of empowerment and development. A committee, run by Parveen our programme co-ordinator, decide how the funds are spent. Sometimes the help is medical - covering expenses for medical treatment and frequently it is about helping a family through difficult times by providing food rations. This programme is vital in helping us to keep our Education Programme on track. When a family falls on hard times (and this has been so much worse during the pandemic) the children are often taken out of school as the expenses associated with schooling (uniforms, books, shoes) can no longer be borne. This may be a short term solution, but it is a disaster in the long term as education and literacy is the absolute best route out of this extreme poverty. So we prioritise the families where there is risk of children dropping out. It is working well and we are proud that we have youngsters completing school and aspiring to higher education.