Project Report

| Aug 16, 2023
How we help the most vulnerable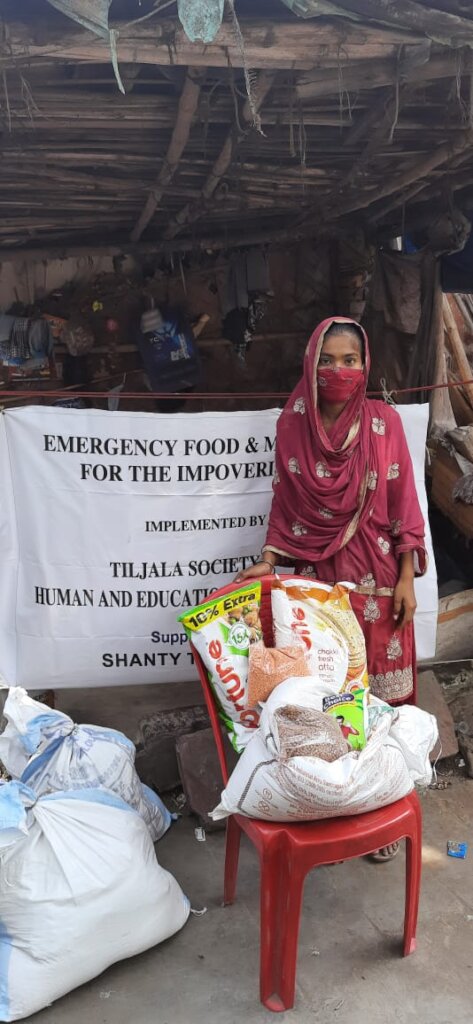 This report is direct from the field. This shows how your generous donations have been spent in the last 3 months.
Objective of the program: To provide food and medicines to the most vulnerable section of the society.
The criteria for getting the Emergency Food and Medicines are as follows:
Elderly
Disabled / Victim of Accident
Single parent/deserted
Low income with more family members
Widow
Beggars
Suffering from serious illness
Activities done:
We have been continuing providing dry ration to the family of Sana a disabled child who is totally bedridden. We have also been paying Sana's medical bills every month.
With our persistent efforts we have been successful in getting all the rectifications done in her documents. We have opened a bank account for her and submitted the application along with all necessary documents at the concerned government department to get her enrolled under Manabik Pension scheme for the disabled. The application is now under process. Until she gets enrolled under the scheme, we will continue helping her with ration and medicines for another few months.
We are also helping Sakina of Class XII from Mir Meher Ali Lane with ration along with other educational support to fulfill her necessary requirements who has recently lost her mother due to long term illness.
We have distributed dry ration to 25 very needy beneficiaries from all areas in this quarter

Amrita of Class XII from Topsia is suffering from a number of health issues including obesity, liver and gynecological problem and is on medicines. We paid her for her medicines which she couldn't afford to buy with the meagre income of her parents. (Her father is a labourer and mother a house maid)

Chadbanu a ragpicker residing beside the railway tracks in Park Circus is suffering from diabetes. The doctor had prescribed medicines to be continued which she couldn't afford to buy and therefore was not having the medicines. As a result, her health was deteriorating day by day. We arranged to buy her medicines. Ater having the medicines she feels much better and is thankful to the Shanty Trust for this great help to her.

These are the lives we seek to improve....
NOORJAHAN , 60 YEARS
Noorjahan lives in14 No. Canal West Road. Narkeldanga. Kolkata- 700009. This big family of 9 members stay altogether in a very small house on the footpath.
She had a stroke and doesn't keep well and thus cannot do any work. Her grand daughters are not into studies.
Her daughter Farjana 40 years, washes dishes at marriage parties and earns Rs.200 daily. She is the only earning member taking care of the whole family. Her husband expired and she remarried after his death.
Her son Salauddin 29 years, used to ride horse carriage and was alcoholic. Now he has skin problem and hands are bent and thus cannot do any work.
Her granddaughter, Sakila's husband died six months ago falling from the roof and now Sakila begs with her little daughter Yasmin of 9 months old and earns about Rs.4000 a month. This is a very needy family and deserves all possible help to be given.
KAMRUDDIN, 78 YEARS
Md. Kamruddin lives in 14 Canal West Road. Narkeldanga. Kolkata -700009 near the canal opposite to our Narkeldanga Education Centre. He is very old and sick hence he is always at home and cannot do any work by himself. His family consists of three members.
His son Manzil, 30 years, is alcoholic and doesn't support his family as he spends all his earned money on alcohol.
His daughter, Chandni does all the household work and takes care of her father. Kamruddin's wife expired during Covid 19 due to respiratory problem as they live in an unhealthy environment.
The family is dependent on the rice which they get from the government at subsidized rate. They also get one time meal in the afternoon from an NGO except on Sundays. Rehana, a lady living next door also helps her with food and money as and when she can. Chandni sometimes go for washing dishes at marriage parties and earns about Rs. 150 to Rs. 200 per day. This work is not on a daily basis. Another NGO working with women and child sometimes helps the family with dry ration and medicines for Kamruddin.