Project Report

| Jul 10, 2023
"Jifundishe has rejuvenated my determination"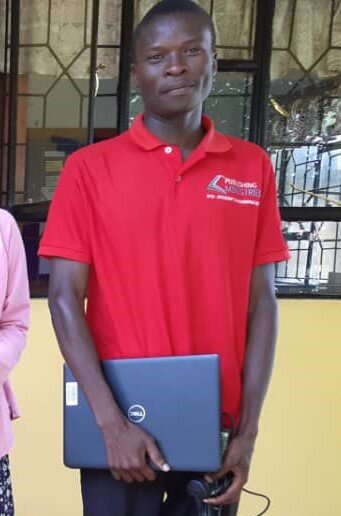 Masumbuko, 25 years old
"Jifundishe has rejuvenated my determination to never give up"
Masumbuko is the fourth child in a family of six siblings. Born as the only boy in a low-income family to parents who have never seen the inside of a classroom in Geita Region – Northwestern Tanzania, Masumbuko didn't have much to dream or look forward to. But culturally, he was expected to man up and take care of his sisters. He watched his 4 elder sisters pushed to early marriages with no schooling. It pained him to leave his sisters at home while he went to school. There was nothing he could do to change that.
In 2013, Masumbuko sat for the primary school national assessment and was selected to join a local public secondary school. As much as people were happy for him, his parents were not able to support everything he needed to continue with his education. Due to his friendly character and commitment to school, one teacher from his primary school couldn't let him stay home. this teacher became Masumbuko's first inspiration. In January 2014, Masumbuko started his journey to pursue a secondary school education. At this point, he had to juggle between school and working on other people's farms to keep up with school arrears. Four years later, he sat for the Certificate of Secondary Education Examination (CSEE) and was selected to join Ifunda Secondary School in Iringa in the Southern Highlands of Tanzania to study a combination of science subjects – physics, chemistry, and biology (PCB).
The advanced level of secondary school education in Tanzania usually starts in May, so Masumbuko had enough time to work and save enough for school fees and other logistics. He worked all sorts of day jobs from selling charcoal on a bicycle to working in onion plantations to raise his own school fees. In 2018, he managed to join Ifunda Secondary School. Life was not easy for Masumbuko, because he still had to work odd jobs while in school – he had no support from anywhere else. He couldn't afford to go on any school vacations.
In 2019, with help from the Headteacher, he sat for the Advanced Certificate of Secondary Education Examination (ACSEE) and got Division III. With this grade, Masumbuko couldn't qualify for Government Higher Education Loans to go to university. It was a dead-end for him. He really was looking forward take a bachelor in education to be a science teacher. He felt hopeless and back to square one. There were no options left for him but to travel back to his home village in Geita. He couldn't believe it was the end of his dream. He started doubting his own name – Masumbuko is a Swahili word that loosely translates to 'troubles'. His mother told him that he had come so far to lose hope now.
Coincidentally, a village friend who was studying at Arusha University spoke to Masumbuko about Jifundishe and her projects. He specifically told him how he'll benefit from the Independent Study program at Jifundishe. It was the best news ever for Masumbuko – it was a back-in-business wake-up call.
In 2020, Masumbuko traveled to Arusha with his 'guardian angel'. He immediately joined the I.S program as a private candidate to take the Form 6 examination again in May 2021. As usual, he had to fend for himself and attend classes at Jifundishe. Unfortunately, Masumbuko didn't get the required grades to enter university. But, his determination to follow his dream was now stronger than ever before. Jifundishe had rejuvenated my determination to never look back. In 2022, he took the Form6 examination again after another 10 months of juggling work and studies. His combination didn't balance again to pursue a degree in education but could get him through to take a Diploma in Pharmaceutical Sciences.
With support from the May Higher Learning Scholarship at Jifundishe, Masumbuko is today a 1st-year student at Excellent College of Health and Allied Sciences in Mwanza – Northwestern Tanzania. He'll go up the medical ladder one step at a time, and maybe one day be a lecturer or professor in a medical school.
Masumbuko's excitement cannot be hidden – he is on his way to making his dream a reality. Thanks to Jifundishe's I.S program and May Higher Learning Scholarship.