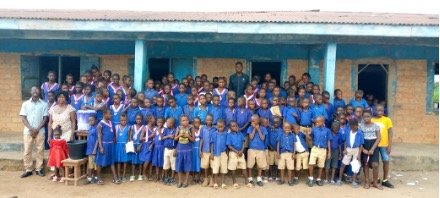 EducAid Primary School Maronka - What has been happening at Maronka
Report created by Maronka Site Coordinator/Head Teacher JP Sannoh
Lots of great things has been happening in Maronka. These things have in one way or another contributed to the successful running of the school. Below are the highlights of the things that has been happening in Maronka for the past few months.
ECO (GREEN SCHOOL, 3R'S- Reduce, Reuse, Recycle) SENSITISATION TOUR
Maronka Primary School embarked on a green school sensitization tour to the neighboring school in the early 2021. The essence of this visit was to create a platform which could encourage schools around the communities to figure out the reality and the significance of a green school and the necessity of reducing, reusing and recycling of waste. The visited school was happy for our noble visit as they promised to adhere to what they have learned from that visit. Below is the photo of the visit made. We will have another engagement visit to encourage tree planting in June.
COMMUNITY MEETING
EducAid believes in community collaboration and engagement as it is one of our core values. Therefore, at the start of each term, we engage with the community to plan together in making sure there is a smooth running platform in terms of community – school relationship throughout the term. This is a time to discuss vital issues concerning the school, students and community.
READING CLUB
EducAid believes in reading and encourages every students to engage in reading as often as possible. English is a Sierra Leonean's third language, so at some point in time, children do find it difficult to incorporate the habit of speaking English. Therefore, EducAid Maronka is giving all forms of support to the students to build up their spoken English and writing as well. This reading club was formed to boost students' reading habits. It usually starts at 5:00 PM and ends at 5:40 PM. There has been great improvement in terms of reading and speaking. Below is a photo illustrating reading period.
INTER TUTOR QUIZ COMPETITION
As we work towards pursuing excellence across the organisation, we encourage the students to participate in inter tutor quiz competitions which happens every two weeks. This is essential because it act as an indicator of improvement in the students learning.
EXAMS PRACTICE
National Primary School Examinations are just around the corner. We believe in early preparation of exams students. We do believe that preparing the exams students helps them to understand the exams protocol and ethics. Based on that, we have frequently engaged on exams style practices. We have found that while other students from other schools were finding it difficult to abide by the rules and principles of the exams and were not familiar with exam protocols, our students were completely calm, having practiced filling out answer sheets and been exposed to the process as part of their preparation. Below is a photo showing our pre – preparation for the exams.
SPORTING TIME (PE SESSION)
We believe that extracurricular activities like sporting, do help the students to flex their minds and muscles. Therefore, we do encourage our students to be part of every Wednesday sporting activity. Below is a photo of a recent PE Session.
SPEED BUMP CONSTRUCTION
As SAFETY is one of our core values, quite recently, the pupils organised themselves with the assistance and supervision of two staff to construct speed bumps in the school compound most especially along the access road for bikes and vehicles. This activity was done in order to slow down the speed of bikes and vehicles within the school area.
GLOBAL MATHS WEEK
We believe in global engagement as it will help us to enhance understanding and helps to improve our learning. Maronka took part in Global Maths Week with students participating in various math activities and games.
WORDS VESSLES
This idea was initiated in order to encourage the students to get use to new words. Any new word they come across while reading is written down on a piece of paper. The word would then be put in the vessel. The number of pieces of words in the vessel determines the amount of new vocabulary a student has learnt for the day. See photo below.
DISTRIBUTION OF SCHOOL IN A BAG
A few days ago we received donation of 99 bags from School in a Bag. These bags were distributed amongst the students. This has made the school very colorful, seeing every student carrying a red bag on their backs
These are some of the exciting things that have been happening in EducAid Maronka. Thank you for your support of our school and students!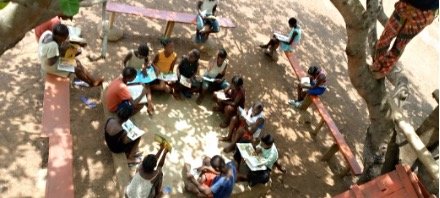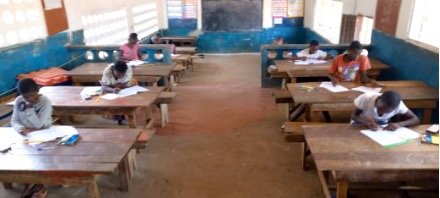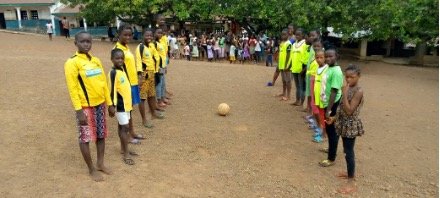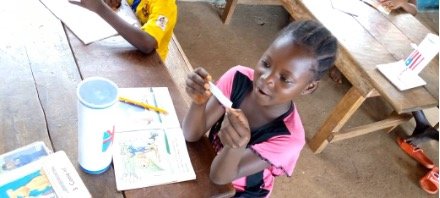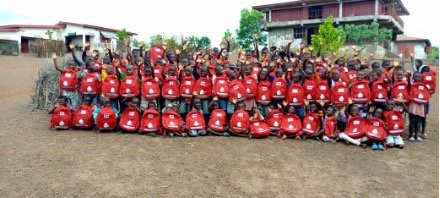 Links: