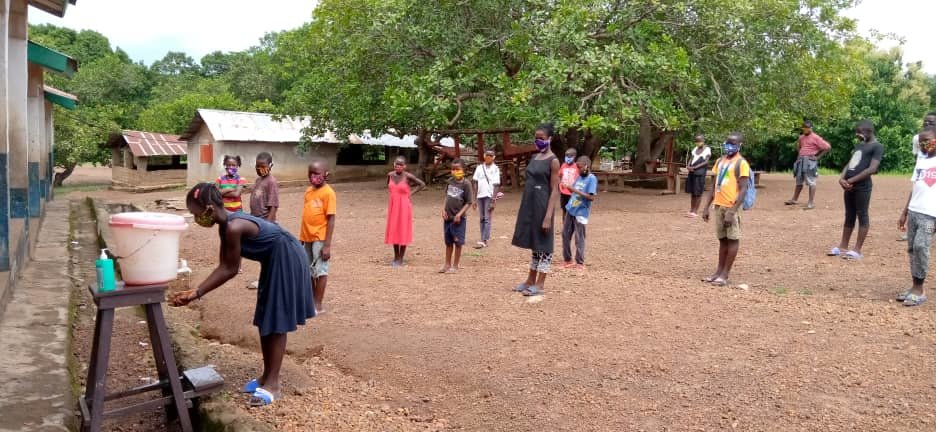 As a result of the Covid-19 pandemic, school is Sierra Leone closed on 31st March. Before returning to their communities, children were equipped with learning materials and strategies and support for staying safe. Students with nowhere else to go stayed at Maronka learning by radio lessons. The children who stayed at Maronka helped EducAid to record radio and distance learning content for national distribution, asking questions and participating to give lessons an interactive and authentic feel.
The Year 6 students, the Eagles, returned to Maronka on 1st July to begin preparations for their National Primary School Exams (NPSE). On 31st July, all of the Eagles sat their first national exam. We interviewed their proud teacher, JP.
JP says, "I am delighted to answer those questions as I was directly in charge of them. In the aspect of the preparation, before the pandemic outbreak, they were excessively doing unit work, taking NPSE exams style twice per month. It pains me so much that I did not work with them during the outbreak of the pandemic as many went home and all schools were closed."
How did the Eagles prepare for their exams?
They were working on the units in line with the syllabus, also taking NPSE practice exams twice a month which was very helpful. On their return from home, they were engaged in NPSE past questions practices because they were having a month to their exams.
I also taught them the dos and don'ts during the period of the exams.
Were the students nervous on the day of the exam?
I am proud to inform you that my pupils were calm and were so happy to write to their exams. The issue of panic was not in their system, because they have done a series of exams practices before writing to the NPSE.
What advice did you give the students?
1. One of the advice I gave them was no one should walk up to them asking for money in exchange for assistance during the exams, and to report anything like that to me and I will pursue the matter.
2. Another was to consider exam timing and make sure they don't spend too long in answering a question.
3. They were also advised of not leaving a required question unshaded.
4. Also, they were told not to communicate with each other during the exams, as they will be asked out of the examination hall.
Do you think they did well?
From their facial expression after the exams, it gives me glad tidings and hopes for the future (when their result comes out). They were all happy and saying all that I taught them and what they've worked on was seen during the exams.
Are you proud of them?
Oh Yes!!!!! I am very proud of them. The reason is that I know they will not let me down and they all were very happy during their exams and after taking their exams.
Update: We are thrilled to say that 99% of the Eagles passed their NPSE examination