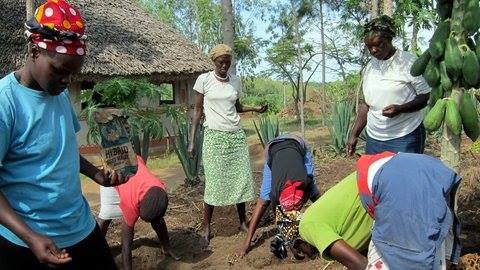 What we do know is that Sickle Cell Anemia (SCD) is a debilitating disease that has created the highest rate of childhood mortality in Sub Saharan Africa. What we also know is that most of the children with SCD also suffer from malnutrition and have extremely painful joints. Like many diseases, nutrition and exercise plays a big role in keeping bodies strong to fight each crisis. In a study in Benin, they have shown that health interventions has dropped the mortality rate of SCD in children to that of other diseases. That to us was enough information to set this project into action with the super food moringa.
With this knowledge we have formed a holistic program with educational curriculum and also using moringa to provide critical nutritional support. This project also facilitates an income producing opportunity for impoverished families who are dealing with a very vulnerable child who needs medical intervention.
Peter Kithene Founder of Mama Maria Clinic and Hospital has donated two acres of land around the clinic being made available for moringa planting and harvesting, for the families who have registered as a member of the Sickle Cell Warrior Muhuru Bay Chapter.
As part of the Moringa Tree Project, Asembo Kar Geno's training under Raphine Muga on using moringa as a food source is training the families and has covered topics such as planting methods (including demonstrations), ideal growing conditions, pruning, harvesting seeds and leaves, processing the powder from leaves, the plant's nutritional and medicinal benefits, and recipes. Seedlings were given to each of the participants and the trees are being planted as funding will allow around the compound. He is currently working with the clinic director Silas Nguru to prepare land to support another 200 more saplings that we hope to plant.
The planting of the trees and the camaraderie is crucial for families who feel a sense of isolation in a community where disease in the family is seen as a curse, and for whom feeding and nourishing their children is a constant challenge. Our aim is to get families talking so they can share and unload their burdens, plant trees and see their children's health improve.
Thank you for your continued help with planting this health promoting tree.
Shana Greene, Village Volunteers