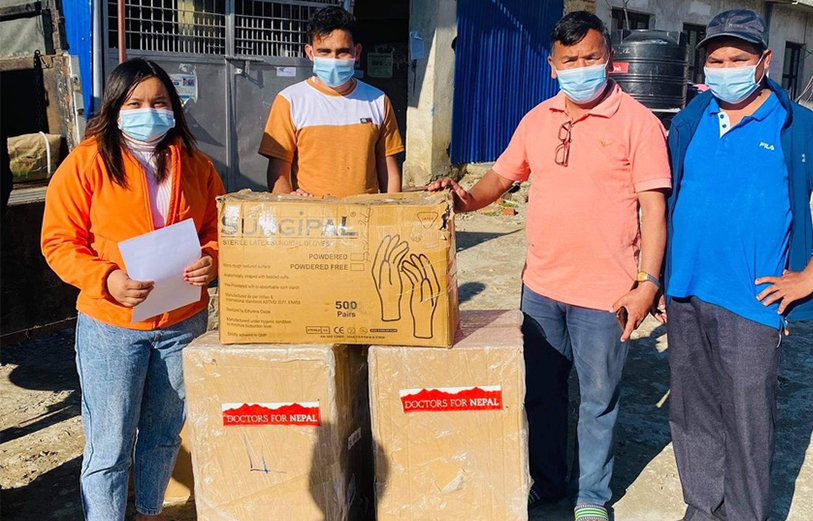 In Nepal, from 3 January 2020 to 29 July 2021, there have been 690,642 confirmed cases of COVID-19 with 9,807 deaths, reported to the World Health Organisation. As of 25 July 2021, a total of 4,453,496 vaccine doses have been administered.
Back in May we launched an urgent Covid Nepal appeal to raise funds specifically to buy desperately needed equipment for rural hospitals in Nepal. Our aim was to help tackle the Covid disaster that was rapidly spreading across Nepal. There had been a 668% increase in cases at the start of May (Oxford university data tracking site) with the charity receiving frantic daily pleas for help from our friends and colleagues in Nepal. Dr. Kamal (one of our DFN doctors who has just finished his internship in Kathmandu) wrote: "Our Health system has collapsed… hospitals cannot take patients because we don't have any life-saving Oxygen… we are helpless".
An "open border" policy with India, had led to rapidly rising numbers of cases of the Indian Covid strain, and Nepal's poor medical system and chaotic infrastructure are poorly placed to cope with such a disaster.
Patients were and still are presenting to hospitals and health-posts by the hundreds, and they are ill-equipped to do anything other than mutter quiet words of hope. Without international support, many more thousands would die, so we launched a fundraising campaign to urgently raise funds to provide oxygen concentrators & generators, pulse oximeters (to measure blood oxygen levels) and further supplies of high-quality PPE.
We worked closely with the NGO PHASE Nepal, with whom we have a long-standing collaborative relationship, to ensure the procurement of high-quality equipment, which, by the end of May, we are delighted to say arrived at ALL the remote locations we support – Mugu District Hospital, Karnali Academy of Health Sciences, Kalikot District Hospital, plus Patan Academy of Health Sciences in Kathmandu. We had managed to raise enough funds to purchase this equipment which has helped to save lives of patients, and which has ensured the continued safety of our teams working in this high-risk environment.
At the beginning of July we got news from Dr Kamal and a picture of the DFN donated oxygen concentrator being used in the Covid ward at Mugu District Hospital.

Kamal says:
"Nepal is still in lockdown with Covid cases decreasing and recovery rate increasing. However, all help is being concentrated in Kathmandu and not in the remote districts of Nepal.

Testing facilities are very few and far between with community transmission of Covid rampant. In the remote areas of Nepal there is an extreme lack of testing facilities so there is a huge problem with identifying Covid cases early enough, and being able to put infected people into isolation.

There is a real need for many more testing kits and of course Covid vaccines."
In other news we would like to offer our huge congratulations to Dr Kamal and Dr Apsara, who have both completed their 1 year internship at Patan Hospital in Kathmandu. They are now off to their remote regions of Kalikot and Jumla to take up jobs as doctors back in their home villages. Their dream of bringing healthcare to rural Nepal has been realised - we are SO very proud of them.