The Work We Did
At all our centres, after school tutoring is on-going Tuesday through Saturday 9 a.m. to 5 p.m. The Satellite Centres are keeping it real with tutoring school children.
We keep on keeping it real at Inwelle Centre as we promote economic empowerment.August 7, 2021: It was the turn of our Inwelle Centre Enugu participants to be trained on skills to enable them increase their source of income. The training of Women at Inwelle Centre Amorji Nike Enugu went well. They made bar soap, disinfectant, and the bleach during the two-day project.
Economic Empowerment of Women and Young Girls Through Skills Acquisition
Our ongoing skill acquisition programme is to teach women (especially mother's) on how to produce household cleaning products with the aim of reducing high poverty rate among women in our community How? When they acquire the knowledge of producing disinfectant, liquid soap, bar soap and bleach, they can be self-employed and also save money used in buying those products at the market. For example a liter of hypo bleach in the market is N800 whereas N900 can be used to produce 10 litres of bleach. Also the aim is to control the spread of germs, bacteria, found at homes, schools, markets etc and reduction of diseases and infections that are common in women and children.
Just like at the training at Ogidi Satellite Centre, Idemili North Local Government Area, Anambra State, the participants at Amorji Nike Centre, Enugu East Local Government Area, Enugu State, were educated on the need for safety wears and measure, when dealing with caustic soda and other harmful chemicals. We made sure that they understood the seriousness of adequate protection while handling chemicals. They were shown the picture of result of careless handling of the chemicals for production and were also shown some safety wears, such as nose guards, hand gloves, lab coat etc.
They were taught how to produce disinfectant, which is important for use because it prevents skin diseases and kills germs when used for bathing and cleaning surfaces and floors.
Our next training will be for Women and young girls at Inwelle Satellite Centre, Ozalla Ezimo, Udenu Local Government Area, Enugu State.
September:
Inwelle International Academy of Excellence opened on Monday, September 27, 2021. It is not a full house yet, but we are making progress. We are teaching classes from Kindergarten to Junior Secondary level. We are teaching all the academic subjects as well as skills acquisition. The idea is to give the young people in our school the skills earn money as they go to school. This way, they take care of their personal need.
Inwelle International Academy of Excellence is keeping it real with not only classroom teaching but also making sure that both the teachers and the students are computer literate.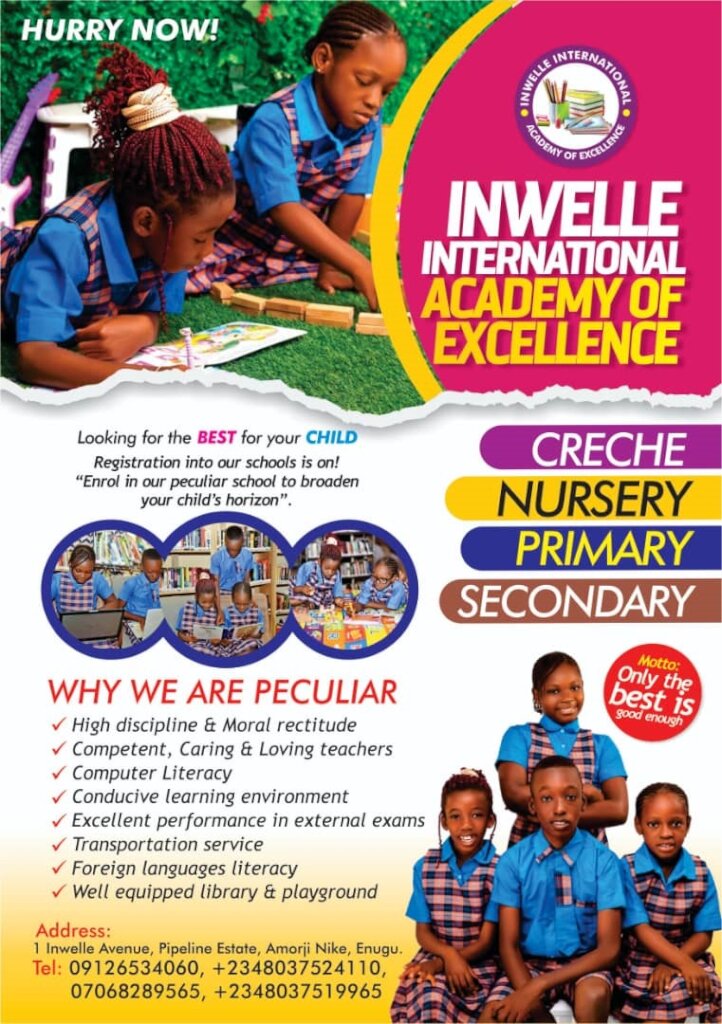 Links: