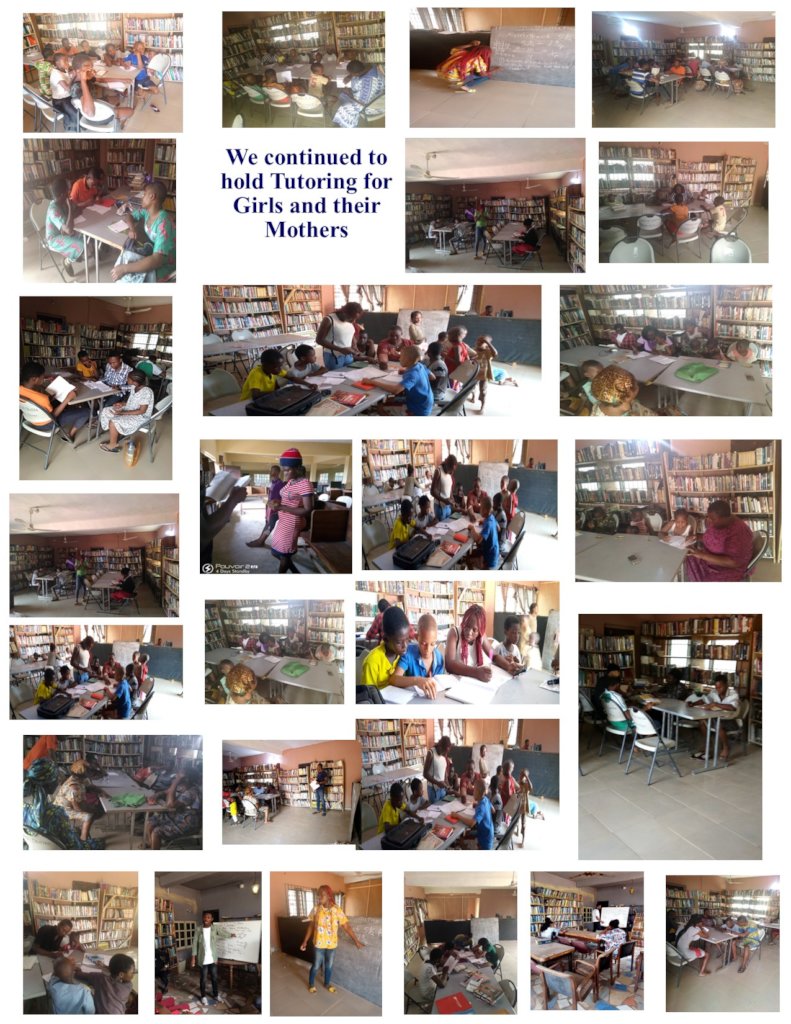 The Work We Did
tutored girls in academic subjects and computer literacy and computer skills acquisition,
engaged in adult education of their mothers to make them partners in working to keep their daughters in school instead of sending them out as house helps in big cities; teaching willing parents basic English and Arithmetic to aid them in their petty trading, opening and running bank accounts to save some of their earnings for paying the little levies that the schools demand to keep their children in school.
held seminars and workshops for young people—boys and girls to instill in them the concept of "He for She" and "See Something: Say Something" as two of the tools we use in combating the trafficking of girls to big cities as house help and in fighting the horrendous violence—physical, emotional, and sexual, some of these girls experience when sent to the cities,
participated in the 2020 International Women's Day celebration,
held a symposium, and
maintained six girls in our Safe Haven scheme.
Inwelle Centre staff and contracted part time teachers, IT teachers and counselors held daily tutoring in academic subjects and computer literacy and computer skills acquisition, and counseling of the girls. The part-time tutors we engaged gave classes in Mathematics, English, Physical and Biological Sciences, Arts and Social Studies. They also engaged in one-on-one tutoring of struggling girls. We are happy to note that their efforts uncovered and tackled the myth of some girls termed iti-kom kom—dumb, empty tins because the girls were not able to grasp academic materials as fast as their peers. They gave these girls extra lessons and established also that some of them were dyslexic and as such were slow in learning. We plan to follow up on this in our programme, hence we are already discussing and seriously searching for how to establish a project we call "Education as a Second Language" which will engage disability experts in helping these girls achieve educational success. Not being able to succeed academically is one of the things that made many of them vulnerable and easy targets for being sent out as house help.
WE HELD SEMINARS AND WORKSHOPS AT THE TWO CENTRES
Contracted experts held seminars and workshops for us to build the capacity of the girls to acquire life skills, their mothers to understand the problems their daughter face when trafficked to the cities, men and boys in the communities to sensitize them on their part to making sure that girls in their midst are protected from violence. Our "He-for-She" seminars made the boys, especially to watch out for the girls while our" See Something: Say Something" Slogan encouraged both girls and boys to bring to our notice incidents of girls in jeopardy of being trafficked or married off. In each case that came to our notice, we were able to intervene successfully. The give-in on our part was agreeing to extend our tutoring and computer skills acquisition classes to young boys. We did this without jeopardizing the integrity of our programme. Actually, we exceeded the number of girls we promised to train. The Centre bore the brunt of this extension as the Programme Director had to forego her salary while some trainers served as volunteers and some trained people beyond their remuneration, especially as we also added Adult education classes to our programme for the mothers.
Safe Haven Report:
We added two more girls to our Safe Haven part of the project. We now have six girls who are in dire need in our safe haven programme. Three of them learned baking and event decoration. Two learned beauty salon skills and make-up artistry, while one learned printing. These six girls were given monthly stipends of $55.00 each for their personal upkeep. One of the girls (X) simply does not have any assistance from her impoverished relatives. Her parents are deceased. She hawks wares for people living close by. She aspires to enter into a higher institution. She is still training as a printing press specialist. We are investing in her skills training hugely. We hope that when is she gets her printing press skills she would be part of the cohort of trainers to train other girls, given the necessary equipment. Investing in her will work well since part of Inwelle Centre plan is to open a skills and entrepreneurship Centre in the main centre for the at-risk girls. Since the path being created for them is for them to take the senior secondary school certificate exam and gain admission into a higher institution and be able to pay their tuition and take care of themselves, they have been assisted to open accounts, taught how to manage their money, and save so that they can pay for their education themselves. They will also be the skills trainer for the next batch of girls.
Girl X says: I have learnt different types of binding including soft and hard binding. I was also taught how to type and print novels. I was taught on how to use the perforating machine and numbering machine in perforating and numbering of papers like tickets, receipt, etc. I was also taught on how to create and design covers of novels, brochures. I was also taught on how to burn wedding plate and brochures plate using the burning machine. I was shown the chemicals used in removing stains which is the delete in full and other chemicals. I participated in printing of projects and covering them using hard cover, the if anybody need spine on it, I can also do that, I can also design covers on system using Corel draw. We were constantly occupied with programmes on brochures for burials and weddings. We created many materials because during Christmas. We also printed t-shirts for people who have marriage celebration and other activities such as traditional dances and printing flyers for churches. I have learned so much. Inwelle Centre director has promised that if I prove that I have learned enough to teach other girls she will look for money to buy the machine and set up a printing press in one of the rooms. I have worked had not to disappoint her.
Girl Y says "I have learnt the following: how to makeup, fix nail, dye hair, relax hair, and also how to weave hair. Firstly, I believe the organization aim for sponsoring me and my colleagues in acquiring skills is to build independent ladies. The question now is, was this aim achieved? I will say the answer is YES! Because it will help me in school, the money I will be getting from it I will use it to take care of myself and not to look towards men for money. Even if I am not in school, it will help me as a young girl because I will use it to feed myself, clothe myself, and buy anything I want as a young lady. When I get married, it will help because I will use it to help my family. I thank Positive Action for Girls and Women for giving me this opportunity. I also thank the director and staff of Inwelle Centre for nurturing us and showing us that we are somebody."
Z says "I can say I have learnt quite a lot from this skill acquisition scheme sponsored by Positive Action for Girls and Women and carried out by Inwelle Study and Resource Centre. At least I can now do the following: makeup, fixing of nail and eye lashes, relaxing hair, dyeing hair (different colours), and also weave hair. I am very grateful for this opportunity. I will never be the same again."
Girl A says: "I learnt how to bake and decorate events. Please see my photos. I am very grateful. I am 18 years old, I am the third child and first daughter out of 6 children in my family. l graduated from high school last year but due to some financial problem, I was unable to go to the university. I came to know Inwelle Center through one of your workers. She was the one who brought me for last year boot camp. It was at the boot camp that they taught me so many skills like how to make disinfectant, liquid soap etc., which will make me independent of my parents and other people. It was at the boot camp that they taught us about Maid Strong which was the main thing that will make a girl independent. I was among the Safe Haven girls. The Centre paid us N20,000 every month as we were learning the skill of how to make cake and decorations. I am very happy for being Inwelle Centre daughter and thank God for bringing such helpful programme to our state."
Girl B who engaged in baking and catering says "I learnt to fry egg yam/yam bugger there by mixing flour with sugar, salt, beny, water, pepper, Etc., how to cream/turn cake and also how to measure flour and butter with scale i.e. 250gram being 1 sachet of butter and some other measurements, how to cover baked cake thereby mixing butter with icing sugar, color, using rolling pin to roll it and use it to cover your cake. I learnt how to mix and bake cake: adding butter, flour, sugar, egg, flavor, yeast, calypso, etc; how to mix bones: adding flour, yeast, butter, sugar, baking powder, flavor, water, etc and finally how to mix and bake biscuit. I learnt how to mix and bake meat pie: adding oil, meat, thyme, Irish potato, green pepper, carrot; then mix your flour with nutmeg, salt, butter, flavor etc. I learnt how to cook sauce using carrot, green pepper, meat and other spices. I learnt how to take orders from customers and shop for the right ingredients, cook and bake for catering an event. I am so happy. Thank you all that helped me to achieve these things.
See the five girls in action in the supporting pictures.
The sixth (Girl C) wrote a longer story as she became pregnant during her programme, had a baby and is still in the programme. We had to employ her so that she could take care of herself and her baby. She works three days a week and studies three days a week because she want to study law in the university. And we know she can do it. She stumbled, but she picked herself right up.