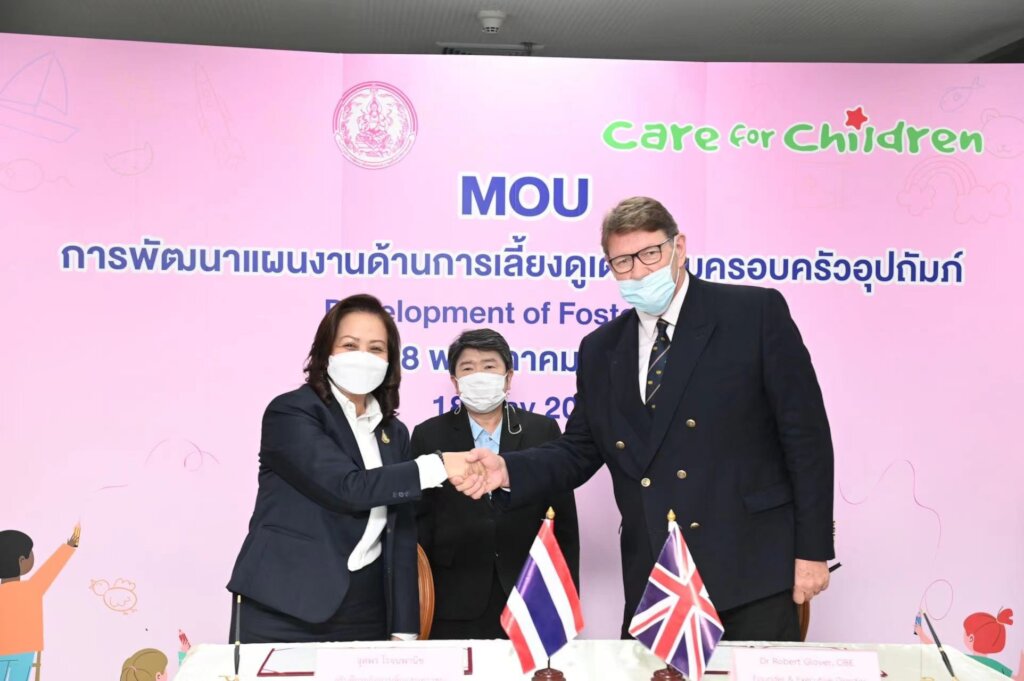 We are delighted to annouce that we have just signed a new Memorandum of Understanding (MoU) with the Thai government, signalling the start of a very exciting stage of the project.
MoUs are key to the success of all our projects. They set out what it is expected of all key stakeholders and demonstrate a commitment from everybody involved to see orphans and vulnerable children growing up in families rather than in institutional care.
In line with a new government policy in Thailand, this MoU includes a commitment to see all children under 6 living in family-based care. In 2022, Care for Children will develop a national model of best-practice collaboration between Emergency Shelters for Children, Child Welfare Homes (commonly known as orphanages), community leaders and local network partners, to reduce the unnecessary placement of children into orphanages, and prioritise family-based care for children already in institutions, especially those under 6.
We just heard about a great example of how an Emergency Shelter recently helped prevent the unnecessary placement of two siblings into an orphanage by keeping a family together.
Recently the Shelter, located in Eastern Thailand, was contacted by grandparents whose daughter had sadly passed away while delivering her second child. The grandfather is unable to work as he suffers from diabetes, which leaves the grandmother as the sole breadwinner for the family. On her current salary she couldn't see how she was going to cover the household expenses and provide for her two grandchildren.
The first thing the Shelter did was look into any benefits that the family might be entitled to. A child support subsidy of 600 baht a month might not sound like a lot, but every little bit contributes towards keeping the family together. Their next step was to assess the grandparents as to their suitability to be kinship carers.
The 9-year-old grandson is now doing well, helping his grandparents with chores, helping with the care of his new baby brother and thriving in the care of his grandparents.
We know that a nurturing family is the best place for children and the benefits these two siblings receive by being able to stay with their grandparents can't be understated. The grandparents will now receive a foster care allowance each month and the Shelter will follow-up and monitor their progress.
Thank you for your support and staying connected to our work.