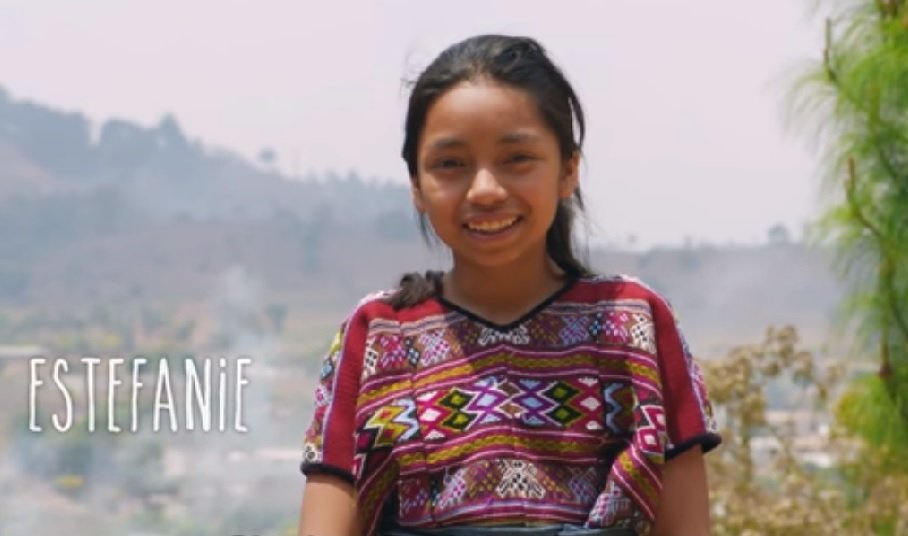 We would love to introduce you to Estefanie, one of our inspiring 8th graders. She has been in school with us since the beginning, over 5 years! Now two of her four siblings also go to CETC (Centro Educativo Tecnico Chixot) and she hopes her youngest siblings will be able to join when they are old enough as well. At just 12 years old, she is a volunteer fire fighter and when she grows up she wants to be a doctor. Her favorite subject is English and she loves the new classroom that she is in this year. Last year, Estefanie was selected to star in a Belgium TV children's show, Goed Gezien, that teaches kids about development projects all over the world. Watch Estefanie in Goed Gezien!
Estefanie is one of our unique heroic students that is inspired by the school and the education she is getting. It is our hope that is she continues all the way through to high school graduation where she will be in a new generation of Hero leaders in her community. The CETC curriculum being built by our middle school teachers is creating the opportunities for each student to become a Hero! Learn more about the curriculum development here
We would like to give you this opportunity to help financialy sustain one of our Heroes with a monthly gift and become a LWH Hero Builder! We have worked out a model that educates, employs teaching staff, and supplies each student with what they need for just $40 per student per month! This, along with a variety of other sources, is how our school model maintains one of it's most crucial pieces, to be financially sustainable.
Now that CETC is officially inaugurated into the community and construction of critical campus buildings are finished, it is time to truly focus on how the school itself can be financially sustainable. It would not be possible to have made it here without your support! Yet it is time to make sure this school thrives for years and empowers the community to take it on themselves. Our plan continues to evolve but our hero school will maintain itself as a center for education in many aspects from green building to permaculture to sustainability to NGO practices to health and more! Along with hosting workshops and educational courses, our construction team will continue building. There is still plenty more to be done at the school and now we are beginning to offer our services to the community and the world!
Our good friends at Natural Building Collective in South Africa have just finished holding their first month-long sustainable building course using natural materials and tires, in collaboration with us at Long Way Home! They are building a passive solar, earth sheltered building out of tires, cob, compressed earth bricks, ecobricks and glass bottles at the Delft Early Childhood Development (ECD) centre. We look forward to hosting the next sustainable building academy here in Comalapa in the next year!
We are also extremely proud to be the WINNER of the Energy Globe Awards Guatemala 2017!! We were awarded best project in Guatemala for our use of sustainable design techniques, 400+ tons of garbage in construction and innovation in helping the community of Comalapa.
Un montón de agradecimiento por ustedes y su apoyo! As always we are extremely grateful for your support and thank you for your interest in our work. We enjoy the opportunity to share our stories with you, the people that make them possible!
Thank you, Gracias y Matiox ~