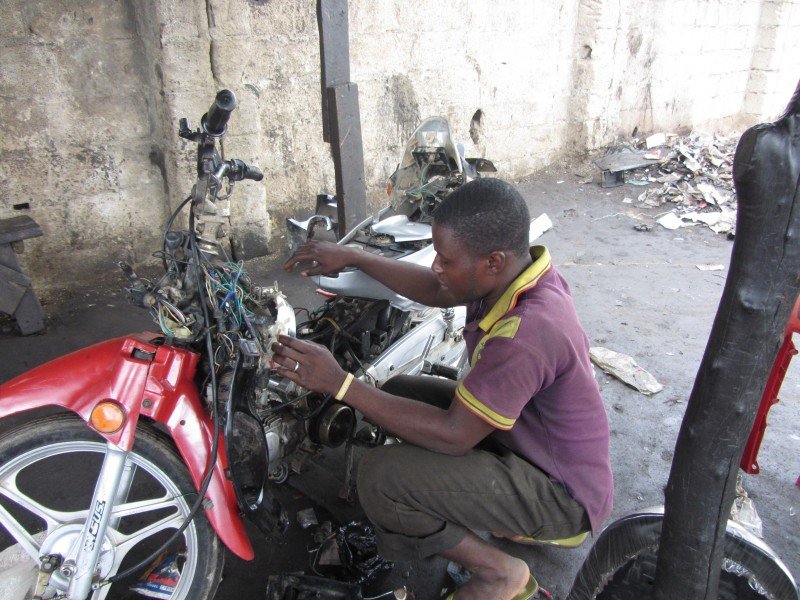 Dear Cherished Donor,
In the spirit of the holiday season, we would like to express our gratitude for your help in growing Leadership Initiatives into the organization it is today; every single contribution has made a significant step towards achieving our goals. In this letter, I would like to display the fruits of your efforts - the Literacy Training program. As you may recall, in an earlier report, we introduced Auwal, a hard working, driven individual, who opened his own motorcycle repair shop with the help of Leadership Initiatives. One of the biggest challenges facing Auwal and his employees was the language barrier, which kept him from interacting with his customers and suppliers. In the face of adversity, Auwal worked hard to improve his English through Leadership Initiatives' Literacy Training Program; after coming a long way, Auwal and his employees are thankful for your investments in their success. In fact, Auwal wanted Leadership Initiatives to pass a sincere letter to those who helped him along the way.
We will like to say thank you for helping us learn how to communicate with customers who understand English Language only. We lost many customers because of that. Now the communication is better and we began to gain more customers. We have more advantage than most of our competitors, especially after we made this great achievement. In terms of our job we are really good, but with learning English it made us the best. We get discount from our motorcycle parts suppliers because of easy communication. Our supplies understand English language more than our native language, so for that reason we have upper hand in terms of rendering services to customers with more discount than we offer before.
We consider this as a greatest achievement in our life; and our family are happy because we can afford many things now and our siblings can go to school. So this has really better our lives.
Therefore, we are grateful and excited for being with Leadership Initiatives and those who donated to support us from beginning up to this moment. We thank you very much and God bless.
Sincerely,
Auwal

Once again, we cannot thank you enough for your dedication to our cause; the help that you have given us has come a long way in helping Leadership Initiatives prosper. If you would like to learn more about our business creation programs, please visit our new website at www.lichange.org. There you can find out about their personal stories, meet members of the community, view photo galleries, or even set up a skype call with a business owner!

Also if you had a moment could you tell us why you donated and how you heard of us, we are always trying to better refine our message and reach more people with our call to change. Wishing you, your friends and especially your family the absolute best this Holiday Season!
Sincerely,
Marshall Bailly and the entire Leadership Initiatives Family
_____________________________
Marshall Bailly II
Executive Director
Leadership Initiatives
4410 Massachusetts Ave., NW #236
Washington, DC 20016
(p) 202-465-4796 (f) 202-280-1221
www.LIchange.org