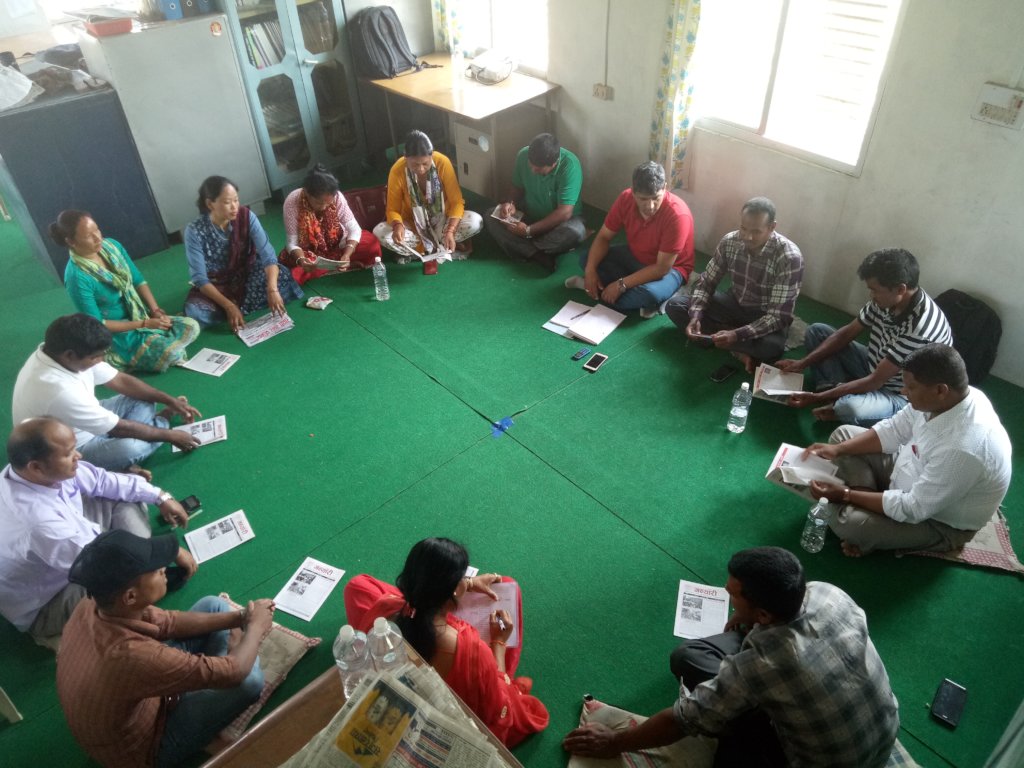 Language Development Centre Nepal [LDC-Nepal] is developing partnership with local language speaking communities to implement language, education and development activities since 2008. We are getting good response from the communities even our financial support is very nominal.
LDC-Nepal is providing technical and small financial support to implement Tharu women Literacy activities in coordination with Help Society Nepal. The project is supporting twenty-three women to make them literate and improve their life style through mobile literacy activities. Facilitator meet them once a week in the weekend. The program is getting popular and effective because participants are using literacy skills in their daily life. We are getting more request from the community to support more women. The literacy program is literate women in their own language, aware and prepared them to promote their own language and culture.
Last week, I had visited the project area and facilitate the project activity review workshop in Dang which was organized by partner NGO Help Society Nepal. It was a great opportunity for me to have a conversation with community leaders, NGO members, literacy facilitators and participants to know the progress and their concerns about the project. I am delighted to share the report on project review worksop.
I had facilitated the two days workshop for 15 participants [Male: 9 & Female: 6] among them two literacy participant, one literacy facilitators, one supervisor, three Tharu indigenous Knowledge holders, one advocate and seven NGO members.
The workshop was fruitful for us to know the progress, local stakeholder's concerns and ideas about the project and ongoing progress and redefine the literacy program. Supervisor, Bhauna Ram Chaudhary said, "We are getting positive response from the community and need to use their positive thoughts to ensure effective implementation of the project activities."
The project is able to develop positive vibes in the community. Literacy participant Sabita Chaudhary said, "I realized that once we replace negative thoughts with positive ones, we will start having positive results."
IK holder, Shreeram Chaudahry said, "We are shaped by our thoughts. Education [informal, formal and non formal] is shaping our thoughts. It is critical and crucial to understand this reality."
"Quality education should't be limited to a privileged few, but should be accessible to everyone." [UNESCO]
The project activity is helping to create an environment that can reduce illiteracy in the community, drop out from the school and ensure to provide quality education for all using their language, culture and capacities.
"The development of self reading and writing habits increases the ability to analyze the situation correctly. Being educated or literate means not only to get a degree and recognize the letters. The knowledge and skills derived from study have to encourage the people positively active to have a standard living and develop a peaceful society." [P. Kadel, Apr 2019]
We are grateful for your support. Thank you and looking for more cooperation.