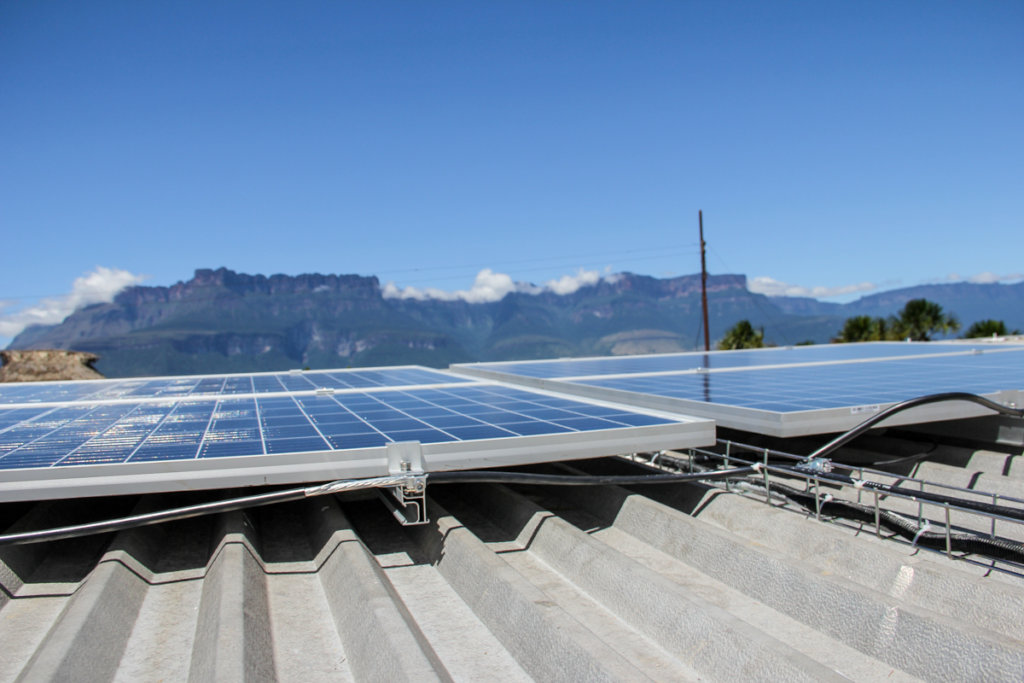 Dear Donor,
Despite all the difficulties we have encountered along the way, and there were plenty, we are so happy to share with you that the lights are shining bright in Kamarata.
As you can recall from the last reports, we have faced delays in each phase of the project due to various contingencies linked mainly to gasoline shortages, shipment and nationalization of technical equipment, and difficulties with suppliers to meet demands.
We battled vigorously through each and every one of those difficulties and from february the 12th to the 20th of 2020 we installed solar panels system that will generate clean and renewable energy for the community of Kamarata, more specifically, the Rural Hospital of Kamarata and the High School U.E. Fray Víctor Carvajal (the only one with a computer lab in the whole community).
It has been quite a journey, with ups and downs that required team work and adaptation, at first we hoped to provide clean and renewable energy to four different buildings in the community but due to the constant flux of difficulties, mainly the ravaging economic inflation of the country, we had to resize and rethink the project.
Nevertheless, we are pleased to share with you some of the main results and impact of the project:
Electrical capacity generated: In total, 4,800 Wp of electrical energy is generated.
Each structure, High School and Rural Hospital, has an independent micro-grid of solar panels, each generates 2.400 Wp. Before installation each structure produced a current power of 1.200 Wp
Annual energy demand: Now is possible to cover the full annual demand of the two buildings, which is 4,325 kWh: Rural hospital: annual demand of 2303 kWh. High School: annual demand of 2022 kWh.
Tons of Carbon Offset: Rural Hospital: 39,5 tons per year. High School: 15 tons per year.
Number of direct beneficiaries: One thousand eighty-one (1081) people. Four (4) persons providing lodging and food services. One (1) person in charge of transfers. Seventy-nine (79) people trained. One hundred and seven (107) students. Eight hundred and ninety (890) inhabitants of the central sector.
Number of indirect beneficiaries: The whole Kamarata community with a population of approximately four thousand (4,000) people.
Number of beneficiaries trained: Seventy-nine (79) persons.
Eight (8) locals took advanced training because they will be in charge of the care and maintenance of the technical equipment of the micro-grid of solar panels.
Seventy-one (71) people including children, young people and adults, trained in clean and renewable energy, solar energy systems.
Additional electrical service hours: Sixteen (16) additional electric service hours.
The Micro-Grid System of Solar Panels allows the community to guarantee the continuous use of electricity in the Highs-School and Rural Hospital facilities. Now both structures have electricity for 24 hours. Even when there is no sunlight, the System guarantees 48 continuous hours of electricity by the batteries back-up system.
The microgrids installed in the solar energy system have quality equipments that are among the Top 10 in the world. According the Otepi's technical team, it is the only facility in Venezuela that counts with this technology and standards.
The Rural Hospital is the only one in the area serving 890 people from the Kamarata centre and 2800 people from the entire sector. Its operation makes it possible to guarantee health service to the community.
The High-School, with 107 students, incorporated academic activities in the evening and night schedule for new community activities. The computer lab, which had been out of operation for more than two years, now is working again.
Of course there is still so much work to do (and we are on it), but now we can say that we achieved the project's main goal: To better prepare the community to receive Tourists and improve their quality of life in a Sustainable and Clean kind of way.
Our dream is to provide more schools and homes with clean and renewable energy for the Kamarata community.
Thank you for being part of this journey, without you any of this would have not been possible. We will let you know as soon as we start working on the next phases.
Is an honor to have you as part of this changemakers team!