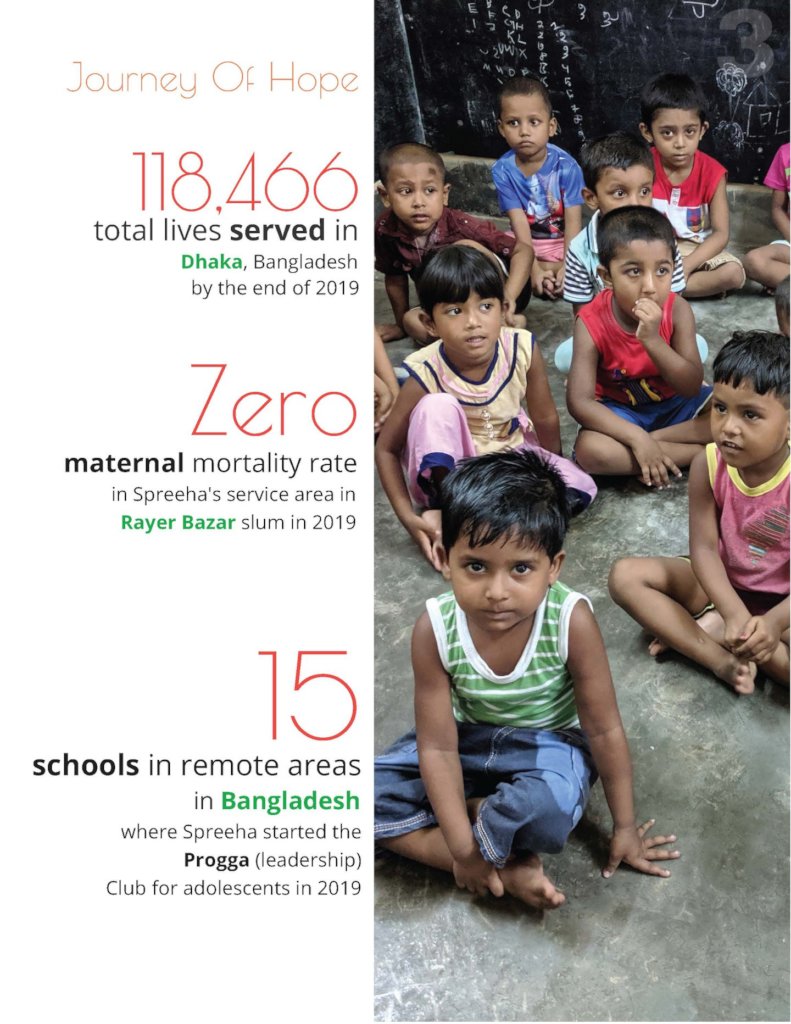 Impact Healthcare
Healthcare Components
Preventive Healthcare
Maternal and Child Healthcare
Primary Healthcare
Pharmacy and Pathological Facilities
Family Planning Program
Events
Partnership
In 2019, the Healthcare program served a total of 20,458 persons.
One of the main focuses of mother-child healthcare is to make underprivileged pregnant mothers aware of the importance of antenatal and postnatal checkup during pregnancy. A total of 178 childbirth were supported during last year, among which 132 (43 NVD/Natural Vaginal Delivery and 89 CSection) cases were hospital delivery and 46 cases were home delivery (NVD).
No maternal deaths were reported among these cases. The number of maternal mortality this year was zero.
Impact Education
Education Components
Pre school program for children 3-5 years
After school program for children 6+ years
Scholarship program
Education counselling and awareness
Clubs
- Drawing Club
- Cultural Club
- Book Reading Club
- Kid's Club
In 2019, the Education program served a total of 2,576 persons.
The Scholarship Program awards scholarships to individual students to enable recipients to complete their academic levels.
In 2018, Spreeha introduced the Shams and Nasreen Scholarship which honours Khawja Shamsuddin and Nasreen Shamsuddin, integral members of Spreeha who have been actively taking part in the building of communities and shaping people's lives with their volunteerism. A new scholarship program is introduced under Kusholi or 'The Skillful' that aims to
equip individuals with market-based education and skill sets necessary for the competitive job market.
Impact Skills training
Skills Training Components
Adolescent Girls' Club
Computer Training Center
Sewing Training Center
Kusholi- skills for decent employment
In 2019, the Skills Training program served a total of 338 persons.
Kusholi - Skill for decent employment aims to equip individuals with the skill sets necessary for the competitive job market. Spreeha initiated Kusholi in 2019. In partnership with Access to Information (a2i) of the Government of Bangladesh, and UNDP, Kusholi focuses on ensuring decent employment for the youth through scholarship and apprenticeship.

Scholarship: This provides income-generating skills for the higher secondary poor students alongside stipend. Examples of some the training include- Refrigeration and Air Conditioning, Electronics, Embroidery and
Nokshi Kantha, etc. Apprenticeship: This leverages the "demographic dividend" by empowering youth through meaningful
skills most demanded by the market. The apprenticeship program covering over 450+ formal industries of 6 months duration course. After completing 6 months of the apprenticeship program, the trained apprentices will get a certificate of National
Training and Vocational Qualifications Framework (NTVQF).
Links: