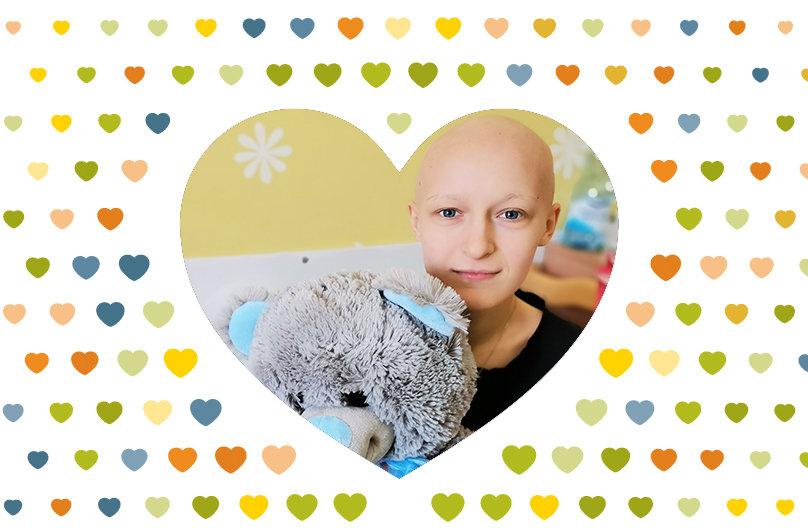 Dear friends,
thank you for supporting Ukrainian kids with cancer! Your gift makes it possible for kids to receive treatment with necessary drugs when the public procurements fail them.
Now we have an emergency related to such chemotherapy drugs as methotrexate. It is used in high doses to treat bone cancers in children. It is very toxic, that is why it can be administered only in Kyiv so that the doctor can control the removal of the drugs from the body. However, in 2021, the new supply of methotrexate has not arrived in the hospital and no one knows when it is available again. It is also quite expensive, that is why not all Ukrainian families can afford to buy it with their own money.
Alina, the girl you see in the picture, is one of those who needed methotrexate and received it in time thanks to your support. In September 2020, she felt pain in the leg for the first time but she did not tell about it for two months because she did not want to worry her parents. When she eventually went to the doctor, the swelling was evident and the tests confirmed that it was a malignant tumor. Alina was admitted to the Institute of Cancer in Kyiv. She has been treated there for a few months already. It is especially hard for teenagers like her to be isolated in the hospital but even there she found a new hobby that brings her joy: body art.
In February 2021, in addition to Alina, seven more children received methotrexate, which they needed for treatment. That is 9-year-old Andriy whose soldier father returned from the war in Eastern Ukraine to be there for his son in the hospital. That is 8-year-old Daniel whose family found out about his disease during this winter holidays. That is 16-year-old Andriy for whom chemo with methotrexate was one of the last stages of long treatment after the surgery to remove the tumor and install the bone prosthesis. These are 18-year-old Oleksandr, 16-year-old Maryn, 17-year old Yaroslav, 13-year-old Oleksii who needed your support before, and many other kids who need your support now.
Childhood cancer is curable. But it cannot be cured without drugs. For kids to receive treatment in time, please, give your gift today. This week GlobalGiving is matching all online donations up to $50 at 50%.