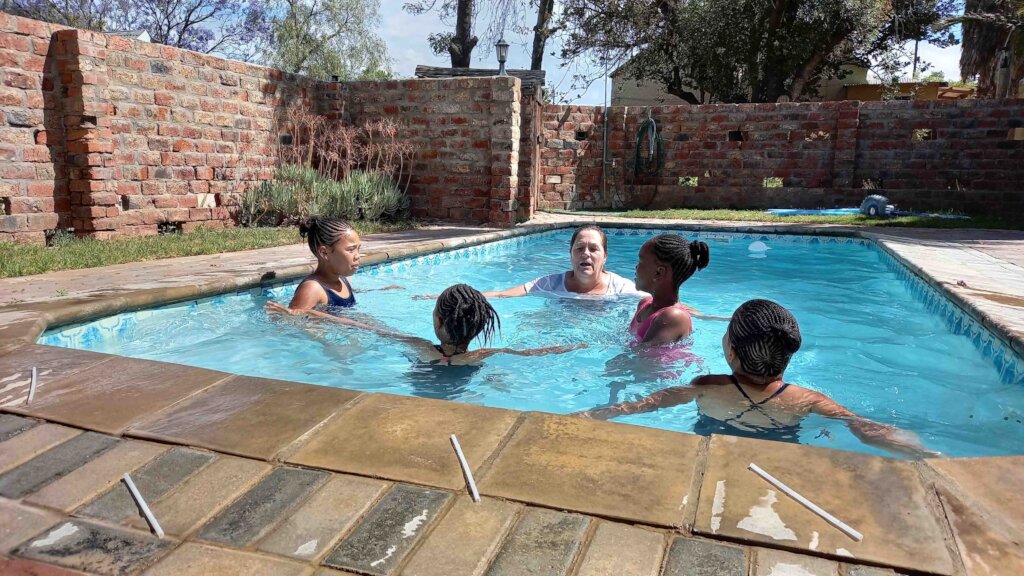 Dear Friend,
Thank you for being part of YOUPSA's community of friends and supporters! It is because of you that YOUPSA has continued to deliver excellent creative education programs to the children who need it the most. The children in our programs are thriving and stand out among all the other young people in their communities. They are growing swiftly in their skills, confidence, happiness and friendships.
We are excited to share some of our special moments from the past few months with you in this newsletter.
Swimming lessons
YOUPSA is giving small groups of children the opportunity to take weekly swimming lessons. This initiative is for their safety, confidence, enjoyment and empowerment. According to the NSRI (National Sea Rescue Institute), only 15% of South Africans can swim.
Volunteer Karen Talbot, who is a kind teacher and swim instructor, teaches our children how to swim. The children have progressed so much in a short space of time due to Karen's excellent techniques and way with children. We are very proud of them.
Weekly math tutoring
We added a weekly afterschool session dedicated specifically to math. The children hardly learn any of the basic functions in school, and we want to help them get up to speed with necessary math skills. Volunteer Chrissie Lotz, who is a retired teacher, offered to help them. Her approach is very interactive and innovative. The children absolutely love it!
Reading Buddies
There are no books in rural South African homes. During YOUPSA's popular Reading Buddies program, a strong reader partners with a weaker reader to help improve their skills. We make amazing books accessible to the children to encourage a love of reading, and nurture their comprehension, speaking and discussion skills. They are so excited that they want to read one book after the other!
Educational outing to Meijer's Rust Guest Farm
Experiencing the wide open and lush spaces on a farm, deepening of friendship, and the freedom to run - a perfect summertime enjoyment!
YOUPSA's groups of children visited Meijer's Rust Guest Farm, a regenerative agriculture farm in the Swartberg Mountains. Owner Barry Meijer discussed with the children important topics like water, and what a healthy balance means in nature regarding plants and animals.
The opportunity to interact with a tame Eland antelope, and feeding it by hand, was extraordinary! Barry also showed the kids some of the huge variety of plants in his fields and encouraged them to taste.
Crafts and creativity
YOUPSA's programs include many activities that develop essential fine-motor and visual-motor skills, hand-eye coordination, concentration, precision, and improve following instructions and understanding basic geometrical concepts.
Our children made their very own bracelets using memory wire and colored beads. They felt so proud to wear something beautiful that they created themselves.
And have you ever made an origami ninja star? It is called 'shuriken' in Japanese, meaning throwing dart. The end result, throwing the ninja star, is so much fun!
Learning about art
We took a group of children on a tour of the Open Art Studios Day in De Rust Village, where local artists opened their studios to the public. This was a great opportunity to learn about a wide variety of creative work like soap-making, a blacksmith studio, painting, handicraft, woodwork, jewelry, sculpture and much more. The children have never had a chance to see or enjoy anything like this before. This experience really ignited their curiosity and creativity.
For almost two years, YOUPSA has sponsored children to receive weekly art lessons from Thomas Vermeulen, a famous South African artist living in De Rust. It is a joy to see how these kids have progressed by leaps and bounds!
A heartfelt Thank You to all sponsors & supporters!
Please continue helping YOUPSA
to bring children these amazing opportunities.