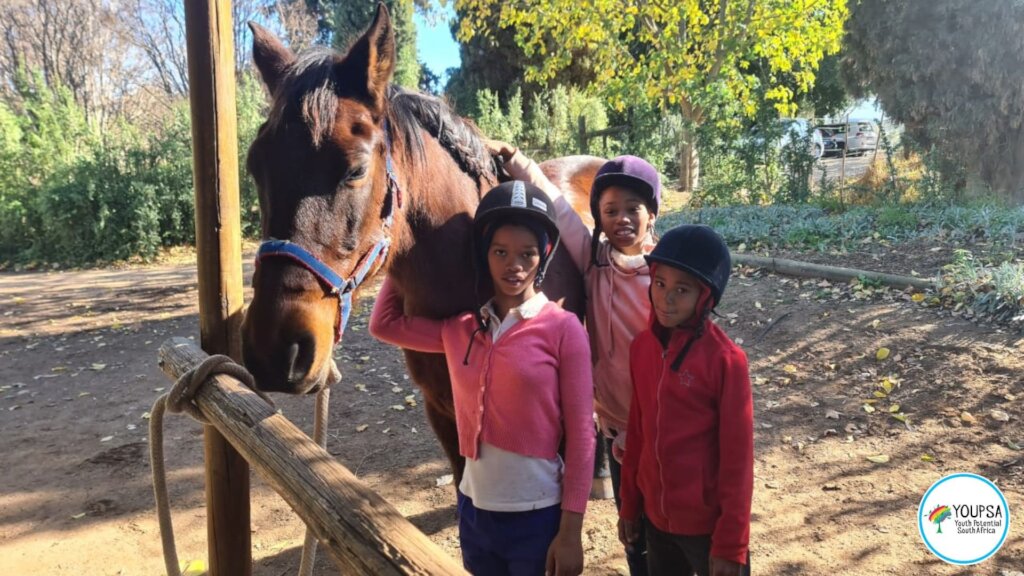 Dear Friends of YOUPSA,

It's been a long time since you heard from us. We hope you are in good health, enjoying good times outdoors and keeping a vital body and mind. Thank you for your continued support and interest in YOUPSA's programmes for the disadvantaged rural children. We so appreciate your continued and reliable support. It means that we can be there regularly for the children, build stable relationships, and give them the space to open up their wings and fly. We couldn't do it without you! We hope you enjoy this news update and photos. Please feel free to reach out to us if you would like to know more about our work.

Overnight pony camp experience

YOUPSA sponsored 5 children to attend a 3 day overnight horse riding camp at 'Klein Karoo Horse Adventures', just outside De Rust. This was truly an adventure of a lifetime!
The excitement about this camp built up months before, and when the day finally drew closer, the children could hardly sleep. Their confidence and well-being increased massively over the course of the camp. They totally fell in love with their horses and built a strong bond with them.
The camp consisted of a group of 14 children total, from all over South Africa. The children learned how to take care of their horses and acquired new riding skills. The whole group even went on outrides into the stunning Klein Karoo bush, including a special picnic in the mountains under the trees. Wow, what a dream come true!
Waterfall adventure in Meiringspoort

Outdoors, friendship, waterfalls, pure water, mountains and adventure! A group of YOUPSA's children went on an excursion to the breathtaking Meiringspoort Waterfall in the Meiringspoort Mountain Pass. Seeing the water fall from such great heights was exhilarating! And then tasting the delicious and absolutely clean mountain water was absolutely energizing. It feels so good and healing to be out in the wild, enjoying nature in wide open spaces. We were so lucky to also see a huge troop of baboons, small and large.
The Meiringspoort Waterfall is in the Swartberg Mountain Range, South Africa's longest mountain range.
Cango Wildlife Ranch outing

What an amazing time the YOUPSA children had at the Cango Wildlife Ranch, a conservation and education project in the area. It was an experience of a lifetime for the children!
Most of them could not sleep the night before from total excitement. Seeing and learning about all the wonderful animals was absolutely enriching and mind-opening for the children. We saw turtles, exotic fish, parrots, humongous bats, pygmy hippo, crocodiles, cheetahs, lions, white Bengal tigers, leopard, blue duikers, snakes, spiders, meerkats (small mongoose), agoutis, flamingos and more...
And the playground experience was the cherry on top! These kids live on a farm in very poor conditions and have never been to a real playground before.
Klein Karoo Klassique Music Festival experience

YOUPSA's kind supporters make it possible for us to bring children into worlds they would otherwise never experience. 4 of our farm kids got the opportunity to attend the Gqeberha String Trio concert at the Klein Karoo Klassique Music Festival in Oudtshoorn. It was absolutely magic, and to end it off we thoroughly enjoyed the Xhosa school choir, passionately singing outside the venue.
Tour of the De Rustica Olive Estate

2 groups of YOUPSA children visited De Rustica Olive Estate, a world class olive estate in the Swartberg Mountains just outside of De Rust. The children were given a tour of the orchard and entire production facility. They enjoyed being shown the orchard, touching the leaves and the olives and learning about different cultivars that have different qualities for olive oil production. The tour included explanations about how olives are harvested and visiting the production line, how the raw olive is processed, the oil extracted, stored and packaged. The visit to the Estate shop and smelling and tasting the different olive oil types was really mind-opening.
Other highlights from our weekly programme

When we are not on the road exploring the world with the children, our weekly programmes contain so much art, enjoyment of literature, discussion of important life topics, learning maths with fun, various movement activities that increase body awareness and nurture a vital body and mind, and so much more.