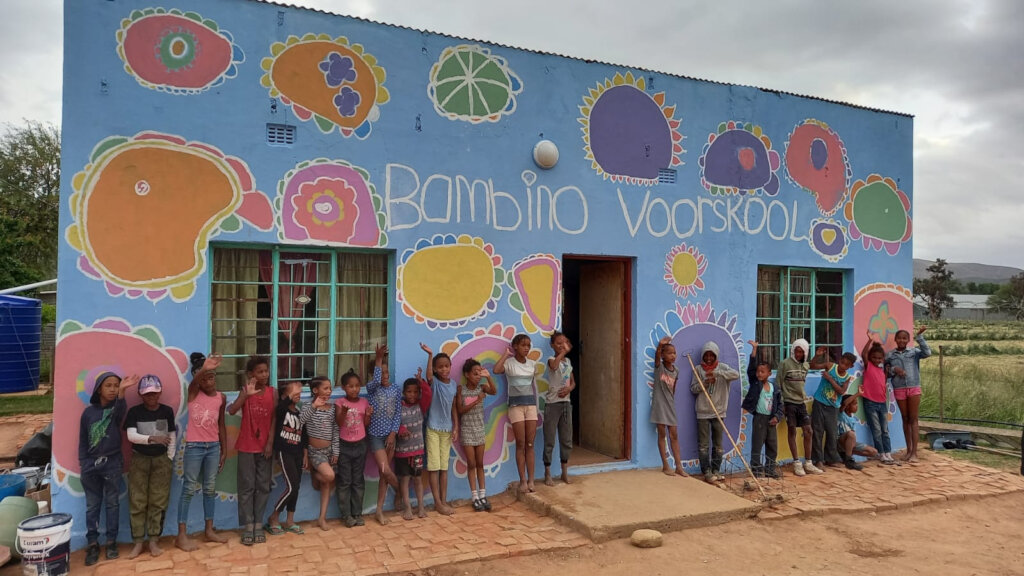 We feel tremendously lucky that, with your kind support, we have been able to bring so many incredible experiences to the rural children in these past months!
When children have a safe space and freedom to explore their potential, as well as trusting relationships, creativity can really explode. We hope that you enjoy reading this news update from our programs.
Childrens' Mural Art Project
Children are the community's best artists. Look at the pictures of the beautiful murals that the YOUPSA children painted on two public buildings in their neighborhoods. They first learned how to use paint brushes and rollers, and how to apply paint on the wall. Then they spent time designing their own unique flowers on paper and freehandedly transferred these to the wall using chalk.
During the entire project children did everything themselves, from start to finish. Adults only provided the materials, mixed the different paint colors and gave guidance when asked. Creating something big and vibrant in their own neighborhood was such a transformative experience.
Outing to organic farm
YOUPSA's kids went on a special outing! Spensplaas is an organic farm project just outside of town. Going on educational outings to explore the wider world, build relationships and learn new things is a vital part of the YOUPSA programs. Rural disadvantaged children hardly ever have the opportunity to get out of their neighborhood, yet they are so eager to explore and grow.
Experiencing the space, freedom, colors, textures, smells, tastes and huge variety of plants, insects and birds in the field was absolutely exhilarating for the children! They learned many new things that they had never heard of, tasted or seen before - organic versus chemicals, why insects are important, how to make and use compost, about health properties of specific plants and herbs and much more.
Ending 2021 on an exciting note
YOUPSA wrapped up the after-school programs for 2021 with Christmas parties for the different groups of children, including pizza, a selection of fresh fruit and many surprise presents for each of them. The best ever Christmas for these children came true! They couldn't believe it when they received their presents and the delicious foods.
We would like to take this opportunity to thank all of our supporters for making our programs possible for these otherwise forgotten children. Your good heart made a world of difference in each of these children's lives!
Summer holiday is just ending in South Africa and we are about to resume our programs for 2022. Please stay connected and consider making a donation now to help us get off to a good start for the year.
With much gratitude and warm regards from the YOUPSA Team