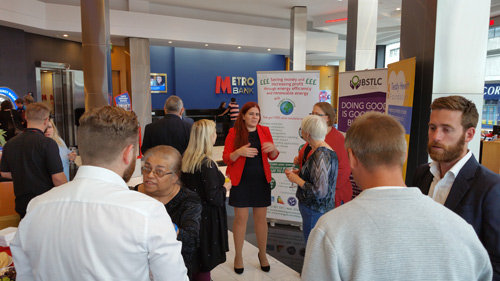 Yet again, not a great deal has changed in this last quarter. But hopefully that might change soon…
We are about to submit an application to The Fore which is the only open-access funder in the UK offering strategic support to early stage charities and social enterprises. They don't have any restrictive criteria and like to support organisations that are a bit different. I think we fit the bill!
Application deadline is 2nd September and funding decisions will be announced by 29th November.
As we have said before, for every £5 a charity or other good cause receives, they will be able to spend £5 on the services they provide. However, if we receive £5 we can turn that into £50, £500 or even sometimes £5,000 for charities and good causes by being the central pivot that connects businesses and good causes.
Double Whammy Networking
We have held two Double Whammy events since our last report bringing the total cash raised from these events to over £11,000. But as we always stress, the cash is almost insignificant: it's the value of the relationships that are built between the business community and our beneficiary charities that has real value. This often doesn't materialise for months after the event.
In June, we held an event at our local Metro Bank, an early evening event with drinks and buffet – provided by the bank – while the store was still open! We raised £128 for the Teddy Hewitt Foundation which helps support families in need of financial and physical support following the passing of a child, when one parent is financially reliant on the disability living allowance are carers allowance in the 3 months following the child's death.
In July we held a smaller breakfast event in the lounge area of The Yoga Factory, a local yoga centre. We changed the format of the event so that it was more of a discussion group about responsible business. We raised £61 for Gold Geese which supports families affected with childhood cancer. The emphasis was on awareness of the swab campaign to register potential stem cell donors on the world wide register. (We will feature that in one of our e-newsletters, too.)
At the July event, we also had a representative from Southend-on-Sea Borough Council speak about Industry Champions, a scheme which imatches local business people with schools to help with career support, advice and mentoring. Several attendees were keen to register.
This is, of course, only a small snapshot of the work we are doing. Our ultimate aim is to develop a model that is self-funding and can be replicated in boroughs across the country, but we desparately need additional funding to get the IT elements in place and additional staff employed.
Please do continue to support our project via our Global Giving crowdfunding page and/or share the information.