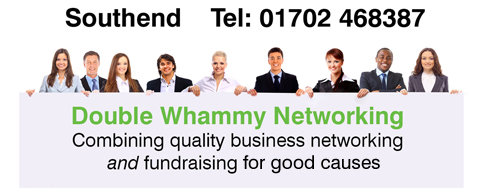 Not a great deal has changed in this last quarter. We are still trying to find funding streams to enable us to further develop the project but, because we don't deliver direct services, this is very challenging.
The irony is that for every £5 a charity or other good cause receives, they will be able to spend £5 on the services they provide. However, if we receive £5 we can turn that into £50, £500 or even sometimes £5,000 for charities and good causes by being the central pivot that connects businesses and good causes.
We have held two Double Whammy events since our last report bringing the total cash raised from these events to almost £11,000. But as we always stress, the cash is almost insignificant: it's the value of the relationships that are built between the business community and our beneficiary charities that has real value. This often doesn't materialise for months after the event.
In April, we held an event at our local Holiday Inn hotel and raised £202 which was shared between Off The Streets and Age Concern Southend. The latter are currently working on a big construction project and have several corporate sponsorshop options they wanted to promote. They are now the hotel's charity of the year. Off The Streets is doing great work in rehousing the homeless and there were several people who were keen to help with mentoring and hands-on support.
In May we held an event at out local Fire Station. Funds raised of £133 were to support the Southend Tinnitus Support Group. These groups can be a lifeline for people suffering from these sometimjes quite debillitating and unseen health issues.
We also had a short presentation about domestic smoke alarms from the Southend Fire Brigade and many people booked to have them installed in there homes and home offices.
This is, of course, only a small snapshot of the work we are doing. Our ultimate aim is to develop a model that is self-sunding and can be replicated in boroughs across the country, but we desparately need additional funding to get the IT elements in place and additional staff employed.
Please do continue to support our project via our Global Giving crowdfunding page and/or share the information.