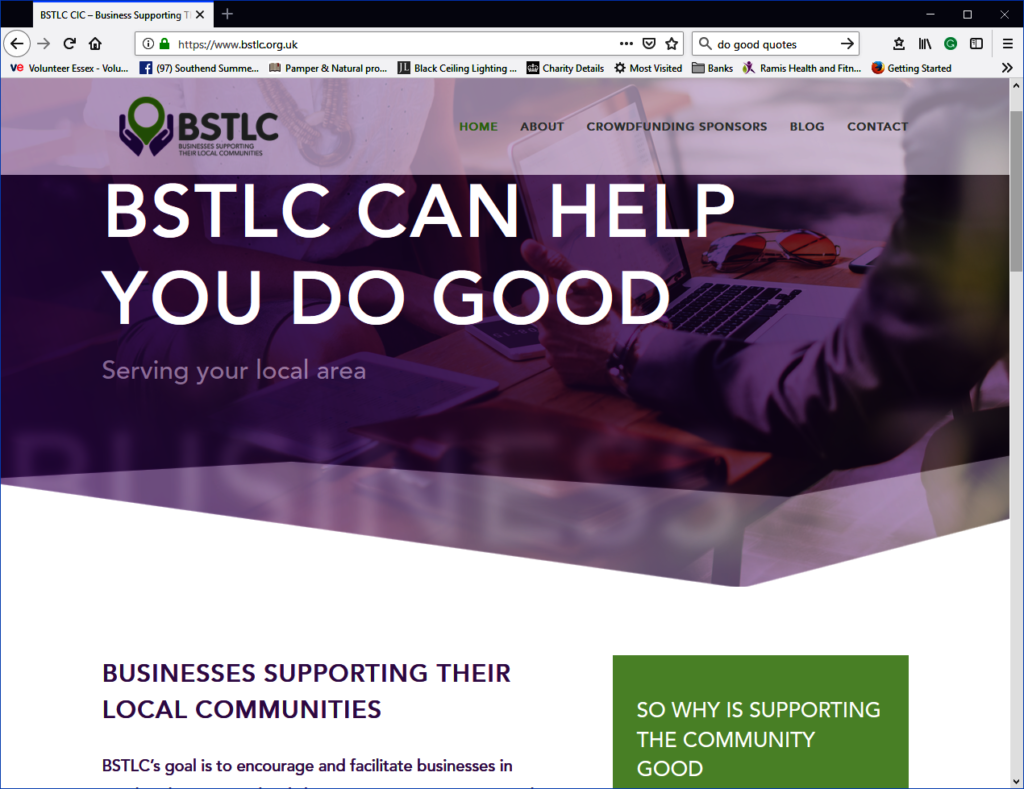 Our new website
As our GlobalGiving crowdfunding campaign provided funds to build a new website, I am delighted to confirm that the new site has just launched! https://www.bstlc.org.uk/
There are some tweaks to be made, and I now need to update the blogs, but I hope you will agree that it is looking good?
Our local community focus
Whilst most of the many fabulous campaigns on the GlobalGiving website relate to projects in developing countries, our focus is on strengthening our local community in Southend-on-Sea, Essex, UK. We do this by encouraging businesses of all sizes to support local charities, community groups and educational establishments.
A little bit of Christmas cheer
Yesterday (29th November) for example, we sent out our 'Bring a Little Bit of Christmas Cheer' email encouraging our business database to support the disadvantaged over the festive period. We are always very specific in our asks, so we featured three campaigns that respectively represent and support the lonely elderly, children and the homeless.
We sent the e-shot out to nearly 400 local businesses and we know this will inspire many of them to take action. The frustration for us is that because we are signposting to other organisations, we don't necessarily get info on the full impact. Nonetheless, the more businesses we are engaging with the more impact we will have, so the ongoing support we receive from our GlobalGiving campaign makes a huge amount of difference.
Other requests we have sent in the last few months included a request for work experience placements for college students (some were placed on the very day the e-shot was sent!); supporting an ambitious Age Concern project by 'Buying a Brick' or Sponsoring a Space'; joining a work party day at the Trust Links mental health charity community gardens.
Double Whammy
We have also held four smallish Double Whammy networking events which have raised £664 for four different charities. But as we always stress, the value in these events isn't in the cash raised but the relationships that are established between the businesses and the charities. At our last event, for example, several businesses pledged support to small charity 57 West to provide numeracy and literacy workshops for their homeless clients.
Often, we don't hear what transpires as a result of these events. And sometimes we hear a snippet several months later. For example, we only recently heard the heart-warming news that a young man with Asperger's was placed in a full-time apprenticeship with a small, local IT company as a direct result of a relationship that was forged at a Double Whammy event between the beneficiary charity SAFE (Supporter Asperger Families in Essex) and one of the business attendees.
Awards for supporting the community
And we are delighted that in November, the Southend Business and Community Charter Committee agreed awards for 5 businesses in acknowledgement of the work they are doing to support the local community. These are robust awards and their applications are very detailed and evidence based, so the following are just very brief summaries.
ENS Recruitment Ltd – Gold Award
Supporting the local community has always been part of this company's DNA and all managers, senior managers and directors are actively involved in charity projects, and all members of staff are encouraged to get involved. The company also employs two full-time apprentices. We particularly like that they feature their efforts on their website. We are encouraging more businesses to do the same: https://www.ensgroup.co.uk/about-us/charity-work-ens-csr/
Gleneagles Guest House – Gold AwardThis is the fourth Gold Award in succession for this lovely Guest House and Tea Rooms which looks proudly across Southend's Western Esplanade and across the River Thames estuary. Owners Garry and Penny Lowen are well known for their community support, particularly Southend Carnival and Southend Mayor's Charity. Garry chairs both organisations and both are actively involved throughout the year.
Home Instead – Southend – Gold Award
This company provides support to the elderly which enables them to stay in their homes. However, the award is not for what their business does, but the additional community support. Proprietor Niven's commitment to the local community is quite apparent and includes providing free workshops on dementia for the general public and giving two members of staff paid time-off to help deliver dementia training. The company also employs two apprentices.
CHC Construction – Silver Award
MD Trevor Williams has been a Trustee of Age Concern Southend (ACSOS) for about 8 years. In the last 12 months his focus has been supporting ACSOS's ambitious plans to develop a new community hub which will provide a venue for the elderly, for various other charitable and community groups, and for the wider community to come together.
Lollipop Local – Bronze Award
Jo and Jon of Lollipop local, a small digital marketing agency in Leigh-on-Sea, are passionate about supporting education and employment for young people.
Please do continue to support our project via our GlobalGiving crowdfunding page and/or share the information.