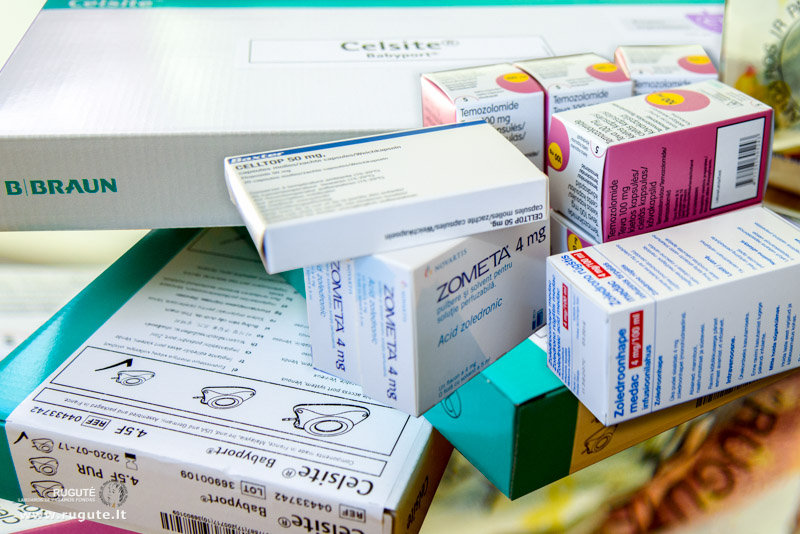 Report (June, July and August of 2016)
Childhood Cancer Fund Rugute continues to provide various kinds of support to families with children that have been diagnosed with oncological diseases. We have been providing financial assistance, purchasing medications and medical care supplies for these families. During the months of June, July and August, 2016, the Fund provided monthly and non-recurring charity of 4,300.00 Eur to the parents, who used this money to purchase necessary medical care supplies and to cover other costs that they could not have avoided due to their child's disease. The money also helped the families to improve the psychological well-being of the children.
The Fund also continuously purchases specific medications that are needed for individual childhood cancer patients. Some of these medications are not State-covered, and some are not supplied in Lithuania at all. This time, the Fund helped to purchase medication for little Dovydas C. His medications were not under State coverage, but were very important for his treatment. The total cost of medications for one month was 177,50 Eur.
The Fund also purchased 500 items of infusion systems that are necessary to administer medications, physiological fluids and glucose solutions intravenously. We allocated 735,68 Eur to purchase these systems.
Taking care of emotional and psychological well-being of the little patients, the Fund purchased special needles (240 items) for central venous catheters. These catheters are known to ease the procedure of administering drugs to little children, allowing them to avoid pain and tears. The total cost of the needles was 958,32 Eur.
The Fund also purchased 210 bottles of special mouthwash solution AftaClear for 1, 876.95 Eur. This solution will help children to get over the most common side effect of chemotherapy – mouth ulcerations that are known to worsen both physical and psychological condition of the young cancer patients. With this solution, children will be able to eat and will suffer less pain.
Due to the long-term and agressive treatmet, children in remission are often bothered by various health issues, other than the oncological disease. Ugne T., after her anti-cancer treatment, faced serious dental and oral health problems. The Fund paid 1,280.00 Eur to cover the costs of her dental appointments.
For the past three months, Rugute was also able to continue covering the maintenance costs of Rugute's Home, the only facility in Lithuania that provides temporary accommodation to the young cancer patients and their family members, free of charge. This facility offers two bedrooms, a kitchen, two bathrooms, a cozy playground and an area for meetings. Having found shelter in these premises, children with oncological diseases were able to have a break from their treatment and from being in the hospital. Rugute's Home allowed their family members to get a temporary accommodation while visiting their children in the hospital. In July 2016, the Fund bought new bedding sets, replacing all of the old bedding, for both bedrooms for 509,65 Eur. The total maintenance cost of June, July and August of 2016, was 4,407.23 Eur.
From the 18th to the 21st of August, the Onco-Olimpiada 2016 for children took place in Warsaw, Poland. The Polish organization Fundacja Spenionych Marzen (Fund of Dreams Coming True) invited the young cancer-surviving athletes from Lithuania to take part in the games for the 4th time. This time Fund Rugute delegated 13 participants to go to Poland and to compete in swimming, track and field, archery and some other events, against participants from Slovakia, Romania, Ukraine and Poland. Children and their parents traveled to Warsaw by a comfortable private bus. The aim of this international event is to provide our societies with a better understanding of the issues the families with children who have oncological diseases face every day, and to bring young athletes from different countries together. Our children brought home 19 Olympic medals (9 gold, 4 silver and 6 bronze) and many good memories! Participating in these games does not only provide opportunity to children to test themselves in various sport events, but also to experience lots of good emotions and to make new friends! Cancer patient Emilija shares her experience: I loved taking part in the games and supporting my team. I met new friends. It was fun to compete with other children and to win medals. I had a great supporting team, lots of good mood and lots of smiles. Our team was the most friendly and the most colorful one!
The Fund spent 4,522.08 Eur to participate in the games (38 persons were taken from Lithuania to Poland and back).
Dear Donors of GlobalGiving, thank you for helping us move forward and to make our children's lives easier. We highly value your contribution and support, and hope to be able to do many good deeds in the near future!