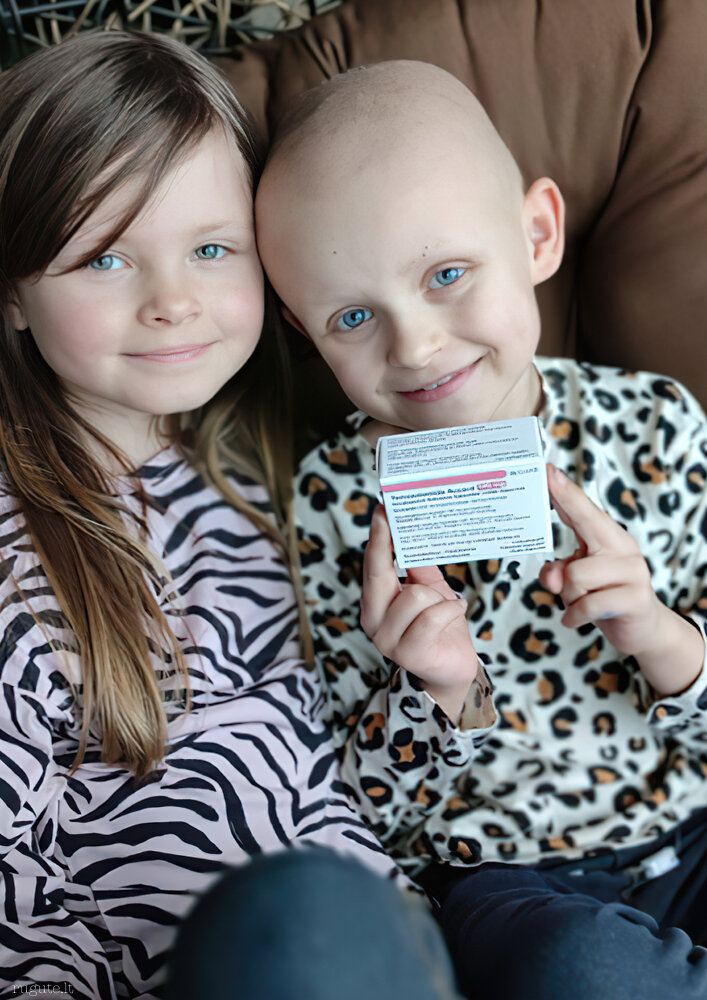 Childhood Cancer Fund Rugute continues to provide various kinds of support to families with children that have been diagnosed with oncological diseases. We have been providing financial assistance, purchasing medications and medical care supplies for these families. During the months of June December 2021, January and February, 2022, the Fund provided monthly and non-recurring charity of 15,500.00 Eur to the parents, who used this money to purchase necessary medical care supplies and to cover other costs that they could not have avoided due to their child's disease. The money also helped the families to improve the psychological well-being of the children.
The Fund also continuously purchases specific medications that are needed for individual childhood cancer patients. Some of these medications are not State-covered, and some are not supplied in Lithuania at all. The total cost of medications for one month was 2,577.50 Eur.
From the autumn of 2021, we are helping children with oncological illnesses buy Niltac - a medical cleaner for glue residual. Niltac is used to reduce the pain caused by removing a bandage from the wound. Sick children constantly experience this discomfort as the needle inserted into the central venous catheter is attached with a bandage, and also bandages are used daily after surgery. This constant discomfort even causes fear of going to the procedure room for the little ones. During these past three months, we bought Niltac for 1,478.48 Eur.
For 13 years now, Rugute has been supporting the emotional and psychological well-being of the little patients during treatment, by supplying the local hospitals with long-term central venous catheters. These catheters ease the procedure of administering drugs to little children, allowing them to avoid pain. The catheters (9 items) and special needles for them (100 items), as well as light-resistant infusion systems (200 items), cost 2,007.76 Eur.
One of the most common side effects of chemotherapy is mouth ulcerations that worsen the physical and emotional condition of the young patient: children are unable to eat and suffer severe pain. In order to ease these symptoms, Fund purchased a quantity of mouthwash solution Aftamed, Caphosol for 924.74 Eur.
For the past three months, Rugute was also covering the maintenance costs of Rugute's Home, the rented premises (200 m2) with two bedrooms, a kitchen, two bathrooms and a cozy area for games, resting and meetings, and a small yard, not far from the Vilnius Children's Hospital. Having found shelter in these premises, children with oncological diseases are able to have a break from their treatment and from being in the hospital. Rugute's Home allows their family members to get a temporary accommodation while visiting children in the hospital. It is a place where everyone, who has been touched by an oncological disease, is welcome and loved. The total maintenance cost of Rugute's Home in the past three months was 5,652.30 Eur.
We would like to give a loud and sincere THANK YOU to all of our loyal and loving donors on GlobalGiving. We gain strength through you every day, and will continue our fight with childhood cancer as long as you are with us.