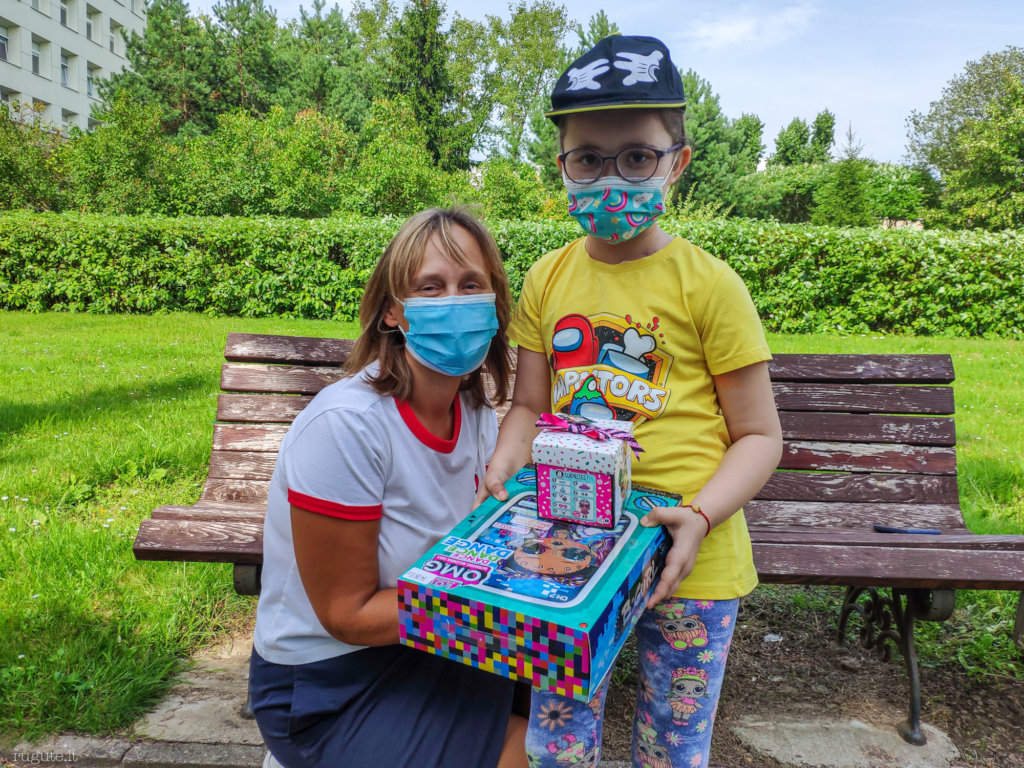 Since its establishment 17 years ago, the Foundation's success is based on sponsors and volunteers' enthusiasm. Only with the help of others and financial support we can contribute to a more successful treatment of our little patients. Because of our supporters, together with doctors we can ensure the most advanced treatment regimens. We can also finance research that is not conducted in Lithuania. We can provide the necessary support for families or a cozy home space for a temporary stay with their loved ones at Rugute's Home. These things sometimes are what the whole world of a little patients consists of.
Thanks to your kindness, the financial support of $ 44,055.33 was transferred to the Foundation during the months of June, July, and August. The Foundation's project "Let's Help Children With Cancer" published on the GlobalGiving platform is not final. The Rugute Foundation, which has helped children recover from the treatment in the hospital, will soon take care of and provide support to those who have yet to be diagnosed with an oncological illness. For a number of years, the goals and needs of the Foundation have not changed, only the children being treated are changing.
For these past few years, the Foundation has been facing a growing need for medicine, research and medical supplies. Pediatric oncohematologists are becoming more and more confident in using the medication provided by the latest treatment protocols. Although such drugs are often not supplied or compensated in Lithuania, they are successfully used to treat children in other countries. Doctors aim to provide advanced genetic testing to as many children as possible, with the most accurate individualized treatment possible based on detailed information on tumor genetic mutations and oncogenes. Most genetic tests carried out in foreign laboratories are not financially compensated by our country. There is no doubt that next-generation medication, advanced research, advanced nursing and medical facilities lead to greater children survival rate and long-term remission. It is a massive ray of hope for children who have been diagnosed with an oncological illness.
Despite the medical support, it is equally important to provide charity to families during the child's treatment, as the child's oncological illness worsens the family's financial situation. There is significant reduction in income (hospitalization of a child requires one parent to stay in the hospital for a long-term, making them unable to work) and significant increase in family sustainability costs. Other family members try to spend as much time as possible with the ill child, so if the family lives far away from the city where the treatment facility is located, more money has to be spent on travel expenses. Hospital care is only provided to the child being treated, so the person caring for the child has to provide food at his or her own expense. These problems burden the family on top of a serious illness and treatment, so we try to alleviate it as much as we can.
The treatment of oncological illnesses with cytostatic medication often has a strong side effect, and the drugs needed to reduce them are not always compensated by the state. Patients also have to purchase various nursing supplies at their own expense. With the Foundation's help, families can purchase essential supplies for nursing, food, can cover travel and other expenses as needed, trying not only to improve the physical condition of their children, but also to improve their emotional, psychological and spiritual condition, which influence overall treatment success and recovery.
During the months of June, July and August, we used your support to provide the financial support of 8,700 euros to families. We also helped them purchase medicine, which is not available in Lithuania, for the amount of 4,356 euros. We paid for genetic testing of 3 children – the total amount was 9,075 Eur. We bought 5 central venous catheters – 1,787 euros. To alleviate mouth ulcers, which is incredibly uncomfortable physically and psychologically, the Foundation purchased AftaClear mouthwash, which 's cost was 376 Eur.
In conclusion, the Foundation's ability to help families affected by illness is highly related with the kindness and help of the people who support it. Just as the saying goes: There's no "I" in team. We are enormously grateful to everyone who decides to join us on this path and help us to help others