Project Report

| Sep 11, 2017
Let's Help Children With Cancer - Report 2017-09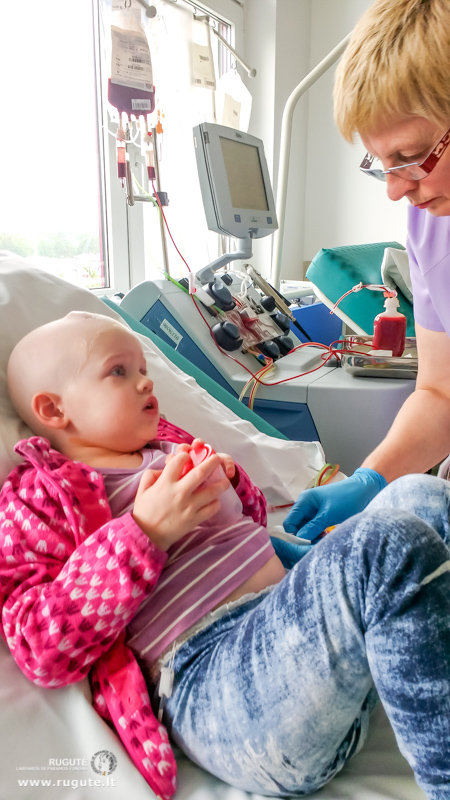 Report (June, July and August of 2017)
Childhood Cancer Fund Rugute continues its activities, providing support to children with oncological diseases and their families. Fund also provides support to local medical facilities where childhood cancer patients are treated.
During the months of June, July and August of 2017, Rugute provided charity of 4,700.00 Eur to the above-mentioned families, who used this money to purchase necessary medical care and food supplies and to cover other costs that they could not have avoided due to their child's disease. The money also helped the families to improve the psychological well-being of the children.
The Fund also purchased specific medications that are needed by individual childhood cancer patients but are not State-covered or not supplied in Lithuania at all. In order to ensure that the proper treatment is administered to the little patients, the Fund bought:
medication Diflucan 50 mg(cost: 190.96 Eur);
medication Equoral 100 mg/ml and Ivemed 150 mg (cost: 1612.21 Eur);
medication Temozolomide 100 mg and 20 mg (8 items) (cost: 406.99 Eur);
For 8 years now, Rugute has been supporting the emotional and psychological well-being of the little patients during treatment, by supplying the local hospitals with long-term central venous catheters. These catheters ease the procedure of administering drugs to little children, allowing them to avoid pain. The catheters (3 items) and special needles for them (60 items), as well as light-resistant infusion systems (200 items), purchased by Fund during this particular 3 month time period, cost 1,138.73 Eur.
Following their personal request, Fund provided support to one particular family of Bazile, a little girl who needed immunotherapy as an additional treatment method. Although immunotherapy is widely administered in the world, it is only now making its first baby steps in Lithuania. We have posted a message, asking for donations for Bazile, and collected some funds. Out of the collected funds, we used 6,050.00 Eur to cover the costs of the dendritic cell vaccine.
Fund has been sucessfully covering the costs of Rugute's Home, the rented premises (200 m2) with two bedrooms, a kitchen, two bathrooms and a cozy area for games, resting and meetings, and a small yard, not far from the Vilnius Children's Hospital. It is the only facility in Lithuania that provides temporary accommodation to the young cancer patients and their family members, free of charge. Having found shelter in these premises, children with oncological diseases are able to have a break from their treatment and from being in the hospital. Rugute's Home allows their family members to get a temporary accommodation while visiting children in the hospital. The total maintenance cost of Rugute's Home in June, July and August of 2017 was 3,909.30 Eur.
A few years back, our Fund contributed to the project by Eugenijus Maciukas (a dad of a little patient), which involved setting up fish tanks in the hallways of Children's Disease Clinic of LSMU. The hospital environment may be quite stressful to children (who spend long months in there) and depressing to their parents, therefore it is important to create a peaceful and emotionally rewarding environment. We helped to renew the aquariums and allocated 70.00 Eur for this particular project.
Dear donors, you have been helping us a lot and making it much, much easier for us to face our every-day challenges. Thank you and God bless you!