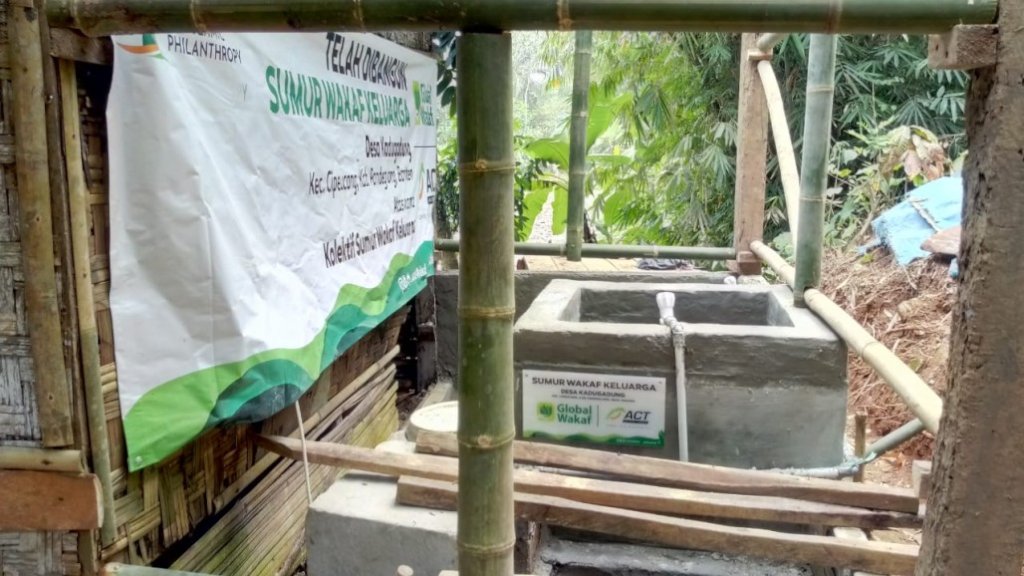 Dear our respected donors across the globe,

I am reaching you out today, to inform you that water wells program for unfortunate famlies keep continue for families or community across Indonesia.
After nearly a month of construction, now all the Family Wells in Kadugadung and Kaducekek Villages, Cipeucang Subdistrict, Pandeglang Regency, Banten, have finally been completed. A total of 10 Family Wells have been able to be used since August 27th.
"On August 27, all the inscriptions and all the Family Wells have been installed, and the wells could finally be used by the beneficiaries," Sukma from ACT team said on Thursday (8/29).
Sukma revealed that the presence of the Water Wells was to support the community's personal hygiene activities and make it more comfortable. This is because people usually use water from rivers for various purposes.
"So this Family Wells are used for a more personal use. In this village, the people like to use water in the river. So, they also do their personal hygiene activities on the river bank. By making the Wells for the families here, we hope that they will facilitate the personal hygiene activities," Sukma said.

Rofiudin as one of the heads of the neighborhood associations (RT) in Kadugadung Village, confirmed the behavior of the residents who often take the water for their daily activities from the river. Rofiudin's own home does not yet have its own bathroom. Along with seven other houses in his area, he relies on the river as a source of water.
"We use the water from the river for bathing, defecation, laundry, and dish washing. For cooking and drinking, we use the water that we buy for IDR 5,000 each gallon or 50 cent. The delivery cost is IDR 10,000 or 75 cent. Two gallons of water will last about two to three days," said Rofi in early August.
Rofiudin is grateful that Wells can help the locals to get water. He hoped, that the Wells can change the personal hygiene habits of the local villagers.
Almuktarodi as Head of Karanggadung Village, also welcomed the Well program. He thanked the entire ACT team who initiate the construction of the Well. He also hopes that the Well can also create awareness in the community to do personal hygiene activities more regularly.
"With this program, hopefully the community can no longer do their personal hygiene activities in the river, but at home. And in the future, hopefully the community can pay more attention to cleanliness, using clean water, "Almuktarodi said.

We kindly thank you for your generous contribution to support Indonesian community to consume clean water.

#Please stay safe and healthy, and have a wonderful day there.