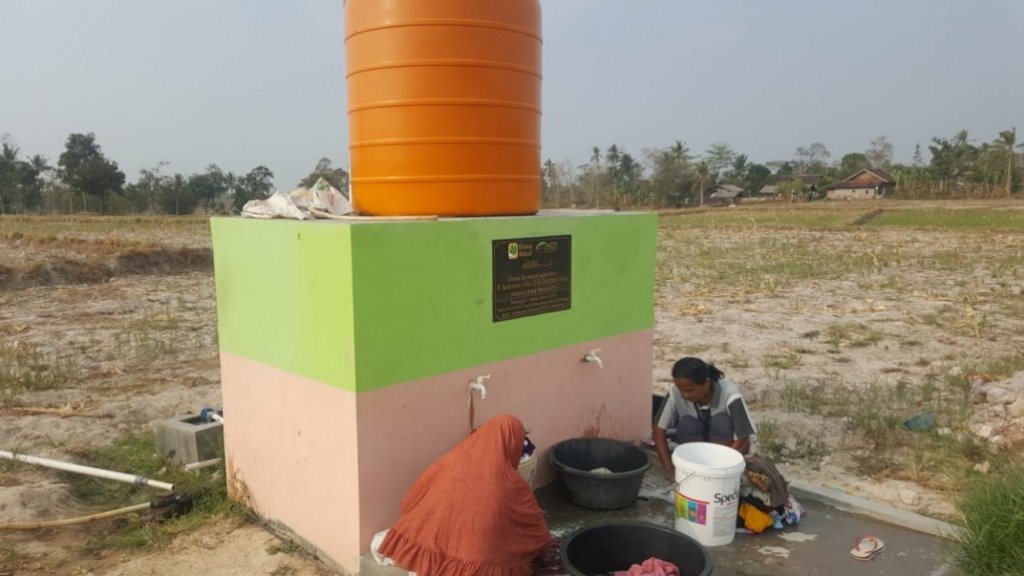 Dear our respected donors,
The dry season has not ended in Lampung Province. The drought that lasts for months often results in water crisis that afflicts the residents of Pal Putih 2, Karang Anyar Village, Jati Agung Subdistrict, South Lampung Regency.
A large water storage that was painted orange and green streams water every day through the two taps provided. In order to save electricity, the Water Well is equipped with a 1,000-liter water storage, a water pump machine and a storage tank. Located in the middle of a rice field, the local residents can use the water for agricultural and animal husbandry needs, in addition to household use.
Sumiatun is one of the residents who benefited from the Water Well. Along with other residents, Sumiatun uses the water from the borehole well almost every day to for laundry and shower.
Sumiatun said that the residents were very happy for the Water Well in their neighborhood because the well is very useful, especially when the dry season arrives. Usually, they have to struggle to find clean water sources. Now, they only need to go to the well located less than half a kilometer from their neighborhood.
"The Water Well is very helpful. We would easily use the water for laundry and bathing. The water is clean. It can also be used for drinking water," as Sumiatun explained while busily washing her clothes near the Water Well.
"Currently, the well is used by residents for several needs, including agricultural irrigation and personal hygiene. The local residents are responsible to take care of the well. Alhamdulillah, in the dry season, the well still has plenty of water and is very helpful for the locals. Hopefully, it will bring everlasting rewards for the endower.
Indeed, we kindly thank you very much for your generousity and sincere support for Indonesian community.
Warm regards,
Mohamad F. Amrullah