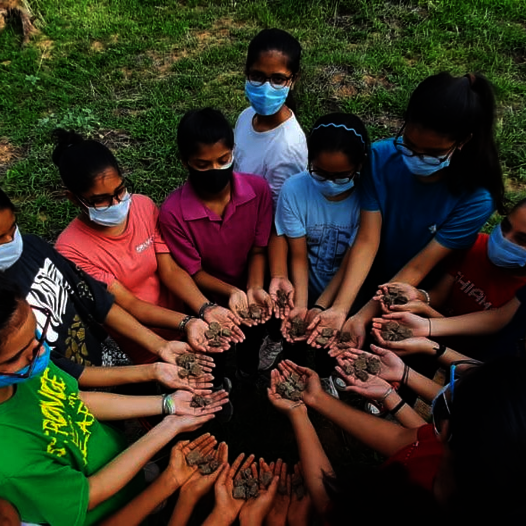 UDAYAN CARE LENDING A HELPING HAND DURING LOCKDOWN 2.0
In times of crisis, we are often reminded of a famous quote, "Be kind, for everyone you meet is fighting a battle you know nothing about." While India is not in the middle of a physical war, it is battling the COVID-19 crisis to the best of its capacity. Like most other countries, India could also not escape the pandemic. It suffered extreme loss of lives and livelihoods. Amidst this fight between hunger and life, for oxygen cylinders and hospital beds the most affected were the underserved sections of the society. As most of our beneficiaries belong to the underprivileged community, Udayan Care, drawing learning from the experience of the previous lockdown could foresee their upcoming challenges. We immediately conducted an assessment survey; initiated a fundraising appeal and created preventive and rehabilitative response teams unique to the requirements of different programmes.
UDAYAN SHALINI FELLOWSHIP
USF team sprang into action as lockdowns were implemented in different parts of the country. In order to combat the challenges of the second wave of Covid-19, USF conducted a survey to understand and assess the life conditions of Shalinis at the ground level. The goal was to identify the most affected of all and prioritize them for Emergency Response Fund (ERF) Support. The survey focused on 2 major aspects First, if any Shalini or their family members got affected by Covid and, second, if there was any loss of livelihood of the family members due to the pandemic. This survey was conducted in the month of April 2021 with a sample size of 3993 Shalinis across 21 chapters, and it was astonishing to note that 22% family bread winners were rendered jobless (approximately 890 families across all the chapters). USF got into action to provide aid to this heart-breaking consequence of a deadly pandemic that swept across the nation. A total of 2371 Shalinis had been provided with the cash support of Rs.2000 each and more, 434 Shalinis families were given dry ration kits between the months of April – June 2021 in 21 Chapters across India. The financial support helped our Shalinis and their families to buy ration, get their phone recharged to continue their online education, and even buy books to help them in their studies. We sincerely pray and hope to break free of this vicious cycle of this pandemic soon. But until then our entire team is constantly working for the Shalinis and ensuring that no needy family is left out.
In these stressful times mental health deserves a lot of attention to instil the values of healthy living among our beneficiaries. Various webinars were organised to assist them stay focused and cheerful. Sessions like "How to Get What You Want" by Rajpreet, "Mental Well Being" by Vrinda (Holistic Fitness/Wellness Coach), and "Mental Health" by Ashish were truly inspirational and helped Shalinis stay motivated during these trying times. Jacqueline also graced a Shalini gathering in Mumbai Chapter with her presence. She spent some quality time with them.
UDAYAN GHAR
During the second wave of Covid 19, Udayan Ghars continued to support Aftercare Young Adults (who lived outside Aftercare institutions) and alumni with rations, loans, and grants. Individual and group therapy sessions provided continuous emotional and psychological assistance to the UG Children, Carers, Aftercare Young Adults, and Alumni. Some funders have come forward to sponsor food and groceries for home children during this difficult time. Virtual fun and learning sessions, hobby classes, and online tutoring support were also provided to children by the volunteers and tutors.
UDAYAN CARE IT
Sustaining the family was one of the biggest challenges for those who had lost their livelihood due to the pandemic. At that juncture a helping hand meant a lot.
We listed 21 needy families of our beneficiaries who were struggling to manage their household expenses, to provide them support under Udayan Care's ERF.
Tough times often push you to take unprecedented measures. These lockdowns proved to be similar boosters for the UCIT staff and beneficiaries. As we couldn't open our centres, due to Covid restrictions, we devised innovative ways to reach out to our students and help them continue their education, using online platforms and social media. During this period, we managed to maintain a good strength of students. We continuously tracked the trainer's performance by creating online feedback process. We tried to attract new students by posting social media messages, distributing pamphlets etc. We also developed a central inquiry form to compile all inquiries on a single platform, which further helped us to make follow ups and turn inquiry into admissions.
IMPORTANCE OF VACCINATION
Udayan Care has always focused on the mental and physical wellbeing of its beneficiaries. The vulnerable section of the society is unaware of some crucial facts about Covid-19 and more importantly its vaccination process. Zaryab conducted an effective session on Importance of Vaccination on 22nd May'21. Around 75 beneficiaries got connected virtually for this important session.
The session elaborated information on the importance of vaccination and busted some popular myths about the same. A very informative and interactive session. We would like extend our thanks to Medanta for vaccinating the care givers at Udayan Care, free of cost.
GIVING BACK
Even in the times of pandemic Udayan Care children, youth and staff displayed the spirit of Giving back in many ways. Be it sowing seeds by Jaipur Udayan Ghar, Plantation of trees by Shalinis of Aurangabad chapter or other Shalinis working as medical support volunteers (helping and nursing the Covid affected citizens). Not only this, with one of our donor's(GE) support we could donate 4 high end ventilators and monitors to a hospital in New Delhi. A much needed support in those crisis days.
WORKSHOPS AND TRAININGS
COVID-19 has not only led to an increase in the cases of gender-based violence but has disconnected them from their support networks. To reduce the prevalence of the issue, it is crucial to acknowledge the extent of gender-based violence, reimagine government policies, and support networks to make it easier for the victims to access them and, lastly, create awareness about the issue as well as the resources available to tackle it. Sushama who has been associated with Udayan Care since 2005, conducted a one-hour session on Prevention of Sexual Harassment (POSH) on 22nd May 2021, for Udayan Care IT Centre Programme staff, where 37 male and female staff came on board virtually and put forth their queries regarding the safety of women in their respective centres. Other workshops on assertiveness, menstrual hygiene, oral hygiene and importance of healthy living were also conducted as a part of super Sunday series.
WAY FORWARD
COVID -19 has become such an integral part of our lives that we have started calling it the 'new normal'. With two waves behind us, we are now gearing up to combat different variants of the virus and with the country opening up, it is a high possibility that we will soon have to face the wrath of the third wave. We have seen the havoc COVID -19 has created, by not only hindering children's education but people losing their jobs and livelihoods, even access to healthcare facilities, especially the underprivileged.
The good news is that we have learnt from the past, and are motivated to function in a better way. Even in Udayan Care, we have been conducting vaccination drives to shield our employees and beneficiaries from being infected by the virus. Shalinis are even accompanied by their parents and mentors for this. Same is true of our other programmes. Additionally, in keeping with our belief that education should not be hindered, we had organized devices, for our different beneficiaries, across the length and breadth of the country, and we shall continue to organize more such devices, whether mobile phones, laptops or tabs, so that they do not miss out on the online classes. Our expansion programmes to start new chapters and induct more beneficiaries will continually grow, as we believe that is the only way to overcome the yawning divide the pandemic has thrown us into. We are aware that COVID-19 is not going to go away too soon, we plan to combat it in an anticipatory mode going forward.
Together we can create a safer world by continually reminding ourselves that it's important to see what we can do to make a difference, but it's more important to do it every single day.