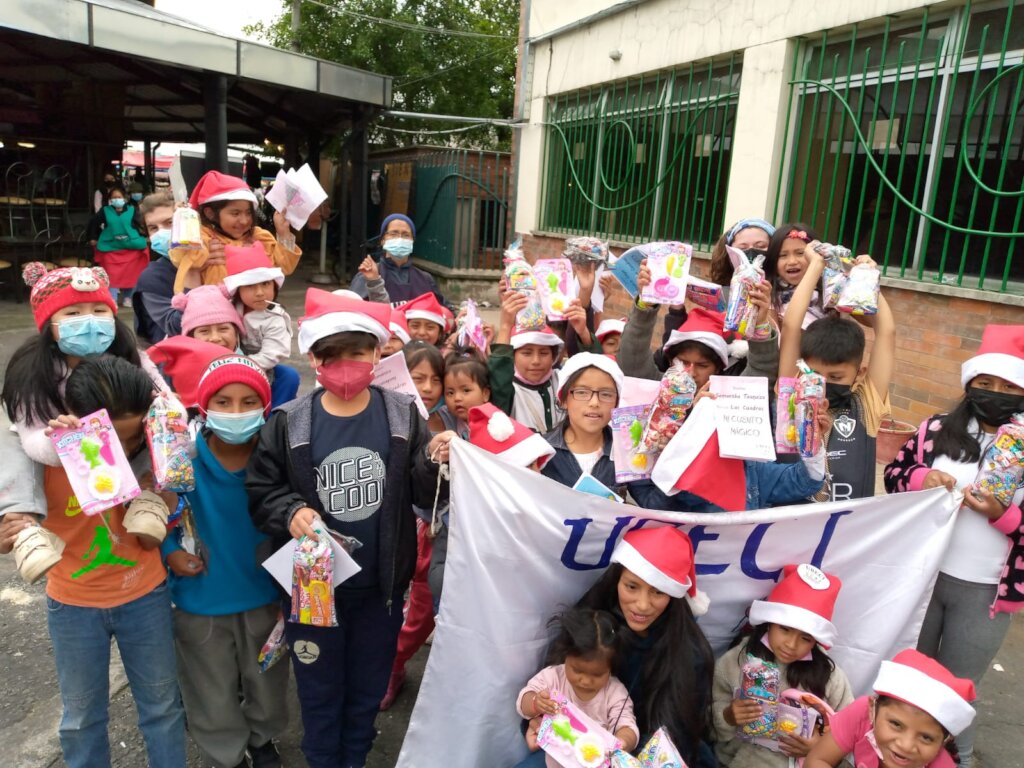 Over the last year there has been great progress when it comes to the COVID vaccine campaign reaching the vast majority of the population in Ecuador, including the poorest.
After almost 18 months of online schooling secondary schools returned to in class teaching in September, but had to stop soon after and return online due to COVID cases soaring amongst teachers and students. Plans are in place for all schools to return to classrooms at the beginning of February but, as everywhere else around the globe, Omicron is spreading fast and calling into question whether this would be a wise move…
The number of children working in the markets has grown significantly compared to pre-COVID times. For many, access to the internet and the little online schooling they can listen into is easier from the market than from home. Schools have started sending out paper exercise books with teaching modules for children to work through and submit assignments. Half of the children in the markets are now schooling in this way. The other half, particularly children between the age of 5 to 8, have unfortunately dropped out of school. It is difficult for this younger age group to find the self-discipline to attend online classes or complete assignments. Their parents, themselves often illiterate, cannot help.
In UBECI's playgroups at the markets the social workers assist the children with their assignments, provide older children with tips on where to find help online (for instance online maths classes), and spend most of their time on basic literacy and numeracy lessons for those children who are no longer attending school.
After 10-15 years of enormous strides forwards with schooling rates up at 95-96% by 2019, one of the longer lasting damaging consequences of COVID will be the spike in the level of school desertion and children missing out on an education. It will be very difficult for them to ever catch up again once in-class schooling resumes, a problem that will affect the poorest in particular for years to come.
UBECI has also recently started a new workshop run by a psychologist and aimed at parents, particularly mothers, helping them to work on and improve their emotional heath. Many parents have lost close relatives to COVID. UBECI's work focuses specifically on helping them learn how to identify and manage pain and anger, thus also improving their interaction and relationship with their children and family more broadly. We'll keep you posted on progress.
A big Thank you for your continued support.