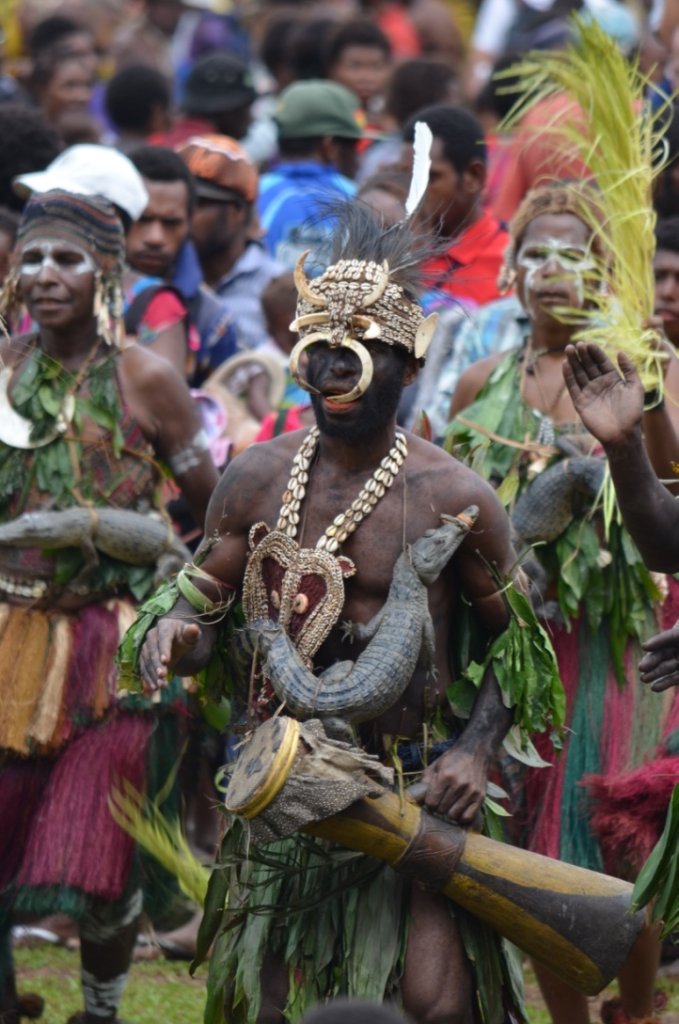 The Sepik River is home to one of world's largest freshwater crocodiles and saltwater crocodile population. Crocodile a symbolism of strength, power and manhood with well-articulated legend and beliefs forms a strong cultural connection in the Sepik river region.
The crocodile holds a significant resemblance of a society that is strong and powerful that prides itself of a people who are absolved to their heritage. Haus Tambarans (sacred men's house) a manifesto of strength and account of a culture that has deeper cultural links. Men gained strength to lead and discipline their communities within the men's house that often associated with the crocodile.
Crocodiles and river gods are an extraordinaire phenomenon that intensifies the potency of manhood. The initial initiation process of taking young boys into the men's house and having their back skin cut like crocodile illustrates the sacred and cultural link of a people with physical and spiritual ambiance.
Crocodile and Sepik River communities is a very distinguish cultural connection. A cultural society which is very much connected to the river which serves to hold a rich cultural diversity of knowledge, beliefs and systems of a people considered to be having pride in their own cultural background and the crocodile.
Not only is the Sepik River sustain humanity but because of its beauty and very strange make up. Yambon gates a natural feature of two rock walls forming mountains on both sides of the river. The water flows around the rocks then make a full swirl before flowing again. This is a natural scenario that complements the value of large natural stream of waters.
Sepik River a holistic sanctuary of life for its humanity and all its living inhabitants. The Sepik River the ideal vegetation for sago palms and a consistent supply fish and other food supply from the river has been the sustainable diet for the local people. The river gives life to thousands of communities all characterized by their own holistic make up of their tribes, clans and villages holistically and closely knitted to the river.
The local livelihood is very much influenced by the river. The river is the safety net that holds together a huge region characterized by its own geographic features and cultural make up. Crocodile adds a certain kind of feature that reflects a group of people who are assertive and very bold in defending their heritage.
The Sepik River one of the world's largest river systems and home to world's mammal species with its Flora & Fauna is under threat if the mine undergoes operation in 2018. If you want to save the mighty Sepik River please donate now to Land –Land Justice for Papua New Guinea project now!