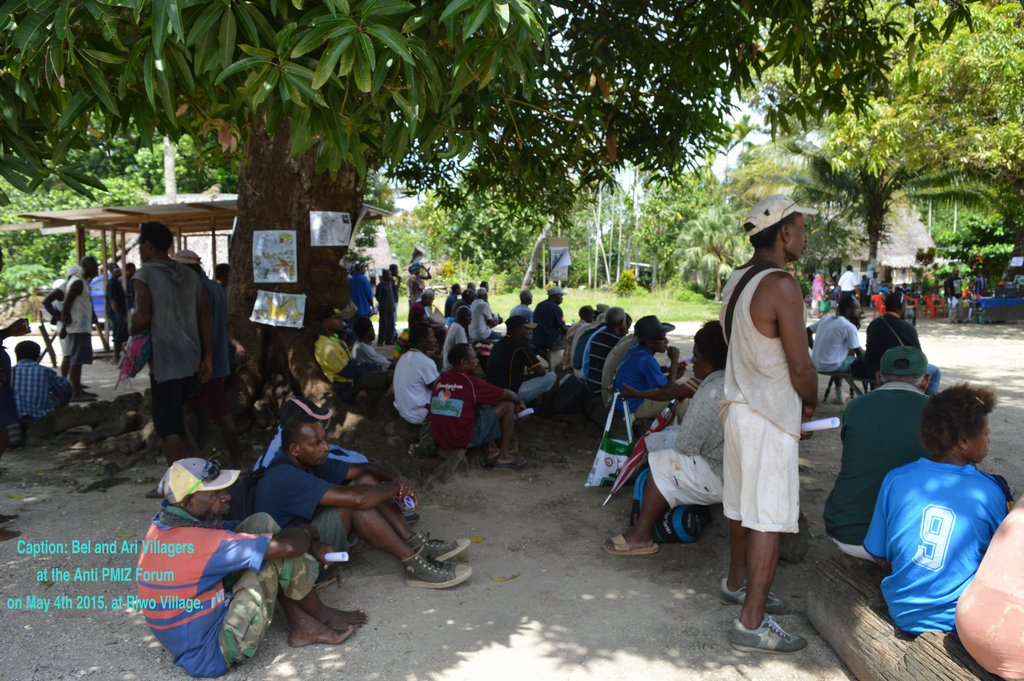 Five years ago Papua New Guinea's Prime Minister Peter O'Neill took out a US$2 Billion loan from China's Export Import Bank (Exim Bank) to improve the National Highways and State Owned Enterprises. In the same year, a deal was also signed between the two parties that US$74 Million of that loan would go towards the very first Special Economic Zone (SEZ) project in the country.
So what spark this interest in Special Economic Zones when Papua New Guinea currently has a billion-dollar oil and gas project including several other major mining projects in the extractive industry?
It all started in 1995 when a Multi-Million dollar Filipino company, RD Corporation, came to Papua New Guinea to open its Tuna Canning Factory in Madang Province. It is important to note here that RD Corporation built its empire from SEZs in the Philippines.
So it was no surprise four years later in 1999, RD Corporation bought Vidar Plantation, a 860 hectare coconut plantation that used to be customary land that was leased to the Catholic Church for 99 years. Instead of the church handing over the land title back to the original landowners as required by law, the land title mysteriously changed owners from the church to RD Corporation.
Fast forward to 2006, the PNG Government bought 216 hectares of Vidar Plantation from RD Corporation for about US$1.9 million. Two years later, an application was sent to World Bank's International Finance Corporation to assist the Government of PNG (GoPNG) to incorporate SEZs into its national economic development plan.
An Appraisal Report from World Bank's Compliance Advisor Ombudsman in August 2014 stated that IFC "was to assist GoPNG in framing a viable legal framework for the development of special economic zones
(SEZs) and, in particular, to advise on the economic and legal conditions for the proposed Pacific
Marine Industrial Zone (PMIZ) in Madang".
Approval was given in 2009 which included three components:
Legal and regulatory regime - including advice on the establishment of a sound legal, regulatory and institutional framework for the development of SEZs in PNG;
Policy and regulatory framework (aside from law) – including advice on phytosanitary, labor environmental and other standards needed to ensure access to global markets; and
Commercial viability and site assessment – including detailed analysis of the proposed Madang site and its suitability for development as an SEZ.
However, in June 2010 the IFC had to revise the scope of its assistance since GoPNG did not honor the third component by announcing the 216 hectare site in Vidar as the Pacific Marine Industrial Zone, which would involve as many as 10 Tuna Factories.
These all happened without any awareness or prior consent from the original landowners of the Vidar Plantation and the surrounding communities. As talks of a GoPNG project on their land reached the people in the form of a blue fence restricting access to food gardens; open forums and protests were held to demand explanations.
The people's dissatisfaction resulted in a Court Injunction in 2012 to the PMIZ project that also caused Exim Bank to freeze its PMIZ loan.
However, late last year the current Minister for Trade, Commerce and Industry Richard Maru announced after a visit to China that Exim Bank has lifted its ban on the PMIZ loan and work will continue as planned.
Since then the affected landowners have taken up the battle again and this time are demanding that the PMIZ cease all operations and be taken some place else.
Throughout that whole ordeal Bismarck Ramu Group has been assisting the landowners by providing vital information deliberately held back from them, networking with necessary individuals and groups and advocate for national media organizations to recognize the PMIZ project as the highly controversial issue that it is.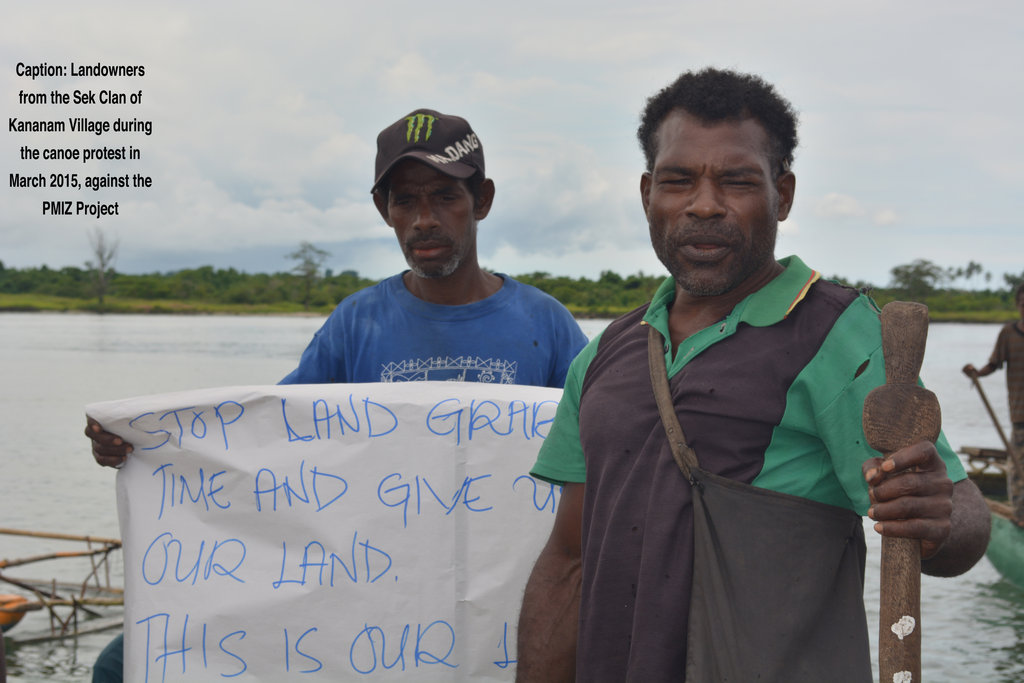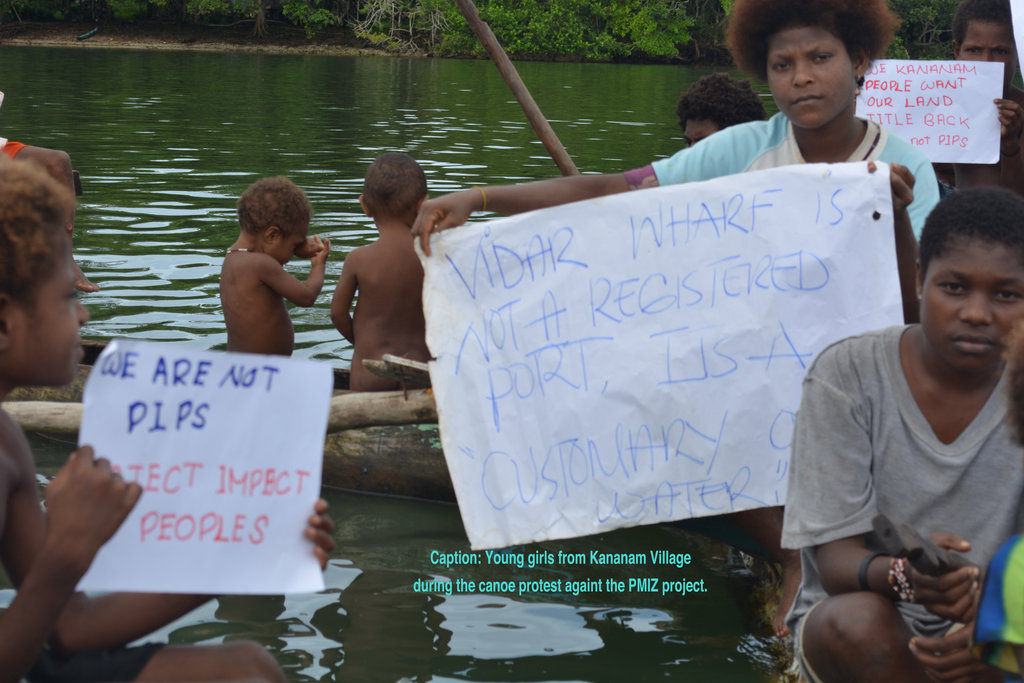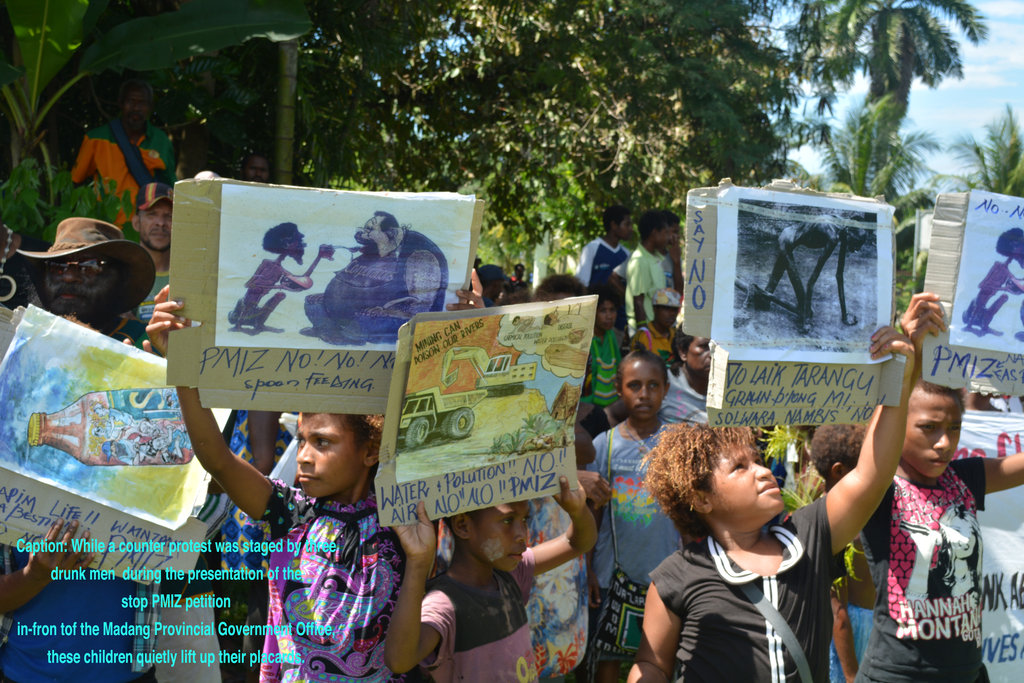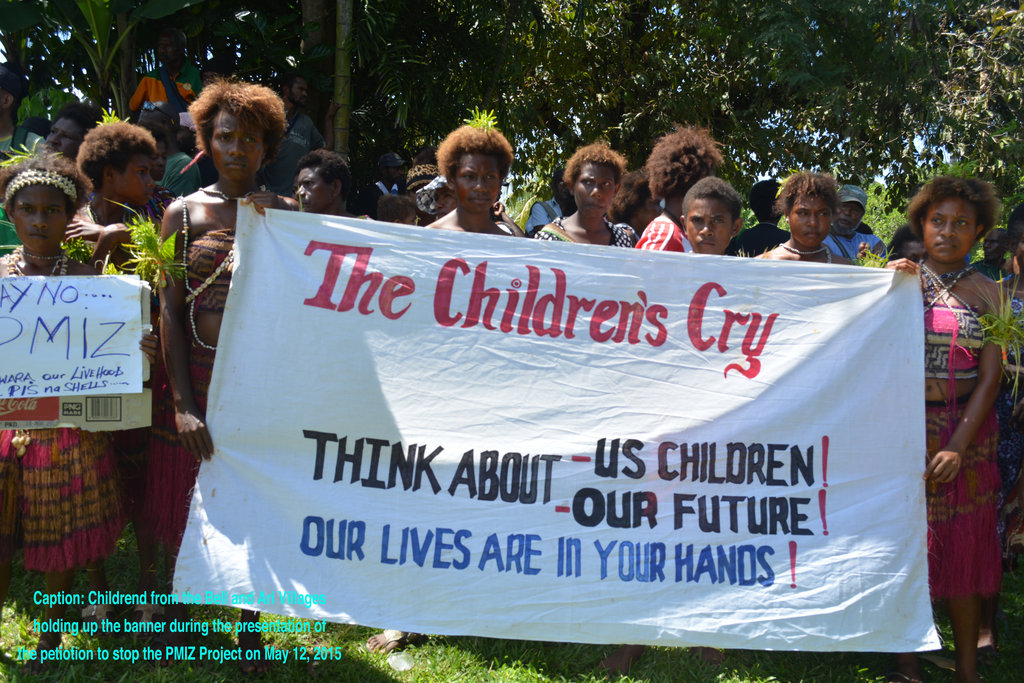 Links: