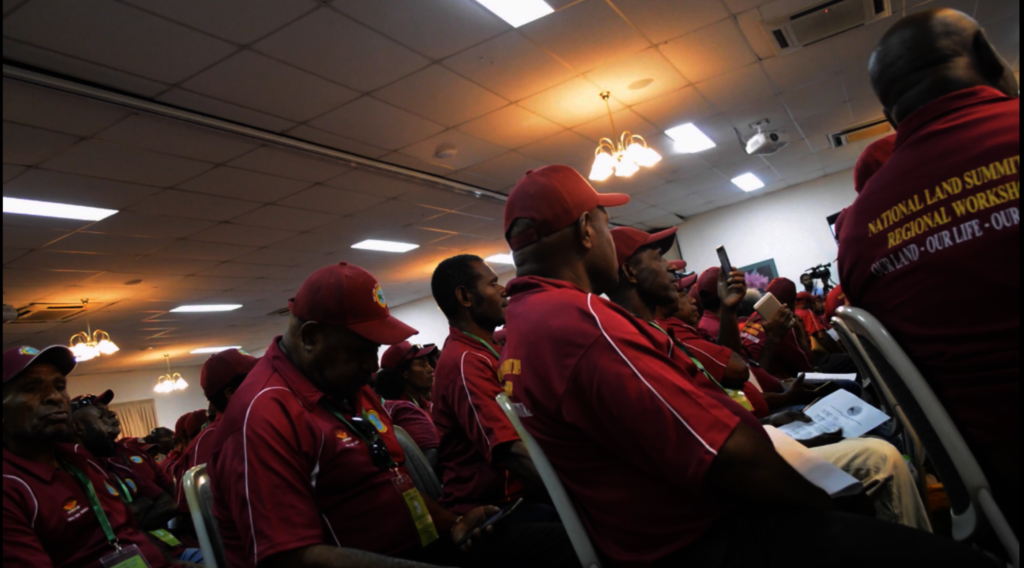 Safeguarding Customary Land or Facilitating Land Theft?
Earlier this year, the PNG Government, through the National Lands Department and the Minister for Lands, launched a National Land Summit on Customary Land in the capital, Port Moresby. The stated purpose of the Land Summit was to listen to and get feedback from customary landowners and Incorporated Land Groups (ILGs) on challenges encountered in ILG and Voluntary Customary Land Registration (VCLR) processes and other land-related matters.
The National Land Summit team carried out consultations in all four regions of the country. The Land Summit for the Momase region was held in Madang on March 7-8, 2019 at the Madang Resort. People had heard that the presence of rural-based community leaders would have a real impact. Consequently, local community leaders travelled from afar to attend the Land Summit. Two local leaders from Madang Maror – a customary alliance of leaders representing the six districts of Madang – and two from Karkar Solwara Warriors (KSW), part of the Alliance of Solwara Warriors (ASW), travelled to Madang town for the summit.
These four community leaders planned to attend the Land Summit in order to question its validity and its role in dealing with pressing land issues, particularly the SABLs (Special Agriculture Business Leases) that had alienated so much customary land from rural people already, as well as ILGs and Land Registration (VCLR). The local leaders viewed the Land Summit as a kind of scam involving corrupt government officials and foreign investors aiming to grab more customary land and to profit from it. They felt that the Land Summit should instead be designed to facilitate a dialogue on the need for FPIC (Free Prior Informed Consent) in resource development for rural custodians of the land.
The traditional community leaders had to travel two full days to reach Madang town for the Land Summit. Their trip started with traveling down river by dinghy from one of the most remote parts of the province, and then walking for several hours before a full day journey on public motor vehicles (PMVs). The PMV part of the trip included terrible road conditions and river crossings on floating bamboo rafts due to collapsed and unpassable bridges. But this did not stop the local leaders from their journey. However, when they arrived, they found that the Land Summit was held in an elite resort hotel with tight security and where accessibility to information was enclosed behind iron gates and barbed wire.
In PNG, land is governed through communal stewardship. Every rural-based Papua New Guinean is born with user rights over customary land – enough land to provide food and other basic needs for one's family. Therefore, information regarding land is public information and must be shared openly for all. It was a shock to find that in order to attend the Land Summit, the participants – even grassroots PNG citizens – had to pay a K100.00 non-refundable fee. And so the four rural land custodians from Madang Maror and the Alliance of Solwara Warriors (ASW) each had to pay the K100.00 fee to attend. It is estimated that at least one thousand people attended the forum. Many of these people were grassroots rural people who struggled to travel to Madang town and to pay the fee – but who were wanting to better understand how ILGs, VCLR, and other newly imposed land laws operate in the country at present. In this way, the regional Land Summit consultations in Madang raised a substantial sum of money from ordinary grassroots citizens, with the PNG government taking money from the people to collaborate with multinational corporations and commercial banks to the advantage of foreigners and a handful of elite Papua New Guineans. Hence, we see that multinational companies and commercial banks are using the Land Summit process as a mechanism to further facilitate the customary land grab.
It has become obvious that PNG government policy and practice over the past 25 years have not been developed and implemented in the interests of the customary land custodians, aiming to keep land in the hands of the people who still feed their families through traditional agriculture. Instead, the government seems to be acting in the interests of resource extraction companies – companies owned by both foreigners and also PNG elites. If we look at the issue of the illegal Special Agriculture Business Leases (SABLs) which have enabled so much illegal logging in PNG, it is clear that the government is not with the people, but with the companies. As long as the SABL / illegal logging wounds are still bleeding, it is clear that customary land and forests in PNG are still under threat.
If you want to help us to protect customary land and stop the land theft in PNG please donate to Bismarck Ramu Group Land is Life-Land Justice for Papua New Guinea on GlobalGiving.