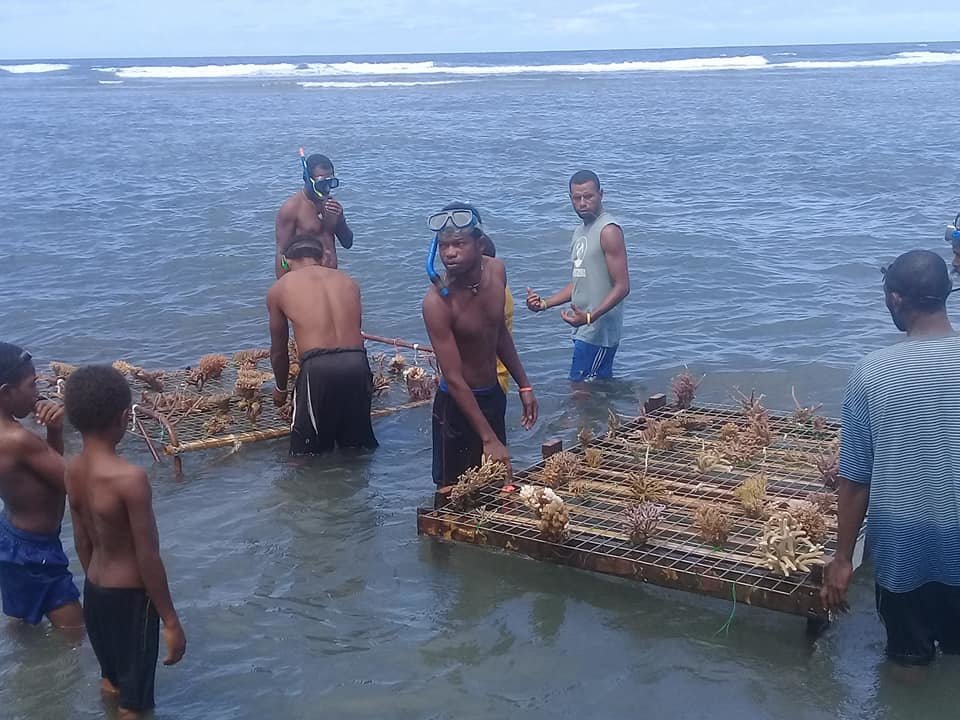 Karkar Island is located in the Bismarck Sea. It is about 65 km north of Madang town, off the north coast of the Papua New Guinea (PNG) mainland. Karkar is a volcanic island with a black sandy coastline, many coconut plantations, and well known for its copra production. The population of the island is 80,000, with most people providing for themselves through traditional fishing and food gardening.
Karkar Islanders have been protesting against the idea of seabed mining ever since the first Mining Warden's Hearing ten years ago. Due to the strength of the opposition put forward by Karkar and other Madang coastal people, the seabed mining company, Nautilus, abandoned plans for mining off the Madang coast and instead shifted its focus to the Bismarck Sea offshore of West New Ireland. Karkar is situated in the Western Pacific Tuna Catchment Area and the Coral Triangle, and despite much talk by people at high levels of government and business about potential benefits from various 'development' projects, nothing has eventuated. Instead, the people of Karkar still see industrial fishing fleets sweeping the sea of its tuna stocks and polluting at the same time, and worry about the potential impacts on the tuna and the marine environment in general. And so the Karkar people have come to see that they need to take control of their future, and not wait or depend on anyone else, continuing to provide for themselves with their own resources from their customary land and sea. This realization led to the birth of the Karkar Solwara Warriors (Karkar Ocean Warriors) – a group of Karkar people committed to fight to protect the Bismarck Sea.
Kavailo Village is located in Kulobob Bay on Karkar Island. It is a Lutheran area where church is considered of great importance, together with local culture and traditions. Through church, school, and community networks, the Karkar Solwara Warriors have been doing awareness on the need to protect the ocean environment that they depend on. As a result, the Solwara Warriors of Kavailo decided to put their environmental awareness into action by initiating coral gardening. The Warriors are restoring corals at Kulobob Bay and Kavailo Lagoon which have been dead for several years, by creating coral nurseries for coral replanting. And now, the coral gardening initiative has led to establishment of the Kulobob Bay Marine Life Restoration Program, a homegrown idea to restore, protect and preserve marine life for future generations. The Karkar Solwara Warriors took advantage of World Environment Day and World Oceans Day to highlight their community initiatives aimed at providing local solutions to the challenges posed by destructive large-scale resource extraction like industrial fishing and seabed mining. These events brought people together and facilitated awareness and exchange of ideas – uniting people to create positive change.
If you would like to support the Karkar Solwara Warriors and other indigenous environmental groups like this, please donate to Land is Life project.