Project Report

| Aug 21, 2023
The Power of Sharing Your Story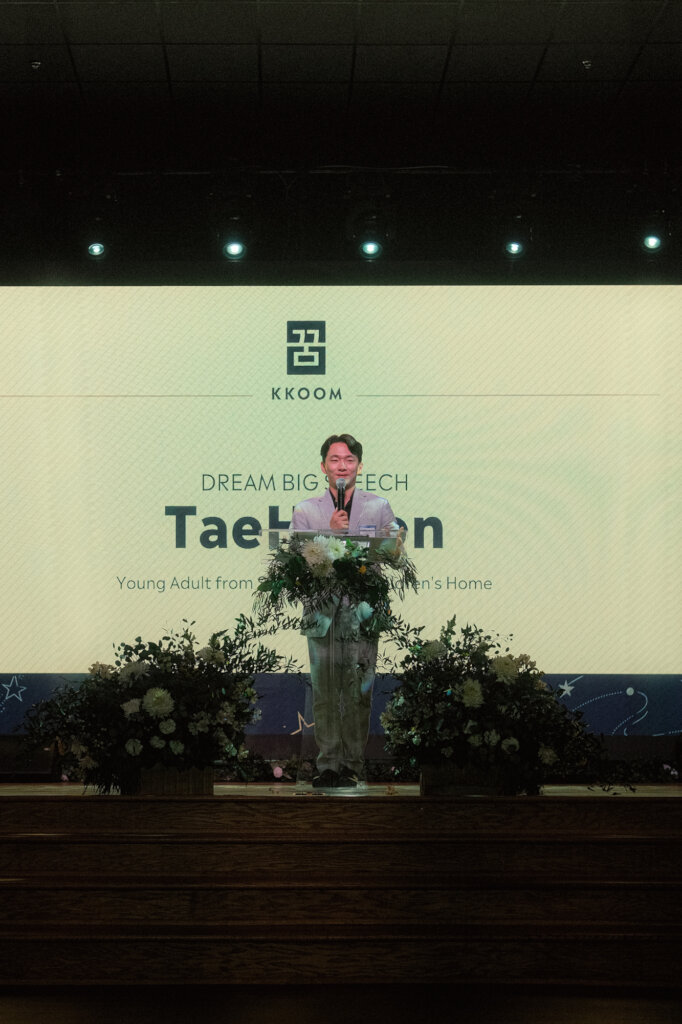 In May 2023, KKOOM hosted its very first event in the United States out of our 15-year existence. It was the Dream Big Gala to bring more awareness about our mission and to start building community in Atlanta as there is a big Korean population in Atlanta, Georgia. The gala featured Korean food, performances, speeches from KKOOM's Co-founder, donors, volunteers, and the highlight was hearing the stories from two boys who grew up at KKOOM-supported children's homes.
TaeHyeon was one of the young adults asked to speak at the gala. He was raised at a KKOOM-supported children's home since he was 13-months-old. During his speech, he mentioned that he didn't know he was an orphan until he was 13-14 years old. "One day, my friend ask me, "aren't you an orphan? I was so shocked to hear this news. Then I was very depressed and lost confidence. But my mother told me this: 'You are my son, I love you more than anyone else. And the world is unfair, but Jesus is always fair.' And I gained confidence in this remark and was no longer afraid that I was an orphan."
We asked TaeHyeon to share his experiences speaking at the gala and his time in Atlanta. Below are his direct responses.
Did you enjoy the Dream Big Gala? What was your favorite part(s) about the event?
Absolutely yes it was perfect to me. Actually, I had never experienced something like this before that time. To be honest, I really liked and loved everything about [the] Dream Big Gala.
Were you nervous about speaking? Why?
I like to share my experiences with people. Actually I wasn't nervous before I went on stage. However , it was my first time speaking in front of many people in English, that's why i was so nervous when I went up, but I have no regrets because I told to people what i wanted to say.
Did public speaking at the gala boost your confidence?
It gave me a lot of motivation, everything was appreciated, and I want to give to many children the opportunity they need when I achieve my dream and become a better person.
You shared a lot about your faith in your testimony. Why is your faith so important to you?
If there was no God in my life, I couldn't imagine how I would be living now. He showed me everything, told me and provided for me. I become a better person by believing in God and I think I became a witness to people.
What did you enjoy the most about your trip to Atlanta?
To be honest, I had the best time at Dream Big Gala. It was so nice to meet many people there, share my experiences, and learn about US cultures.
Did you enjoy Savannah? What was your favorite thing you ate or did in Savannah?
Savannah is the place I wanted to go even before I went to Atlanta. Grace drove for Nahyeon and me, so I was able to come back comfortably and happily. It was so nice like a vacation spot and I remember eating seafood deliciously.
How was it visiting the largest aquarium in the United States and one of the largest ones in the world?
This was also an experience I had never done before. The private tour and the aquarium was bigger than my house and was so impressive. When I was there, I was so happy and grateful to be here.
Did your trip to Atlanta motivate you to study English harder?
I thought I wasn't good enough there yet. But I'm not disappointed. I got motivated and am working harder now. I am studying English hard and preparing for the TOEFL test.
What are some other places you want to visit in the United States?
Actually, the palace I want to go to the most is California. Because I had a dream that I wanted to live in the United States when I traveled there. I want to meet the person who invited me there, and I want to tell him about my experiences.
TaeHyeon arrived in the United States in February 2023 to start an English Language Program in New York. The gala was his first time speaking to a sold-out audience in English. While he was nervous, he did an incredible job and we are so proud of him. He has overcome a lot of stigma and barriers to become successful today, and it inspires us how confident he is in sharing his own story to impact other vulnerable children. TaeHyeon's words of encouragement to young children living in Korea's social welfare system is this - "you are not alone."
KKOOM is celebrating its 16th anniversary in September 2023 and it's stories like TaeHyeon's that show the direct impact of your generosity. TaeHyeon was not a KKOOM Preschool Scholar but he did arrive as a toddler at 13-months-old. Your giving makes a difference in the lives of the toddlers, children, and young adults we support. Thank you for helping young adults like TaeHyeon to believe "you are good enough," so they can believe in the power of sharing their stories.