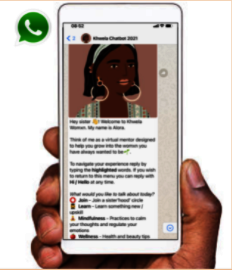 Our mission at Khwela Womxn is that we help historically marginalized womxn by equipping them with opportunities for experiential learning, financial growth and access to safe peer-mentorship spaces, so that they can shift their mindsets and elevate themselves personally and professionally.
We achieve this through various projects and in late 2021 we started a ride-hailing project to enable 40 womxn to become rideshare drivers. Although we are still a long way from reaching our goal, we have managed to connect to various companies who can offer assistance with obtaining driver's licenses, road & personal safety instruction and platform access.
We have been working hard on our success skills course, this Transformational Learning Journey which will run alongside the driver specific instruction and will help participants develop the mindset of a great leader. At the end of this learning journey, participants leave feeling more confident, and equipped with the right tools to add to their personal transformation and leadership toolkit. Participants learn how to be confident and assertive, how to raise their hand and bring up problems and then solve problems.
Over the last 4 months we have run 4 modules of the Transformational Learning Journey:
* MODULE 1 – SHOWING UP
* MODULE 2 – GROWTH MINDSET
* MODULE 3 – GOAL SETTING
* MODULE 4 – WORKING IN A MALE-DOMINATED WORKPLACE
Monthly Topics / Masterclass include a 1 -hour workshop session, Theory documents and Video content which is available to participants via our online Learning Management System and assignments are submitted using our whatsapp bot Alora. Assignments per topic include an action, an experiential learning task and / or a reflection session.
Currently we have 76 participants on our Transformational Learning Journey. 6 603 users of our Alora Mentor Bot and 174 sisterhood circle participants. Once we are able to roll out our driver specific component we will run this alongside the Transformational Learning Journey with our next cohort of 40 participants specific to this project.
"Gender parity is not just good for women, it's good for societies" - Angelica Fuentes
Research shows that women who have financial autonomy and economic empowerment are at a lower risk of being victims of domestic violence. They can access adequate health care, education, housing and food for themselves and their children.
The aim is to give women financial autonomy and economic empowerment and address the systematic ways women have been marginalised and undervalued.