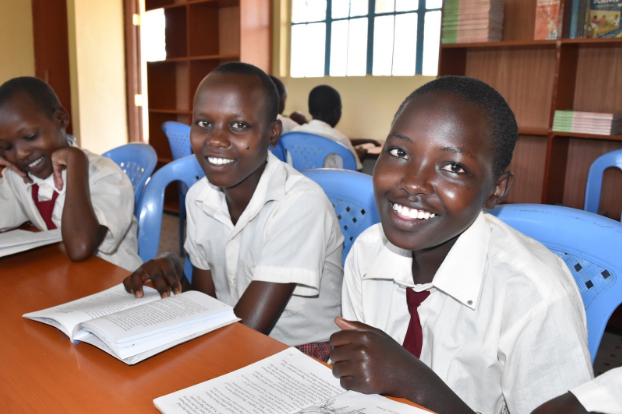 Eight years ago, KCE completed the first building on our campus. It was small, with space for only one classroom, but it provided a safe environment for our first 26 students to learn and grow.
Today, more than 180 girls call the KCE campus home. They live in comfortable dormitories, learn in bright classrooms, and eat and play in the spacious multi-purpose hall. KCE's newest space—the brand new library—is the final piece in our campus puzzle. After months of careful planning and construction, the library was completed at the end of March. The many shelves, movable tables, and bright blue chairs make the library a perfect space for our growing scholars to learn, create, and collaborate.
Our girls love to read, so it's no surprise that the new library is already the busiest place on campus. Students of all ages drop by to find new books to read, to finish their homework, and to study with their peers.
Teachers are also already utilizing the new space. As soon as the library opened, English teacher Mr. Okello brought his 7th graders to the library to practice their reading comprehension skills. He says the library's setup allows the girls to help each other learn and work side-by-side. He also looks forward to seeing more books added to the shelves, which will encourage his students to read more for pleasure.
As shelves fill and time passes, we can't wait to witness the positive impact the new library will have on our growing scholars and community. Thank you for being a part of our community and for helping make new facilities like the library possible. Our girls' lives have been changed forever by people like you!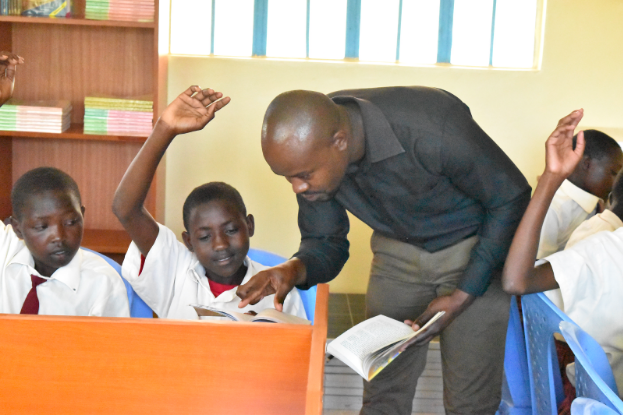 Links: