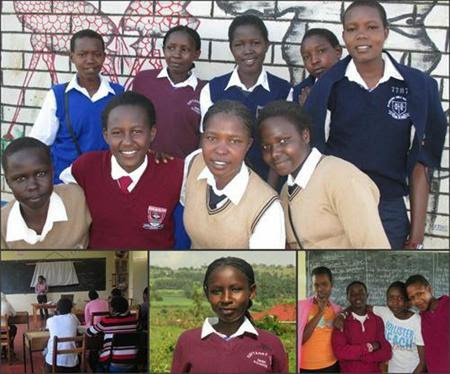 "We came, we learned, we bonded, we left energized for a new term. We look forward to the next camp!" --- Network for Excellence High School Student

This summer we had the privilege and honor of welcoming our first class of graduates back to our campus for a week of learning, mentoring and fun. My heart was filled with incredible joy as I watched these young women return to KCE beaming with self-confidence and strength. Our 7th and 8thgraders greeted their older sisters with open arms and enthusiasm. To say that everyone was excited for this reunion is an understatement! The week-long program, hosted during a school holiday, brought together 26 highschool students and 61 of our 7th and 8th graders for a week of academic review, leadership training, and of course, fun. Our Network for Excellence program is ensuring that KCE graduates have the support and resources they need to succeed in highschool and beyond.
For the high school girls, the camp provided a structured and nurturing environment where they could study and reconnect with their peers. The girls spent time sharing stories about their high school experiences, finishing homework assignments, studying, participating in leadership trainings, and tutoring the younger girls. Three trained tutors worked individually with students on their weak subject areas. We were thrilled to also have three university students providing workshops on topics such as goal setting, community service, career orientation and healthy teen relationships. These mentors - an engineering student, a public health graduate, and a pharmacy student – are amazing mentors for our girls.

Our 7th and 8th grade students received tutoring in core subjects and spent a great deal of time working with professionals on test taking strategies for the national exams they will take in November. Perhaps the highlight for our 7th and 8th graders was the opportunity to meet informally in small groups each day with the high school girls and hear their stories about high school, gaining insight into the rigors and expectations that high school will bring.
As I watch our students grow and mature, I know that our organization must grow and mature as well. I'm forever grateful to the dedicated staff on campus that meets our students' daily needs with professionalism and kindness. I am deeply committed to ensuring that KCE has the leadership capacity and solid infrastructure in place to deliver on our mission and remain strong and sustainable over time. To that end, I am thrilled to introduce our new team in Kenya: Hillary Omala, Executive Director; Wilkista Akinyi, Program Officer; and Eunice Mpilei, Finance and Administration Officer.
Thank you for enabling our girls to have these opportunities for academic growth and continued fellowship.
Sincerely,
Kakenya