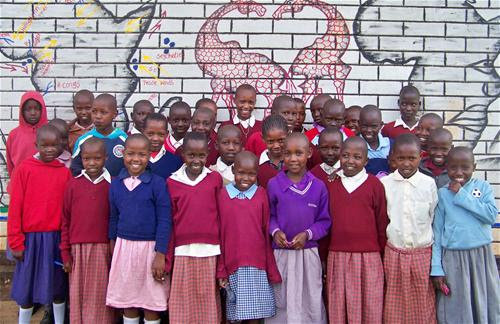 The 2014 school year is off to a great start at Kakenya Center for Excellence!
Our new fourth grade class has settled into life at KCE, already standing taller and holding their heads up with confidence. This incoming group brings our total enrollment to 170 girls in grades 4 through 8, the biggest student body we have ever had!
In February, KCE Board and staff welcomed students, parents and community leaders onto campus for our annual distribution of textbooks and school supplies. Each student received their very own textbooks in all 6 core subject areas: Math, Science, Social Studies, English, Kiswahili and Religion; and teachers received guidebooks and resources to supplement their instruction. While it may seem like a small gesture, our book distribution is unique and significant in Enoosaen, as many of our neighboring schools share only a handful of books amongst an entire class. Our girls are keenly aware of this reality and treat their books with care and respect.
Last month 170 uniforms were distributed to an eager student body at the Kakenya Center for Excellence. Thanks to the support of donors such as you, all KCE students received leather shoes and socks, a skirt, two blouses, a sweater, a tie and athletic shorts and t-shirts.
Our uniforms give our girls a sense of community within the school and create an atmosphere of belonging. In addition, our uniforms provide the girls with the privilege and responsibility of representing the school, the student body and their teams throughout the wider community.
KCE currently has two competitive team sports, volleyball and soccer. Both teams are coached by KCE teachers and practice regularly after school. The teams compete against 42 other schools throughout the district.
In addition to team sports, KCE maintains an active and healthy student body through a daily fitness regimen. At the end of each academic day, the girls participate in a run followed by group stretching and games. Though the terrain is rough and sometimes muddy, the girls look forward to the end of the school day when they get to don their gym clothes and simply release all that energy and enthusiasm.
KCE girls are learning important life skills on the fields. Through athletics, they are building self-confidence and learning the rewards of patience, perseverance, good sportsmanship, discipline and teamwork.
The term has been busy as always, filled with dynamic learning experiences and new adventures and we are so thankful for your continued support!