Greetings from Enoosaen!
As 2019 comes to a close, we want to thank you from the bottom of our hearts for all you have helped us accomplish this year. Both inside and outside of the classroom, our girls continue to thrive. Your support is truly making a difference.
One of the most exciting events in 2019 was our International Day of the Girl celebration on October 11. It was our largest celebration yet! Over 1,400 local girls, teachers, parents, and community members gathered at the Kakenya Center for Excellence (KCE I) to commemorate the 8th annual International Day of the Girl.
Since 2012, October 11 has been marked by the UN as the International Day of the Girl. Each year, the celebration acts as a call to action to bring awareness to the needs and challenges girls face around the world. It promotes girls' empowerment and fulfillment of their human rights.
To mark the day, Kakenya's Dream hosted special guests from the Kenyan government and over 1,400 parents, teachers, students, and community members - more than double the attendees we've ever had at our annual event! Participants marched together through the streets of Enoosaen in a parade to raise awareness about the challenges girls face right here in our community and to demand better opportunities and conditions for girls everywhere.
The special guests at our annual event included two inspiring keynote speakers, Bernadette Loloju, the CEO of the Anti-FGM Board of the Kenyan Government, and Safina Kwekwe, Principal Secretary of the Ministry of Youth and Gender. To highlight this year's celebrations, Ms. Kwekwe powerfully stated, "It benefits us all to support more women in positions of leadership to serve this country at all levels. It behooves all of us to support girls and to nurture and grow their leadership abilities so that they can ultimately claim these positions of leadership." We couldn't agree more.
At Kakenya's Dream, we know well that when girls are given the resources and support they need to avoid FGM and early marriage and stay in school, they thrive. Our girls are raising their voices against gender inequality, injustice, and violence, and demanding that their rights be respected by all.Thank you for supporting our girls and believing in our dream of a Kenya free of FGM and early marriage. You are helping us create the safe space that will allow our students to grow into the leaders and global citizens they will become as adults.
Have a wonderful start to your new year and we look forward to updating you throughout 2020!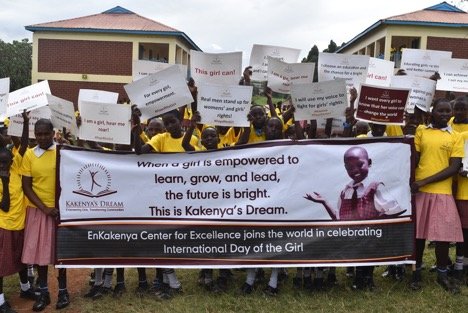 Links: