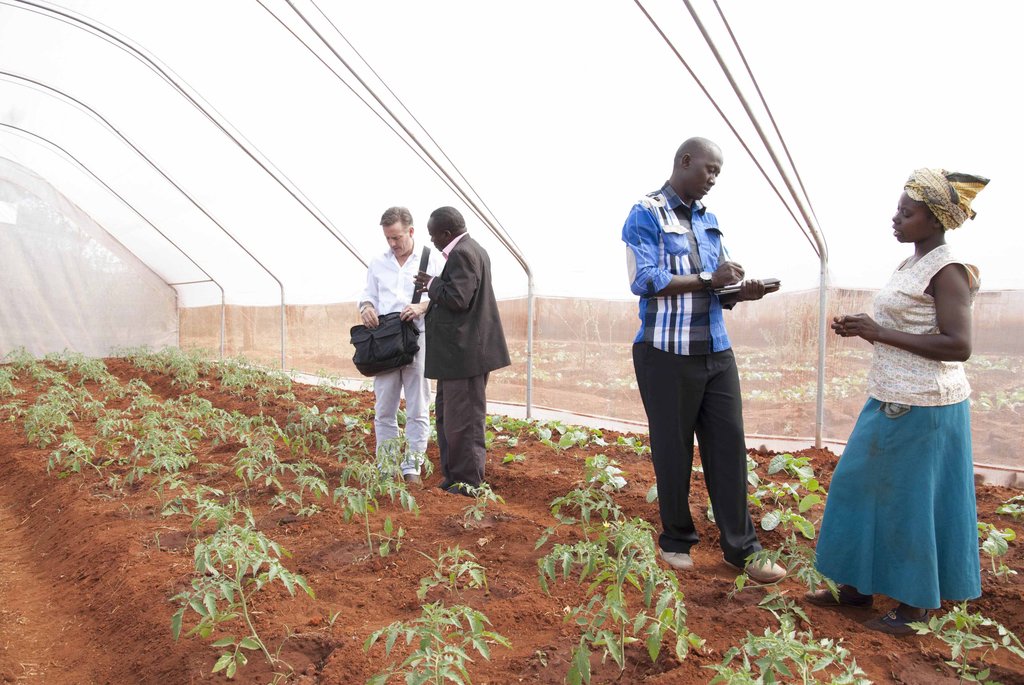 The results our out! Our gardens and chicken eggs are helping rural children do better in the classroom. Because the children are now served lunch at school they are better able to study and therefore they are performing better on their exams. More and more local parents are hearing about our gardens and they are returning their children to school!
Before our Matulani Children's Garden: in the 2012 Kenya Certificate of Primary Education exam the school had 24 candidates who achieved a mean score of 241 marks, with the highest student's score being 351 marks.
After our garden: in the 2013 exam the school had 28 students with a Mean score of 242 marks and the highest student's score being 381 marks. This particular student has won a place at a national school, of which there are only 78 such awards in the country. The poor town of Mtito has never seen such achievement!
We are now raising funds for the running costs of our two children's gardens in Mtito Andei and we are hoping to raise funds for new gardens that will benefit young girls in the Maasai Mara region.
New development: after fits and starts our HIV/Aids outreach program is showing great results. Our local outreach officer is conducting one session a week right in the heart of Mtito Andei. It is our goal to bring the science of HIV/Aids to the local people -- including young women who were forced into a life a prostitution when they were as young as 13. These girls never had the opportunity to attend high school because they come from severaly poor families and, when left unattended in their early teens by young mothers who had to turn tricks to pay for their children, the girls got pregnant themselves, usually by young, local boys. The cycle then repeats itself when these young girls turn tricks to pay for the lives of their own children.
It is our goal to bring the science of HIV/Aids to the local people of Mtito Andei. Due to a lack of education young girls believe truck drivers who tell them that they don't need to wear condoms beause they are not of the "caste" of men who are prone to contract HIV/Aids. We teach the girls that no man is immune from contracting HIV or infecting others.
We have interviewed those who are at risk and those who are not yet sexually active and we have devised two different approaches to HIV/Aids outreach. Both approaches are hard-hitting. No adult leaves our outreach session without a complete understanding about how the HIV virus is spread or how it can be prevented. Children leave our outreach sessions more aware of the negative, manipulative forces around them. We teach hope to the children and try to convince them to stay in school and come to us if they ever need books or other school costs to be covered.
Where are the fathers?
We have learned that the fathers of the girls in Mtito Andei east are not present because the land on the east side of the Nairobi/Mombasa highway is no longer airable due to climate change. The fathers, unable to farm and also unable to engage in hunting, are drinking themselves to death on cheap, home made liquor.
There are only a few other nonprofits active in Mtito Andei because it is very difficult to show results in a place like this. We, however, won't walk away. Our local partners are working very hard and, with intense oversight and transparency, they are getting things done.
Besides our gardens, hen houses and outreach work, we will also continue to pass out entire outfits to children (the poorest children go to school in rags) and distribute solar lighting to the poorest households so that school children can do their homework for the first time.
Thanks to steady donations from Global Giving and a few foundations, we will continue our work in 2014 and hope for improve test scores and improved lives for the children on the east side of the Nairobi/Mombasa highway in arid Tsavo East.