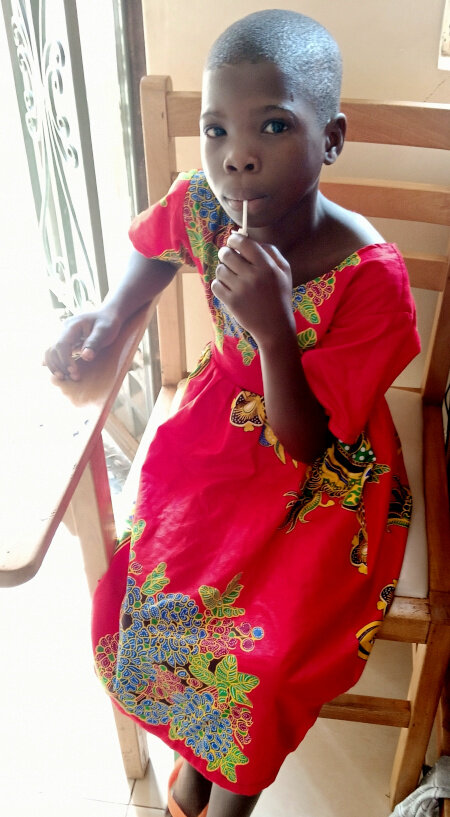 It has been a long road to recovery.........
Nelima was 4 years old when she became ill. She is the second youngest of 8 children and lives with her family in a grass thatched house. Her father is a peasant farmer and he never had the opportunity to go to school. Both parents are hardworking and to provide for their family is a struggle.
In March 2018, Nelima's stomach began to swell and continued to grow bigger. She was referred to a hospital where she was found to have a tumor on her kidney. She was referred to the Uganda Cancer Institute for treatment.
"It was an emotional and financial distressing time." says her father.
In April Nelima arrived at the New Hope Children's Hostel, she was a very sick little girl. She began her treatment of surgery followed by chemotherapy and radiotherapy.
Four years on Nelima (above) looks nothing like the sick little girl who come to us. She has completed her treatment and is now in remission but she will have yearly check-ups.
"Being with other families whose children were facing cancer helped me to stay optimistic and motivated. We are so happy to have our little girl well and back home. I am so grateful to the hostel and the medical team at UCI for what they have done for our family" says her father.
Not all of our amazing children that the hostel supports live and it is very hard not only for the families but for the staff who care for the children as their own. But we do have many children who do get well and can go back to their families. This keeps us going.
Update
Thank you for your wonderful support through GlobalGiving. This quarter (April - June 2022), the New Hope Children's hostel received 24 donations, totalling US$1,936.33. The April Littlexlittle campaign contributions enabled us to plan for the basic needs of the hostel for the next few months.
This is why your support is so important and worthwhile as it provides hope to the families of children with cancer.
Links: